Every skater out there has at least a few Transworld videos that they hold  close to the heart. Chris Thiessen has to have skating videos that fall into that category too. The only difference? This time around  he's continuing the Transworld video legacy as the man in charge. We caught up with Chris to be instilled with confidence by someone who is very well aware of the weight of this responsibility: taking over, the journey there and why it's back to classics.
Photography by Joey Shigeo and Oliver Barton
Portrait by Houcine Khabbar
Interview by Stephen Cox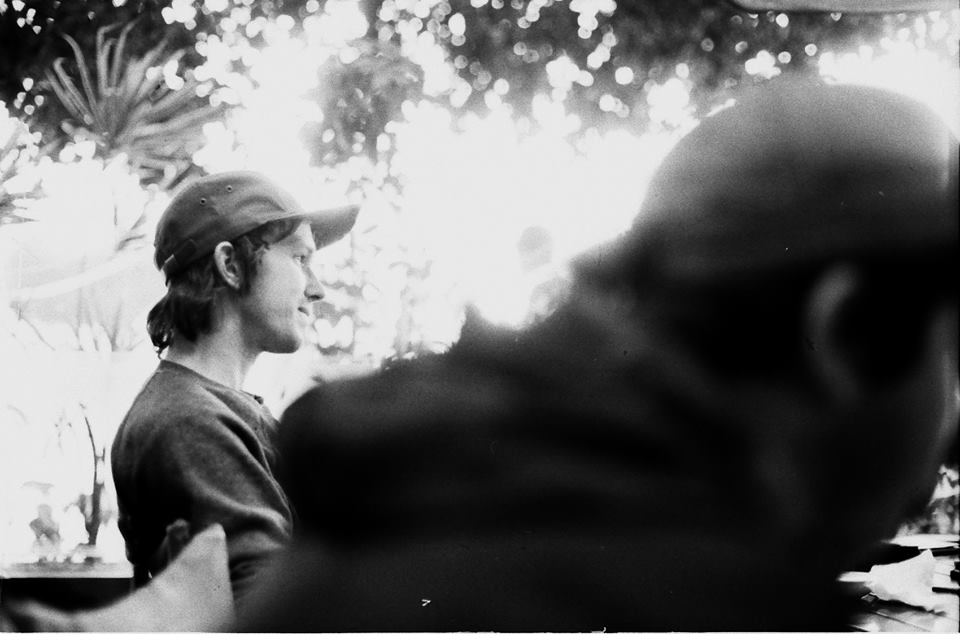 Let's start off with the usual Chris: where are you from, how was your life growing up and how did you get into skating?
I'm from Atlanta, Georgia. I grew up in a town called Dacula. The area I lived in is called Hog Mountain and it's about an hour from Atlanta. Childhood was awesome in North Georgia, there's endless outdoorsy stuff to do: lots of lakes, parks, forest and stuff that keeps you outside all the time. My dad was super into sports when I was little and he played on several teams so naturally I was played baseball by the time I was 4. I played every year up until I discovered skating. My real passion before I got into skating though was fishing, specifically largemouth bass fishing. I spent a lot of time at the lakes near my house. I was so deeply into it. Every Christmas or birthday was all about fishing stuff. I spent my time away from the lake studying fishing shows and magazines. I discovered skateboarding right after my 12th birthday in 1995. My mom works at the post office and one day she brought home a CCS catalogue that she thought I would like. I thought it was the coolest thing ever; the obsession began from there. I had a good friend down the street who had also recently got into skating. He had got into it a few months before me and already had skate shoes and was rocking skate gear. Once I realized how much I liked skating we started hanging out non-stop and learned to skate together.
Do you still skate much?
Yeah I still skate, but nothing like I was doing when I was 19, my handrail days ended a few years back [laughs]. These days I'm stoked on skating ledges and I really enjoy getting out and just pushing around the neighbourhood. It's fun actually skating from place to place around where I live here in Long Beach. Cherry Park is a few blocks from my house and I dig waking up really early and skating down there and having the place to myself while everyone is still sleeping.
How long before being behind the camera took precedence for you? How did you discover a passion for it?
Once I started getting into filming it didn't take long before it completely took over. My friends and I had made a little video together just filming each other and that's what turned me on to filming. Before that I was just skating and had never thought about becoming a skate filmer. In the spring of 2006 I started getting into the idea of trying to make a skate video on my own. So, I saved up a little bit and bought a VX1000 and a new Mac computer. I had no idea what I was doing. I didn't know how to use the camera or how to use Final Cut but I was hooked. Every bit of free time I had outside of working at the post office I was out filming my friends and we started filming a video right away. We'd stay out until 3 or 4 AM several nights a week and skate all day and all night Saturday and Sunday. This is where my passion for filming skateboarding and filmmaking really grew. I love the entire process of making skate videos, and those were the early days of learning that process and discovering what it takes to do it. Filming definitely consumed me the same way skating had when I first got into it. I was obsessed.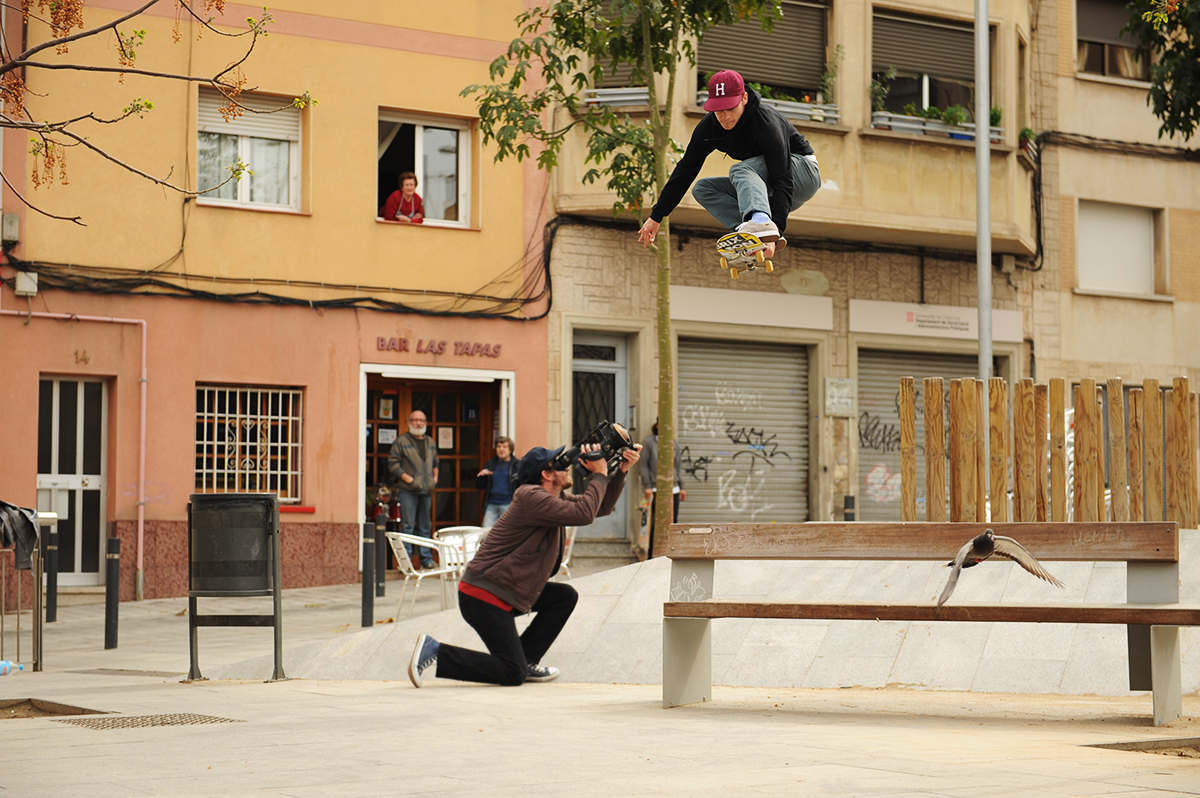 What difficulties did you run into when learning?
The obvious difficulties going into it was the fact that I didn't know how to properly use the camera or the editing software. When I got my first camera I pretty much just turned it on, adjusted the exposure to where I thought it looked good and pressed record, oblivious to the other camera function factors I needed to take into consideration. I didn't know what the shutter was for or anything. I also remember sitting down trying to edit together some footage to a Dinosaur Jr song after a week or two of having a camera and thinking, "I don't know what I am doing." It was definitely hard! But like anything you continue to do constantly after a while I felt like I started to get the hang of it. It took me a while to get the hang of keeping the dudes in the frame throughout the trick fisheye. I would always point the camera down after the dude had landed the trick and was rolling away making it where you might not see their upper body and they cruised out. I pretty much studied my favourite skate videos religiously. I'd pay attention to how they had the skater enter and exit the frame, and then go out and try to copy it. This lead to me realizing how the dudes making the videos were framing everything and I finally got over the weird pointed down thing I was doing [laughs]. It was fun trying new things while out filming, getting closer with the fisheye and trying to frame certain spots and tricks differently. I worked Monday through Friday every week too so we skated a lot at night, I had to learn how different lighting situations effect how you set your camera up and even how you might want to frame stuff differently at night than you would during the day.
What sort of equipment changes have you gone through over the years?
Honestly, I've just always been a VX filmer. I used it from the start, and learned how to film with it. I always preferred it too and always dug the way it looked, it's so classic. It looks like the videos you grew up watching. Once I moved to California and started in Transworld, it was kind of the midst of when it was getting more web heavy and they were all about switching over to HD. When the time came for me to do it I switched from the VX to the Panasonic HPX170, which is what everyone was using around that time of the switchover. For me that's it, they're the only two cameras I've ever used. Once I started using the Panasonic, I was a little hesitant in the beginning with it because it was a big change going from a little VX which is comfortable to shove in there or go fast with to picking up the HD camera. But now it's honestly the only camera I'm interested in using at this point. To me it's an updated version of the VX. It's a camcorder with a handle which a fisheye on it. I'll probably keep using that thing. I wouldn't go further, I would prefer to keep it a little classic. 
Which videographers have inspired you? What do you notice in their work that other skaters might not?
I'd say French Fred and Kevin Barnett are the two filmers that I have gathered the most inspiration from over the years. Even before I got into filming or really even paid attention to it I admired Fred and Kevin's filming. They have both always had my favourite long lens shots, a lot of rolling long lens and different ways they'd have the skater enter and exit the shots. Kevin's fisheye filming has always been original and different too and set a cool tone for the Toy Machine videos. I've always dug the dudes who do things different and weird you know? I've spent hours and hours watching their work and paying attention to how they do things. Then there's Greg Hunt, Jon Miner, Bill Strobeck, Jason Hernandez and Josh Stewart. I've always been really into everything Greg does. His editing is the best. I love the way Bill and Jon use the fisheye, especially their VX1000 stuff. Anything Jason does has an amazing level of energy and that has always inspired me. Josh has always filmed with my favourite east coast dudes and has always done a great job of representing the east coast to the fullest. I grew up watching Cigar City and the World Market video Rising that Josh did. They were out of Tampa and being from Atlanta in the mid to late nineties they were the next city from Atlanta that had rippers that I looked up to. I have to give a shout out to Andrew Hunter's filming as well. Andrew helped film some of the Toy Machine videos. I met Andrew in 2008 and we were back and forth talking filming while I lived in Atlanta and he was in Corona, California. His filming pushed me to get closer with the fisheye for sure while I was filming my video Meanwhile.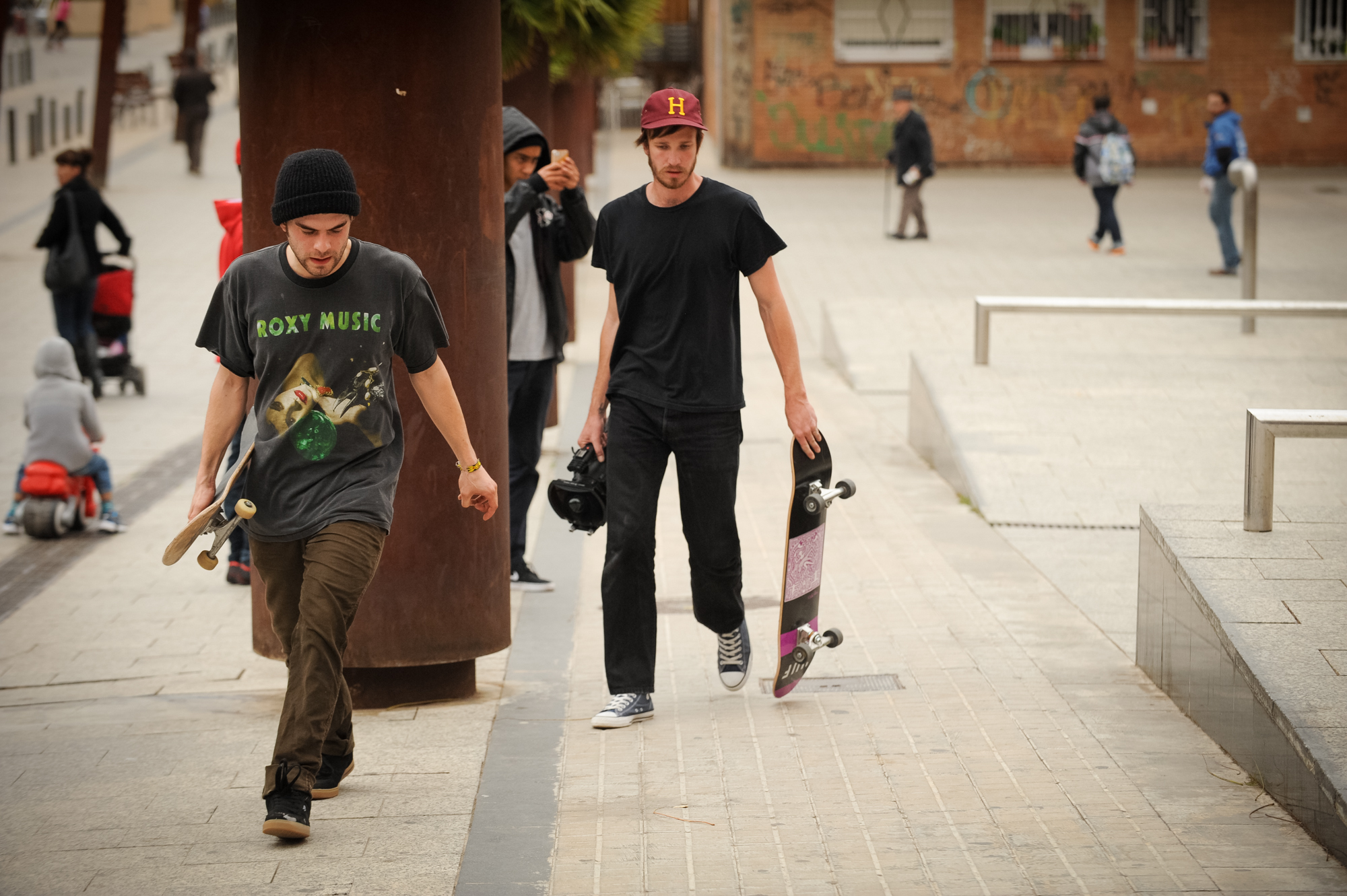 That's a heavy list right there. What filmers and or videos do you think have progressed videography and skateboarding films? Are there particular turning points in its evolution for you at least as from your perspective?
Anything that people are putting time and effort into such as skate videos are going to move forward and it's been amazing watching skate videos change over the years. I started in 1995 so I am answering this question based on videos from after the time I started skating since that is what I grew up with and know. Eastern Exposure was definitely progressing videos for the better when I got into skating. My friends and I were blown away at the pushing through the streets, the spots, the fast fisheye stuff and the straight up rawness. Welcome To Hellshowcased some of the gnarliest skateboarding at the time and was so influential. From there I feel like the big moment in the progression of skate films was when the VX1000 and the Century Optics fisheye were introduced. Videos that were coming out around and after 2000 used the VX heavily and it showed. They had such an epic feel to them. I remember noticing that Fred and Ty [Evans] were filming their long lens stuff with a lot more thought at that time. Their rolling long lens stuff stood out especially. Videos started to have a lot more thought put into how they were filmed and edited compared to some of the earlier videos I had seen in the late nineties when I was starting out. Obviously there was always thought and work put into skate videos, but anyone that skated during the early 2000s knows how the videos changed from the look of the 90s to the standard VX1000 look that some of the big videos that came out around 2000 had. The generator and skating at night changed the way skate videos looked too. It made it have a production vibe like they were making a movie or something. I really admired the videos that had a strong art direction such as Photosynthesis, Mosaic, and the TransWorld videos. They were filmed really well and had an attention to the artistic side of shooting which I have always loved and I feel progressed the way skate videos looked. Photosynthesis and Mosaic may have had the biggest impact on me along with the Toy Machine videos. They were the more art driven videos and I was obsessed and I continue to watch them regularly to this day.
Tell us about filming Meanwhile. How did the whole process begin.
It came about in January 2008. I had just finished up my first full-length video in November and knew I wanted to start a new one since the first one I felt for me was more about learning to use the camera and the computer. It was at the height of winter in Atlanta and I was feeling bored without a project. A few of my friends were feeling the same way, bored of sitting inside hiding from the cold so we decided to start a new video and give ourselves until the end of the year to finish it. From there we skated and filmed every single weekend for the whole year. With Meanwhile we wanted to search out new spots and try to have a lot of new stuff no one had seen, so we spent a lot of time spot hunting and fixing up spots. We were always exploring new areas of town that we had not been to before. It was so much fun, we all became obsessed with making the video and honestly it's all we did and were focused on all year long. We did some really fun trips for Meanwhile as well: slept on floors and couches in New York City and Chicago, and went out to California and slept on the beach too. Those were definitely some fun days and the time period while making Meanwhile is the most fun and memorable time I've had since I started skating.
Is there anything to be said about the standard conventions and formats of the skate video? Normally we have skater by skater with most deserving last and so on. There have been different approaches and still are. In what ways do you think straying from the traditional format works and why do you think for the most part it doesn't happen?
Skate videos have just naturally evolved into the standard formula most people follow today. I feel like the videos from the late nineties and the early 2000s really set that tone. A big intro part and an epic closing part with the vx1000. So it's only natural that videos have gone in that direction because that's the formula we all know and love. If it ain't broke don't fix it I guess. But of course it's always refreshing to see people doing something different. I am a big fan of filmers getting weird. There's no right or wrong way of doing it, it's all about your individual perception.
The most recent project  I saw was the Youness [Amrani] part is that right?
Yeah, the most recent project I worked on was the Marrakesh Express video with Youness. To start the project off we headed to Morocco for 10 days. Youness' family is from Morocco, so the idea was to return to Morocco to get a good bit of his part done in his home country. It was an amazing experience being over there. Beautiful people, beautiful culture, the skate spots we skated were really good and sometimes untouched. We also surprised Youness' grandmother who he hadn't seen in 10 years. We travelled to her home in Kenitra and knocked on her door. It was awesome seeing Youness and her finally seeing each other after such a long time. After Morocco, Youness came out to LA and skated with Oliver Barton and I for a bit too to wrap the part up. Youness is definitely a hardworking skateboarder and I had such a fun time working on that project with him. Let's do another trip soon Youness!
You're the man bringing us the next Transworld video. When is Outliers out?
We're aiming for end of the summer filming deadline and probably premiere it mid to late September, early October at the latest. Somewhere around there.
Where does the name Outliers come from?
It comes from the title of a book Oliver Barton had read recently by Malcolm Gladwell. I've worked with Oliver more closely throughout the process of making this video than I have with anyone else. He's basically been my partner in a way even though I'm doing the video. He's been the one I'm talking to all the way; he's playing a big role.
He voices his opinion.
Exactly, I throw my ideas around with him, the things I have on my mind. He's kind of the only person I talk to. Oliver had read the book though, and the book talks about coming from different areas and backgrounds and how that defines your style or how you become good at something. It was fitting with all these dudes who are from different areas of the world and how they all came up in these areas, which you might not expect in skateboarding. Brad [Cromer] is from West Palm Beach, which is an hour outside Miami who just grew up to be this amazing skateboarding with those elements around him. In the book it also talks about how after 10,000 hours of doing something you've truly mastered it. In a way these dudes clocked their 10,000 hours in these areas that they came from and that's what led them to become such good skateboarders.
DVD/iTunes release I'm guessing?
I'm proud to say it was always going to be a DVD and iTunes release, which in this day and age is great to have something you can physically hold. That's something me and everyone else involved with the video is excited about. You're going to be able to go to a skate shop, bring it home and sit on the couch and watch it.
Being the head of such a big project, what unexpected surprises have came your way?
You go into it with an understanding of it being a lot of work, with high stress and the rest of it but it is a surprise how heavy the responsibility really is. Especially once it gets going and you're aware of this deadline. Even when it's a good distance away, that weight is surprising on you [laughs]. But then it is the motivation to do it. How gnarly of a project it is, makes everyone stoked to be working on it. Then there is your classic stuff: dealing with injuries and there are periods of time that people can't skate. You don't expect it to happen and when it does, it's pretty heavy. You work through it though. I book all the trips, sort the schedules, and in a way it's like doing team manager work. You're not just filming and editing it. You're the main person for the year with these guys for sure. That level of involvement really surprised me.
What about the music? Has everything been selected? I imagine deciding on that must be hard.
It can definitely be tricky because you need the full rights of any music that you're going to use. It's different than it used to be. But so far we have around half the songs that we're really into using. There are several parts without songs but we're working on it. It's hard to dive into putting parts together until you have a song, plus the skateboarder and myself need to be stoked on it. Plus all of the songs throughout the video need to flow well together. You can't just snag up something random and throw it in there. The music playing back to back is important. If I'm not in the streets with the dudes, I'm sitting on the computer working on the video. When I'm not doing that, I'm listening to music. It's album after album, digging and digging. Now that I think about it, music is probably one of the most stressful parts of the video [laughs]. You have to nail it! It's always been important throughout the history of the Transworld videos too. It's such a role in the emotion of the parts, like Heath Kirchart's part, that song made it so much more epic. It's heavy [laughs].
You mentioned being a fan of the art direction of Mosaic, what additions to Outliers have surfaced in that respect? I noticed there were coordinates in the trailer.  How have you been influenced with this video?
That was the art director of Transworld, Keegan [Callahan]. And Oliver as well. We thought it would be cool to get the actual coordinates of where the skaters were from. It goes back to that diversity thing, which gives the video of a personal touch for those guys. Keegan had a big role in that, he did those graphics. As far as influences, I don't want to make a video that's too overproduced. I feel like skate videos have gone in the direction of being a little more Hollywood. The production level is so high now which is great – that's the natural progression – but for me I'm trying to touch on the way videos felt when I was younger and getting inspired. They were put together well of course but the skateboarding was equally important as the production level. I just want it to be more basic, maybe more raw. I'm more concerned about how the clips flow into each other and the movement of using a lot of fisheye and fast long lens. I want to keep it classic. I've been watching a lot of the old Transworld videos, especially i.e and Modus Operandi. I definitely watch a lot of Mosaic, Photosynthesis and a lot of even older parts. I've been watching Eastern Exposure, which is a great example of rad clips flowing together. That's what I'm more inspired by.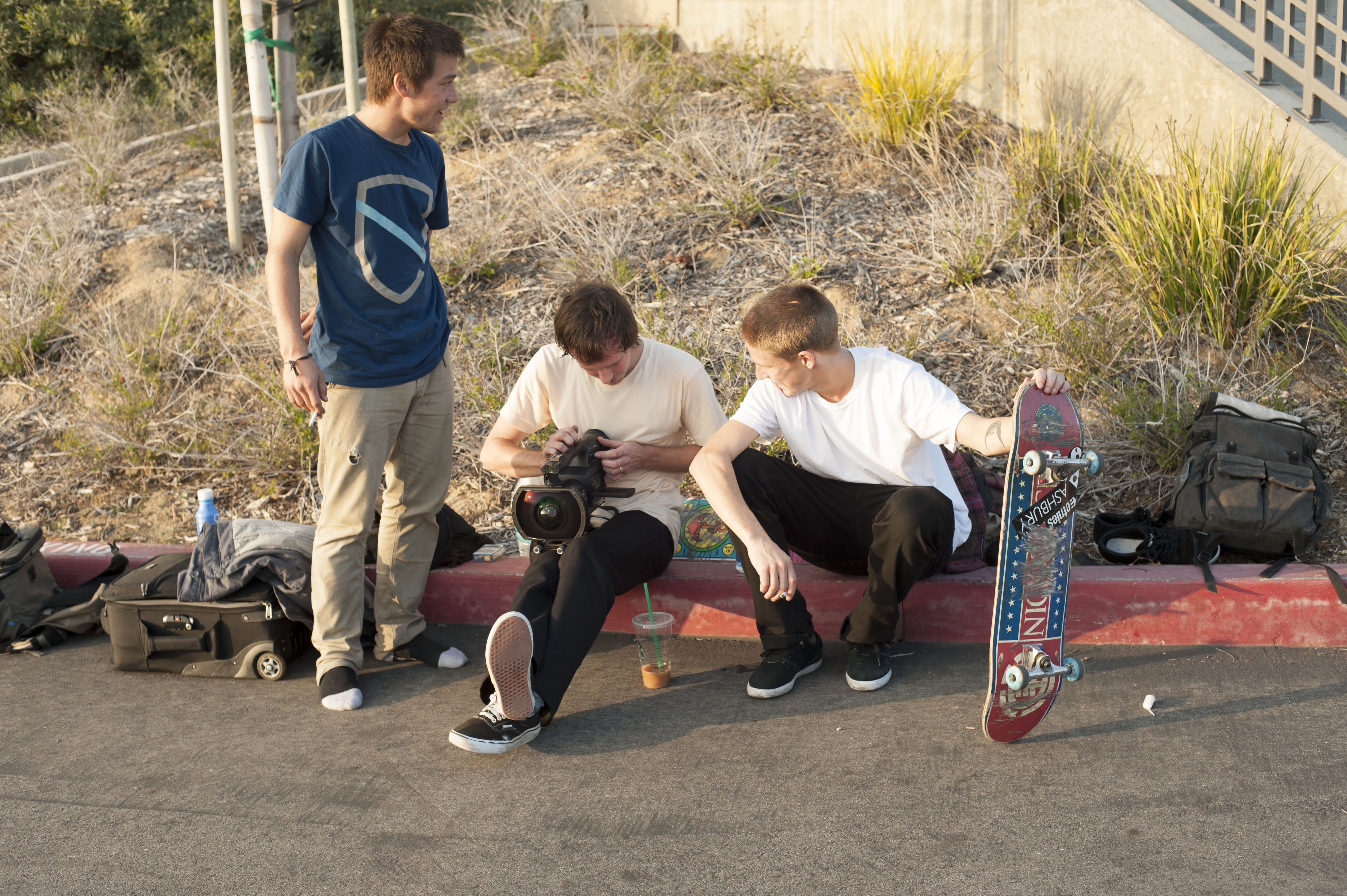 Did you know all the guys well before going into this video?
I didn't actually. I had been on a Surpa trip with Neen [Williams] but that was a quick couple of days. I knew Marius [Syvanen] a little bit too. But yeah, it was meet and greet then go skate. It's crazy to think about now because we're so deep into the project now and I've become such good friends with all of them.
How do you allocate your time to each skater? Or are you getting some additional help filming?
It's a little bit of both. If I'm home in Long Beach and I'm close enough to anyone who can skate like Neen and Marius, I'll just hit them up as much as I can. Obviously Lee [Yankou], Brad and Zered [Bassett] are in different places so we do the bulk of filming on trips. Lee moved out here for the first couple of months to Long Beach to work on his part before moving back to Canada. It's basically who's around, but then Zered and Brad have came out here too. Some days I'm out with two people or I might only skate with one guy for 3 weeks.
And each guy must be so different to film.
All these dudes can be pretty aggressive skaters if the settings are right. If I'm out with Neen and the spot is perfect for him, he'll get busy on it. If I'm with Brad, he'll get busy. No one wastes too much time or anything, which has actually been really great. They're all willing to get out there and hit it. They're all pretty hungry for it [laughs]. 
How are you going to figure out the running order?
You're definitely torn through throughout the whole process. As the deadline gets closer and parts start forming, you know how hard each of the guys has been working. It's a tough to come to the ultimate decision on that. But as it gets along and the deadline approaches it becomes clear to you who needs to be where.
Have you decided already?
Not quite. It's getting there. I have an idea of the running order but there's still definitely enough time that it could change honestly.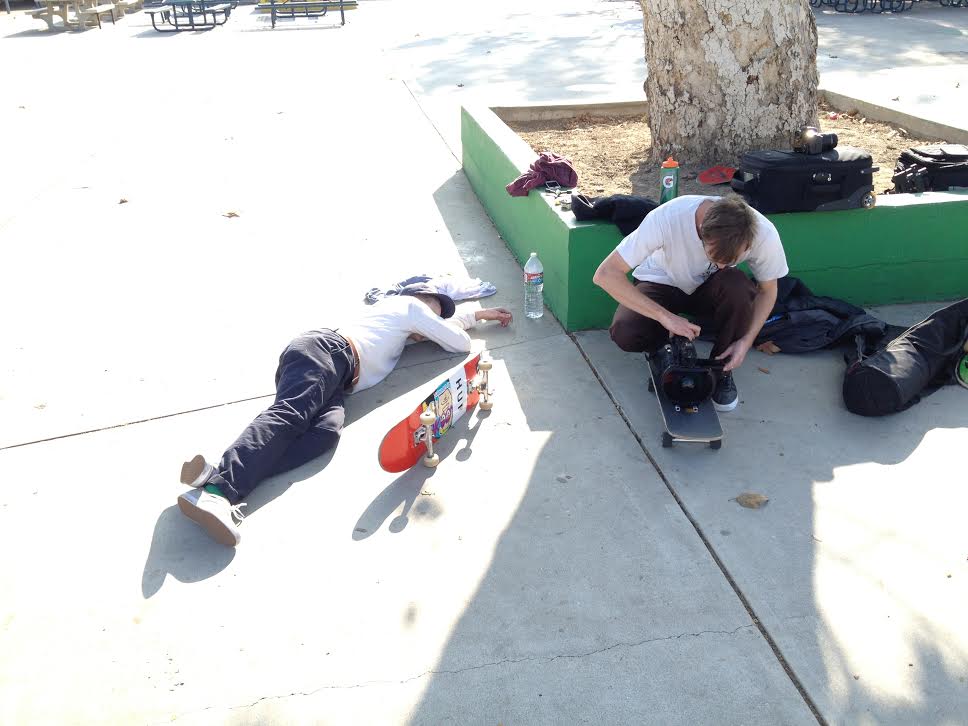 Good times all round then. Where have you travelled for the video?
Oh man, it's truly been incredible. It's been non-stop: we've done major trips to New York City, Atlanta, Barcelona, Miami and some other smaller trips. Barcelona definitely stands out: we were there for a couple of days shy of a month. It was actually first time for all of us, everyone knows it's a great city for skating. We had people showing us new spots every day plus we got to skate the classic spots. At the end of the day we'd sit out on the patio and trip out at the places we got to see and skate: just spot to spot, on the train, with each other all day, having a good time. New York is similar in that way too. The architecture in New York is incredible. Atlanta was amazing for me, being from there. I've always wanted to have a major project and bring the guys to spots that I grew up around and see what they could do with them. It was all so focused on skateboarding but it's cool to duck into a museum if it gets rained out somewhere too. It's good to take a day off if the legs are feeling it too.
I can't wait to see Brad Cromer's part, what's it like to see that kickfilp first hand?
Oh man, the first time I saw him skate in person it was so jaw dropping. The consistency and pop he possesses is ridiculous. Watching him skate flat ground is a treat, definitely one of the most natural I've ever seen.
Are there nerves for you when you think about how it will be received?
Oh yeah. It's a bit nerve-racking but I'm more excited. It's truly an hour to make this video and continue the legacy of the Transworld videos. That does make it nerve racking but it's so great being invested in it and seeing the project grow.
Onto the next video after then too?
This one finishes and it's time to start the next one [laughs]. Once this one is in the can, we'll get the lineup sorted.
 Thanks Chris, looking forward to seeing this.
Special thanks – Oliver Barton
Follow Chris Thiessen on Instagram: christhiessen
Follow Oliver Barton on Instagram: oliverbarton
Follow Joey Shigeo on Instagram: shigeophoto
Follow Stephen Cox on Twitter:  stephen_coxy