We spoke to Habitat pro, Nocturnal Skateshop owner and true representative of the Philadelphia skate scene – Kerry Getz. Enjoy –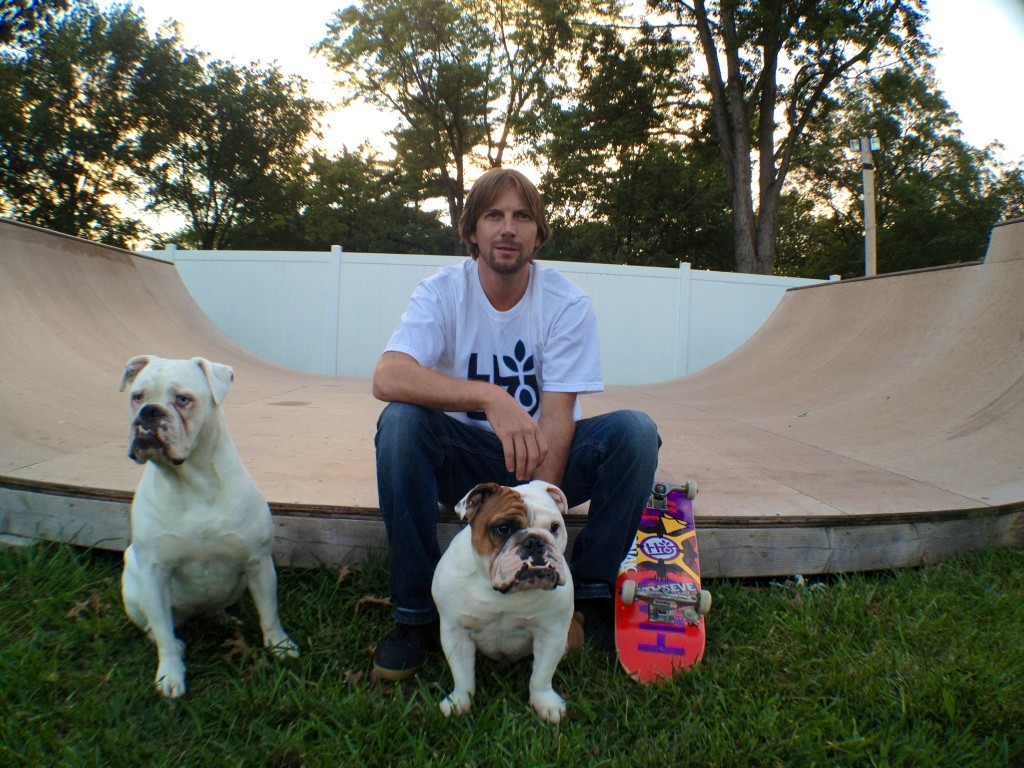 We spoke to Ryan Gee recently who said he's been filming and shooting photos with you this year, can you tell us some more about that? 
I've been filming a lot with Gee on my new mini ramp in my backyard. I wanted to focus on a mini ramp part to promote my shoe. Everyone does street parts and I've always enjoyed when pros randomly throw out a mini ramp part. I think mini ramps are one of the most fun things to skate and it's way less stressful. No cop or anyone is gonna kick me out of my own backyard. I've been working on some new tricks that I've never done on a ramp before.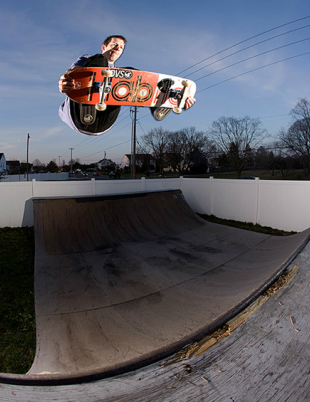 Any tricks we should be excited about?
You will just have to wait and see my mini ramp part when it drops this September.
How did you start skateboarding? – What do you think you would be doing if you hadn't started? 
I started skating when I was 8. I used to race my skateboard in the streets. I would draw a race track with chalk and I would race around these tracks on my knees. I would put carpet on my board so it would be more comfortable on my knee to race. Once I started seeing movies like 'Gleaming the Cube', 'Thrashin' and 'Back to the Future' I started standing up on the board. I then gave up the carpet top and racing to start learning tricks. I had this really small video store a block from my house that rented all the classic Powell Peralta videos; 'Public Domain' and 'Search for Animal Chin'. I watched those videos everyday and I was then hooked on skateboarding for life. If I wouldn't have dedicated my life to skateboarding I would have stuck back in my little hometown working in a yogurt factory. Skateboarding changed my life forever!
Do you have any skating rituals? Certain griptape cuts or sticker jobs? 
Not really. I just grip up my board with a solid black sheet of Mob Grip no cuts or lines. Anything on my grip drives me crazy.
A particular first trick of the day?
My first trick these days has been dropping in on my perfect mini ramp. Easy way to loosen me up to start my day off.
Can you tell us about Nocturnal – Where did the name come from? How are you involved with the day to day running of the shop? 
I started the shop back in 2000. I came up with the name on a plane flying to california. Back when I first got on Habitat, Alien workshop had this series of boards called the Nocturnal series. That day the word Nocturnal stuck in my head and I always felt like I was Nocturnal as well. We would always skate and film at night to avoid security guards. As for the day to day work at the shop I handle all the fun stuff like paying the bills and helping with the ordering. Part of the reason the stores been so successful for several years was because I had a solid partner Tim Quinn. He helped me mold Nocturnal into what it is today. One of the most respected shops in the industry.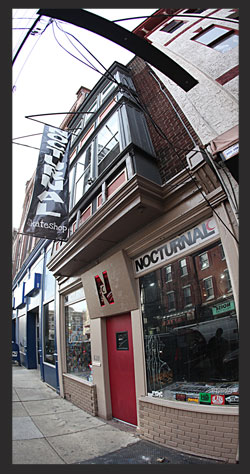 Any skaters the shop sponsors that we should watch out for? 
Nocturnal has a real solid team. The guys that are still repping Philly and still killing it are Kyle Nicholson, Kevin Taylor, Dan Hetrich, Angel Acevedo, Nick Barba, Jay Klotz, Steve Faas, Jamal smith, Ki Realer and Kevin McDonald – aka 'The King'!
Can you tell us about your favorite skate trip and why? 
Every trip that I took to Barcelona with the Habitat Team. Reason why is cause everyone who rides for Habitat rips and are good dudes to hang out with. We always had great times on and off the board. And the biggest bonus was we always came back with tons of amazing footage to put together to drop an awesome video.
Do you ever have to walk away from a line or trick?
I'll tell you this, I 98% of the time never walk away from filming something until I make it. I'm a very dedicated person and I don't like to fail or not succeed. I will work on something till' I almost collapse. I fight the battle to the very end.
How do you find being on the Habitat team? 
I love being on Habitat and couldn't see myself riding for anyone else. I'm Habitat for life! I've been on Habitat since day one. I had the very first Habitat ad to drop in a magazine. The company started back in 1999 and it was very scary leaving Toy Machine to ride for Habitat. Toy Machine was such a rad company and Ed Templeton helped me get into the skate industry. Once Ed gave me that chance I worked my ass off to succeed my dream of becoming a pro skateboarder. I can't thank Ed Templeton enough and now I owe everything to everyone over at Habitat who help me mold myself into a successful pro skateboarder. It still blows me away that I made it since I came from such a little town in Pennsylvania.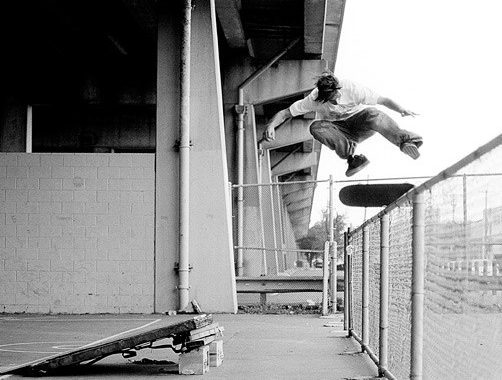 Any good stories about Tim O' Connor? 
All I got to say about Tim O'Connor is he's the raddest dude to walk the face of this earth. He's always been a great guy to travel with and the one who's always making us laugh. He's got some great ideas and I think he's probably the smartest person I know. You can ask him any random word what it means and he will know the definition for it. He's a walking dictionary!
We read another interview where you said the skating scene in Philadelphia had died down, and is in desperate need for a free outdoor park, has this happened since? – Has there been any progress? 
Philadelphia i think is the last city in the U.S to get a big skate plaza. We've been waiting for years now. There are rumors that the build of the plaza is starting mid September 2012. I have my fingers crossed. The Philly skaters need a place to go everyday to work on tricks and just to have a place they don't have to worry about getting kicked out of. I miss the early 2000 years of Philly when more pros lived here and everyone wanted to travel here to film. The scene here is a bit different now, but there are still tons of kids ripping and shredding Philly.
Can you tell us something about yourself our readers won't hear anywhere else?
I'm a workaholic that can't sit still. I'm always on the move and have to be doing something or working on something.
What does the future hold for Kerry Getz?
I have a lot going on and I've been keeping myself busy. Im very excited about my new Habitat shoe thats dropping this month and I can't wait for everyone to see what I have coming out later this fall.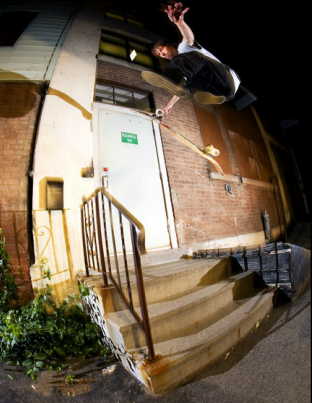 Special thanks: Ryan Gee
Images via Ryan Gee, Habitat Footwear and Frankie
Please feel free let us know what you think by commenting below or tweet us @DeafLens