In all honesty I can't remember why I followed Moose Allain on Twitter, and I had been following for a long time before I realized he was an artist. I decided I wanted a logo and look for The Deaf Lens and while I can draw, I haven't in seven years. It wasn't laziness that stopped me but rather (as you will also see through Moose's words) the idea of collaborating with someone else, though collaborating is much too strong a term here as the effort was all on his part. In the skateboarding industry, there is often a phrase thrown around: "for skateboarders by skateboarders". It's also perhaps important to realise when considering that phrase that skateboarders largely prefer to look at skateboarding as an art, rather than a sport. The more I began to research (non-skateboarder) Moose, the more I began to realise there is no fine line to be found and how certain forms inevitably cross into one another. Thank you Moose Allain – enjoy –
Interview by Stephen Cox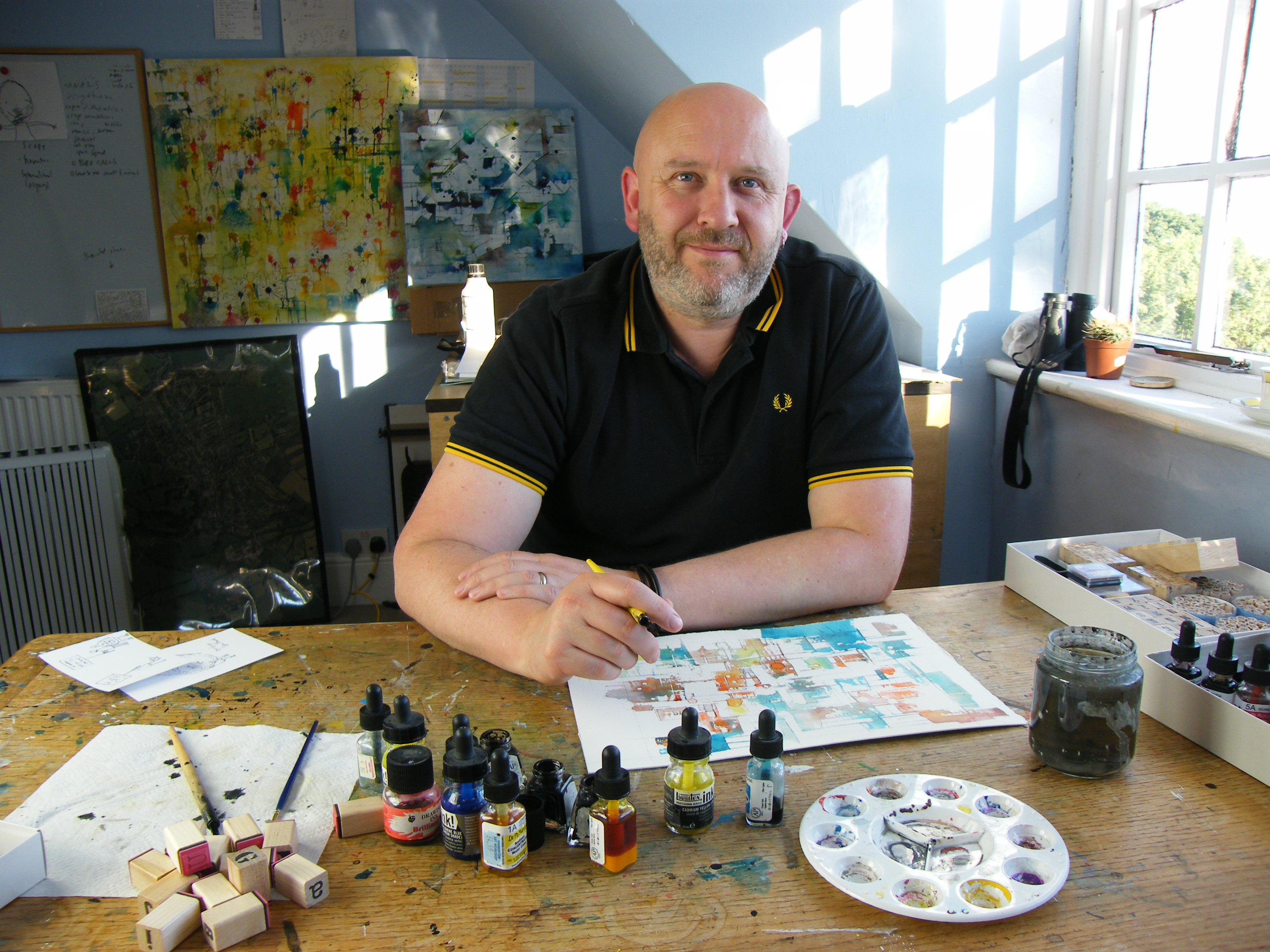 Can you tell us about where you are from, your life growing up and how your artistic endeavours began?
I was born and brought up in Essex in a village near Billericay. It was the sixties and seventies, it was pretty rural and idyllic. One of those childhoods where you run out across the fields all day and only come home at tea time. I always had a strong sense of individualism, I didn't want to be like other people. I suppose I felt like I was an artist from a young age, but I didn't become one until I was in my 40s. No rush. I eventually became an artist because I just didn't feel happy doing anything else. I am extremely lucky that my wife Karen was prepared to indulge this fantasy. We work together now and she looks after m, which is just as well as I'm not really a proper grown up.
Were there risks involved?  I imagine actually starting out would have been quite daunting – how long did it take for things to pick up?
Yes, there were huge risks, I suppose. But we both realised we couldn't see ourselves doing the same job for the rest of our lives, so we had to change something. We sold our house in London and had enough money to buy a big house in Devon and have some savings, so we had a sort of safety cushion. But it's taken a while to get to the point where it seems like we can actually make a living from it.
I watched the Lost Lecture, it was great and a lot of the responses your received were fantastic as well as touching. I can see you have quite an addiction to Twitter (as do I). Can you tell us about some of your favourite experiences that you have had over Twitter aside from those mentioned?
Twitter is an amazing place and has led to all sorts of interesting collaborations and opportunities. I've met some brilliant people and made some real friends. I can't believe it when people say "it's only Twitter". They completely misunderstand the nature of human communication. It's a real place, real people making real relationships. Twitter has led to me doing the Lost Lectures talk, doing stand up and working on a film, written by David Quantick, who introduced me to some brilliant people who live near me I didn't even know existed. Twitter is a big playground for me. I don't interact nearly as much as I used to – by which I mean 'chat' with other tweeters. And I don't get to read my timeline very much, mostly I'm just dealing with replies. Twitter is very much what you make it, who you follow, interact with. It is a great place for a meeting of minds.
- and who are your favourite people to follow?
I find it hard to single out individuals I love following. There are so many genuinely funny, brilliant people. I struggle doing the whole "follow friday" thing because it seems wrong to miss people out, especially when they seem like friends. Apart from the jokes, I love people who use Twitter creatively, as a medium in itself. I try to do this myself. I think Twitter is a medium like any other, and can be used for art. The form is still emerging. I think some of the people who tweet in character, consistently, interacting, creating fictitious but real personalities are actually generating an emerging art form. It will be recognised at some point. I like to think what I do on Twitter is an extension of what I do in a visual medium. Words are critical to my drawings, so Twitter is a part of my practice. That's how I justify the hours I spend on there, anyway.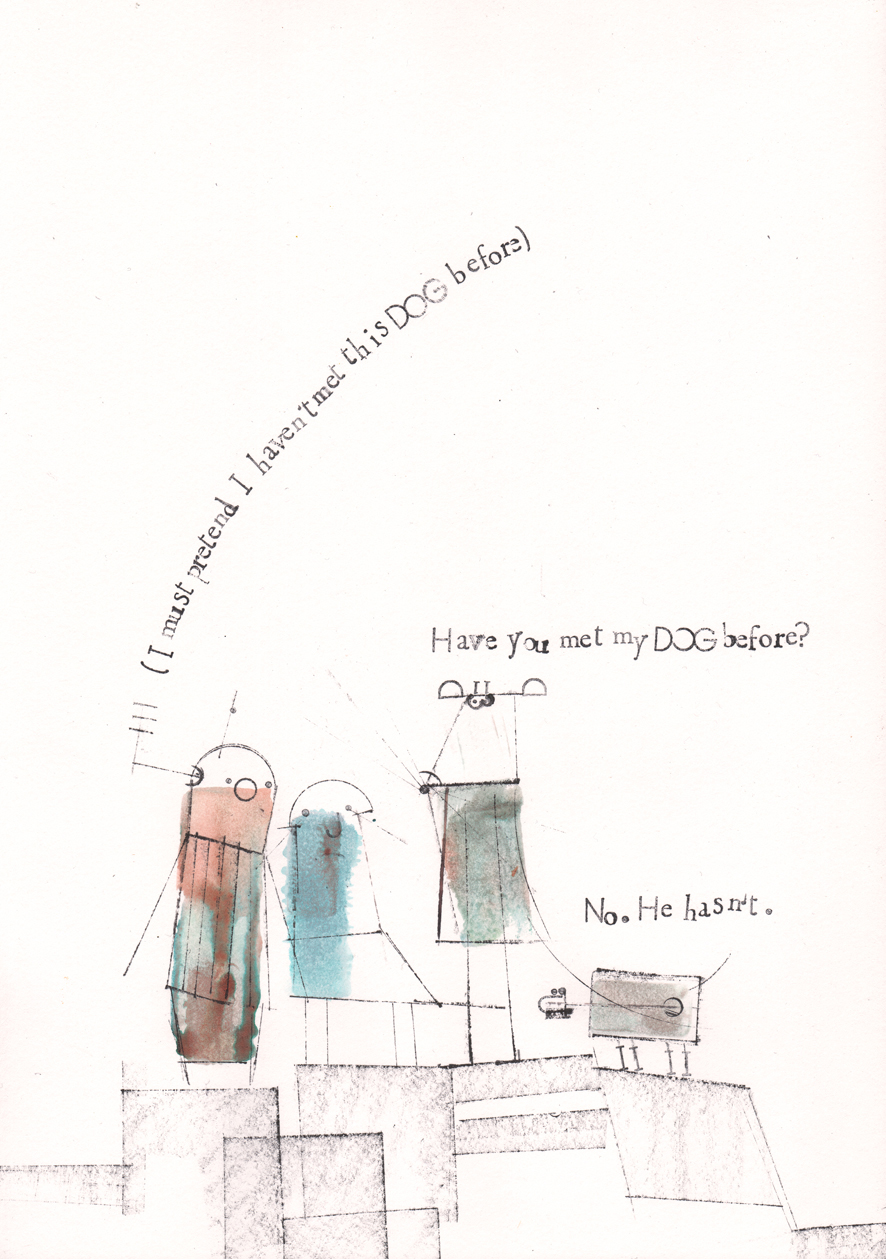 On one hand we have a comedian and on the other an artist. This seemed like quite a strange connection to me and in all honesty I followed you for a while before I realised you were an artist – how does comedy influence you art and your art influence your comedy, if at all? I understand you do some stand up as well -
Well, I'm not actually a comedian. I just try to be funny on Twitter. I did stand up just the once because comedian Michael Legge follows me and asked me to do something at a charity gig he was organising. I thought I'd give it a go. But I love making people laugh (and being made to laugh), and I have the right mentality for Twitter, playing with words, and posting my work occasionally. I've built my following by entertaining people on Twitter, not really from my art. Twitter is a meritocracy in a way. If you make people happy, you can get credit for it. But comedy is essential to my life and my art too. Comedy is serious, for me.
Can you tell us about how your art has changed over the years?
I've only been doing it professionally for about six years. I feel like I'm at the beginning of it still. I really want to work on a longer term project, a book or something. Nothing I do at the moment takes longer than about a week. I'd like to do something that takes me six months, or a year. But I'm a bit restless, creatively, and like to chop and change. Hence the variety of styles.
The book sounds like a great idea and something I would definitely be interested in – do you think it would be image-only?
No. I have lots of different ideas about books – too many really, it makes it difficult for me to decide. But it wouldn't be just image. I am passionate about language too – hence my love of Twitter. I see myself as a writer as much as an artist – or at least, writing is integral to my work. I'm not really the sort of person who wants to illustrate other people's words, although I get asked quite often.
Who influences you?
David Shrigley. Reeves and Mortimer. Ivor Cutler, John Glashan. Edward Tufte. James Blake. Ramadanman. Ricardo Villalobos. Gerard Manley Hopkins. Larson. That's the tip of a large iceberg. I could go on for hours, actually. There are some people, like Tom Gauld, whose work I love but I can't look at it any more. It feels too close to what I'm trying to do. It's a weird thing, I wonder if other creative people have it?
How do you change things up creatively?
It just happens. I've always got lots of ideas in the pipeline. I don't get stuck for inspiration. Talking with Karen is an important part of what we do, discussing what to do next. We don't get enough time to do this, because Karen spends a lot of time dealing with orders, running the business. We've just taken on an office, we probably need to take on a member of staff. Things feel like they're beginning to take off. It's scary and exciting. We have to be business-like too, because we have to make living from my work.
What was your reaction when we first approached you with the idea of creating some artwork for ourselves?  Can you tell us about the process of creating what you have for us?
I'm always interested in new projects, new people to work with. I was chuffed, actually. I get quite a lot of requests for freebies, charity things, etc. I wish I could say yes more, but I can't afford to do too much unpaid work, but with yours I saw an opportunity to try out something I'd been thinking about. I've got all these little printing sets – letters, mostly. I like hand printing, mixing them up with bits of plastic, pen lids, etc. The circles in the work I sent you are made with a thimble and the rectangle is a pencil sharpener! I like the feel it has, halfway between a monoprint and a drawing. I also like the way they're a bit like emoticons, faces from text. It worked out well because I got some new ideas for work and you got something original from me!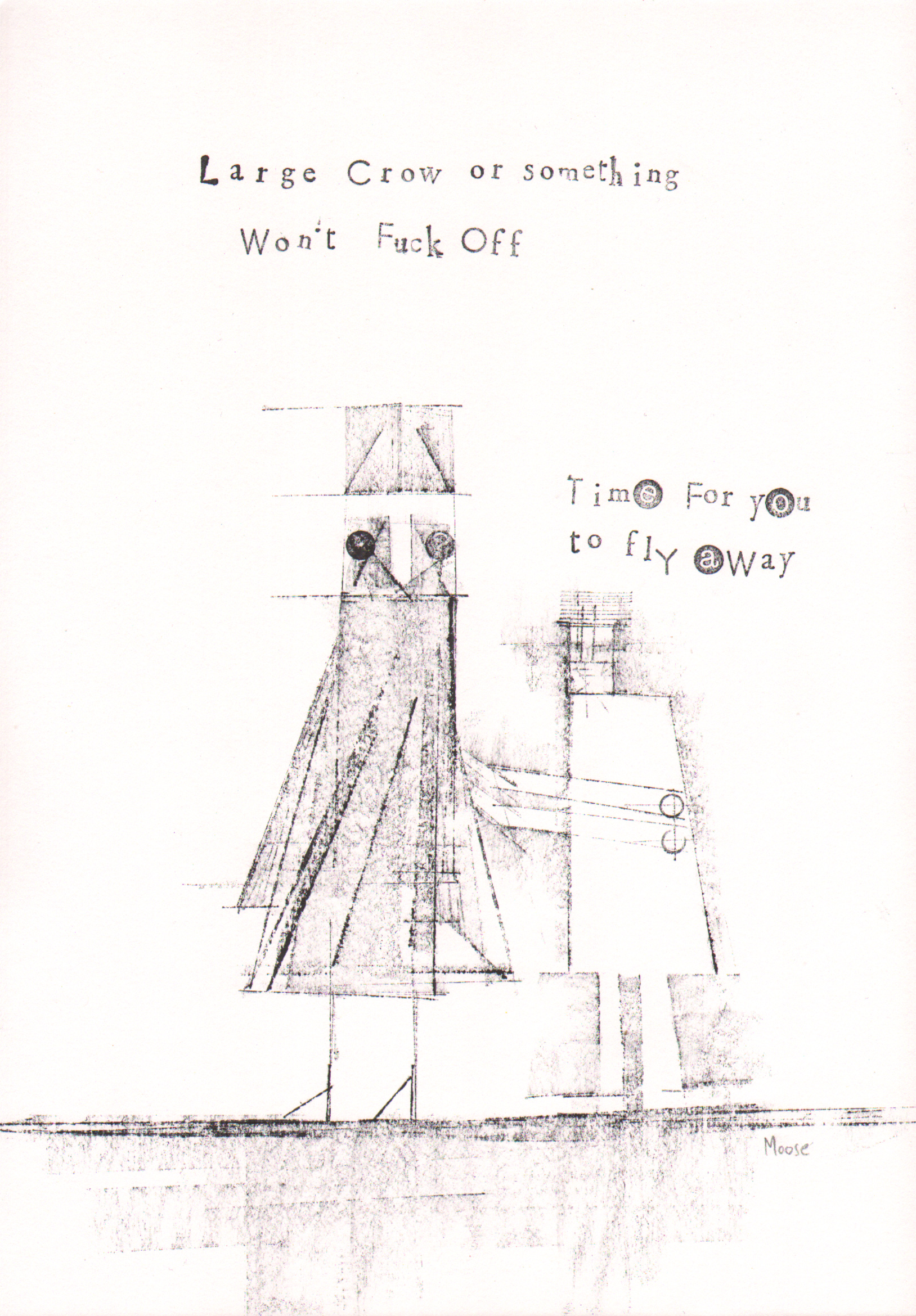 What knowledge do you have of skateboarding, if any?
Right. I'm glad you asked me that. Er… not much, to be honest. Skateboarding arrived after I grew up, really. I love watching it, I wish I could do it, but I'm far too old to start! Ok, that's me and skateboarding. Can I use the rest of my answer to plug my friends Loki who make the most beautiful longboards from recycled timber. They're furniture makers who do this as a sideline.
Check them out
.
You might know a lot more than you perhaps give yourself credit for – street skating in all it's variety and progression exists because of a wealth of endless different architecture within cities and so on – is this something you feel you can comment on? You spoke about your interest in what people got up to in spaces and places in the Lost Lecture which really stood out to me -
You are right. As I said in the lecture, I have always been more interested in how people use places than how the places are made. I really love the idea of skateboarders, parkour runners, etc. who see the places differently, for the opportunities they offer to interact in a specific and physical way. I think it's incredibly healthy to get people to think about places from others' points of view. It's like saying to people "Look up" when you're walking down a high street. I'm as guilty as the next person of trudging along with my head down, but when you look up there are some amazing buildings you hardly even notice. I think skaters teach us a lot about that. Personally, so long as they don't get in other people's way, I love seeing them occupying public space in an active and exciting way.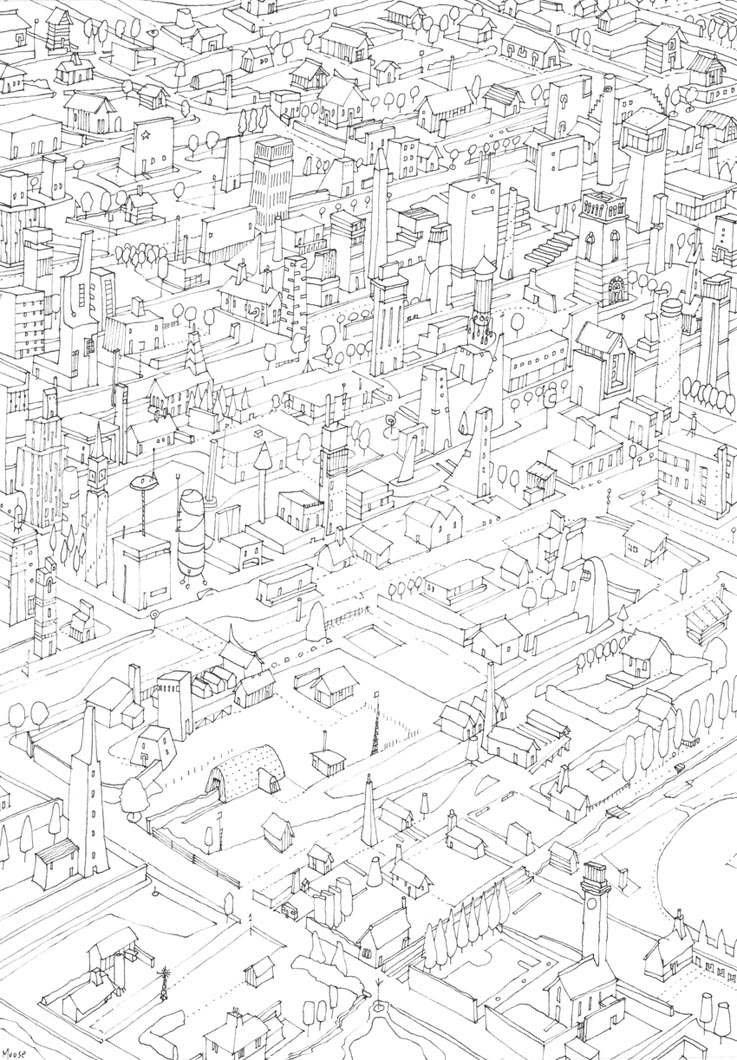 Can you tell us about the waxing salon in Mexico City and the artwork you did for them?
This illustrates what a wonderful global world we live in now, enabled by the digital realm making these kinds of things relatively easy to pull off. We were approached by the owner of Wax Revolution in Mexico City. They had been on holiday in Melbourne in Australia where they'd come across my work in a gallery. So they got in touch and explained their proposal to use my artwork for their new salon. We sent them digital files and they did the rest. I confess I was dubious about it until it actually happened. It just seemed too random! But I'm chuffed to bits about it, it's so exciting to see my work blown up large like that. I'd love to do something similar in the UK. I'd really like to hand-decorate someone's house one day. Draw all over it. If no one commissions me I might have to break in somewhere and do it myself.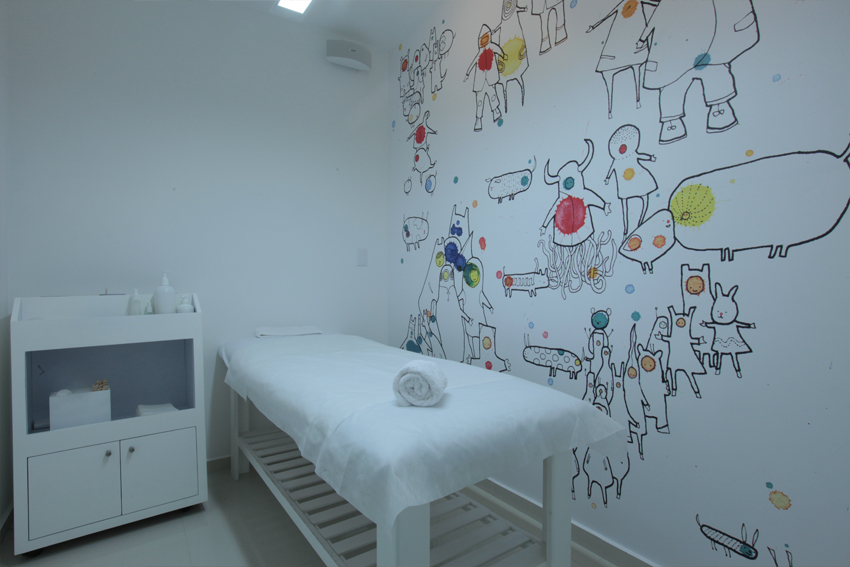 [Laughs] – so who is Archie Allain and how did this all come about?
Ah, Archie. My runty, malfunctioning robot son. Archie was born on Twitter, as a way of commenting on me, undermining me, etc. He used to 'take over' my account sometimes. He grew unaccountably popular and seems to have developed his own character, so I let him have his own account. I think some people think he's real, and he almost is. I tend to be horrible to him too, which people get cross about. It's all good fun. But he hardly ever tweets because I'm far too busy these days to let him. I've gathered some of his forays together on my website though, as a sort of pre-account archive.
Thanks for all this – I can't extend my appreciation for the time and effort you have given – final statement?
I'm thoroughly enjoying the adventure of working the way I do, always looking out for exciting collaborations or venturing into new areas… I'm open to persuasion!
Follow Moose Allain on Twitter: @MooseAllain
Check out Moose's website, World of Moose here
Check short film Falcon of Fury - Art Direction by Moose Allain
Help Archie Allain regain control on Twitter: @Archie_Allain
Follow Stephen Cox on Twitter: @stephen_coxy