Interview from Sidewalk 220
Portrait by Ryan Leathem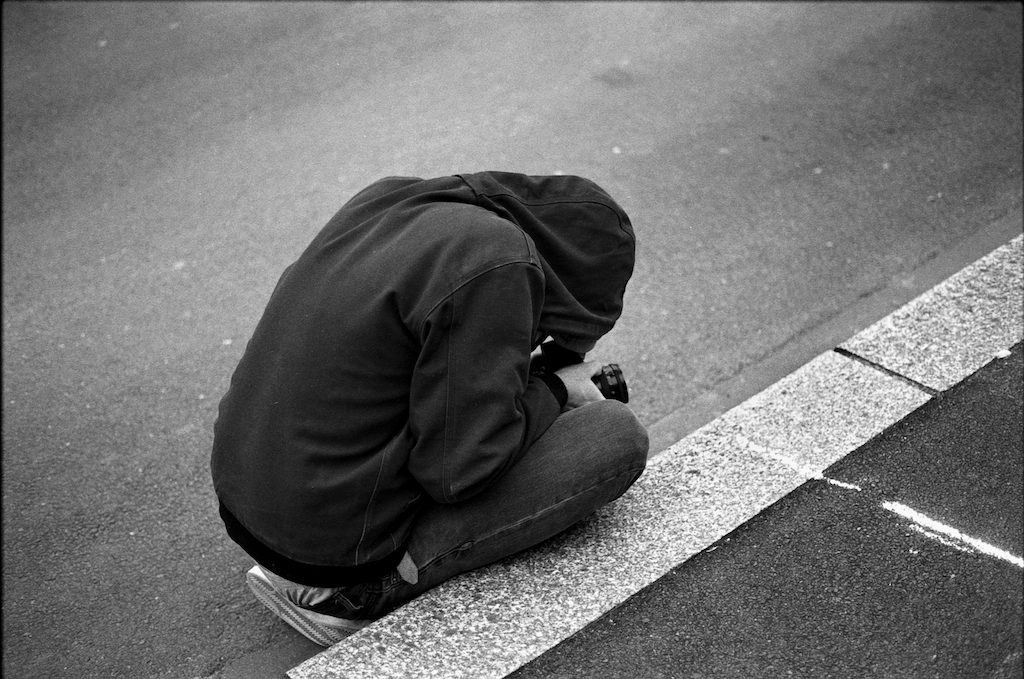 Let's start off with your life growing up and how you started skating Stu.
I'm from the Cave Hill area of North Belfast. I had a normal childhood, doing the normal things that kids do; playing football, climbing trees. Then I was in Easons in the Abbey Centre one day and I saw Sidewalk Surfer Issue 2. I was about 13 or 14 I think. I saw some sequences of Luke McKirdy doing a noseslide down a hubba and just thought, "that looks like great fun. I'm going to take that up". I haven't really looked back since.
Who did you skate with back then?
As soon I saw that magazine I said to my friend Mike Dyer about starting and he was keen to get on it as well. We both got skateboards. We realised that everyone just went down to St Anne's at that time. We started skating with all the Belfast locals at that stage; Liam Rea, Bernie Rea, Paul Crawford, Steve Crawford, Chris Shannon and loads of other people that I can't really remember now [laughs]. Ryan O'Neill and all those boys. It was good back then.
When did you take up the photography?
It started around the same sort of time as well. Like most I started with my dad's SLR camera. I just took it down to St Anne's around that time.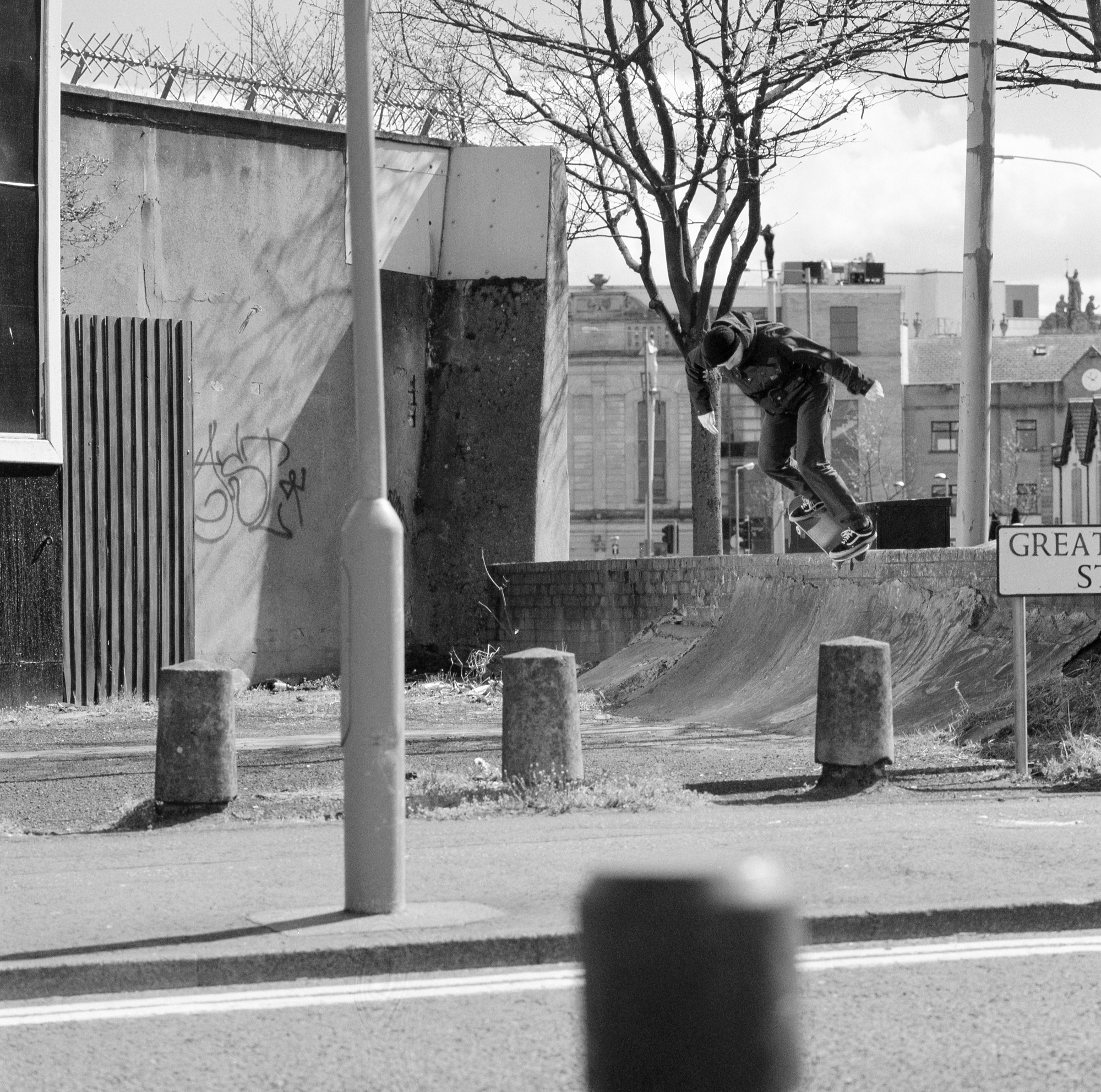 Bit dodgy.
[Laughs] he'd long forgotten about it so it was OK. I found it when I was digging around the roof space. It barely worked at that stage and it still doesn't [laughs]. No, I still use it to this day actually. That camera has its own unique feel to it. Some of the photos you take with it just turn out really ethereal or something, it's really bizarre. It just has its own personality, I love it [laughs]. But yeah, I took photos on that for a couple of years. I took photos of Bernie killing St Anne's all the time and then a couple of years later I saw some professional photographers come over and the equipment that they used. I just thought, "what am I doing?"
Who were they?
I think it was Sam Ashley, whenever Document was on the go and maybe Leo Sharp at one stage. It was in and around the same sort of time. I just thought, "what's the point in me shooting photos on this old decrepit camera? Those guys are using top of the range flashes and the rest of it". Then I kind of forgot about photography for 5 or 6 years.
Stopped completely?
Yeah. I didn't take any pictures at all.
Were you the only person shooting in Belfast when you started out?
Pretty much. Everybody at that stage who was into any type of media was more into filming. Ryan and Liam were always filming. There was nobody else taking pictures at that stage.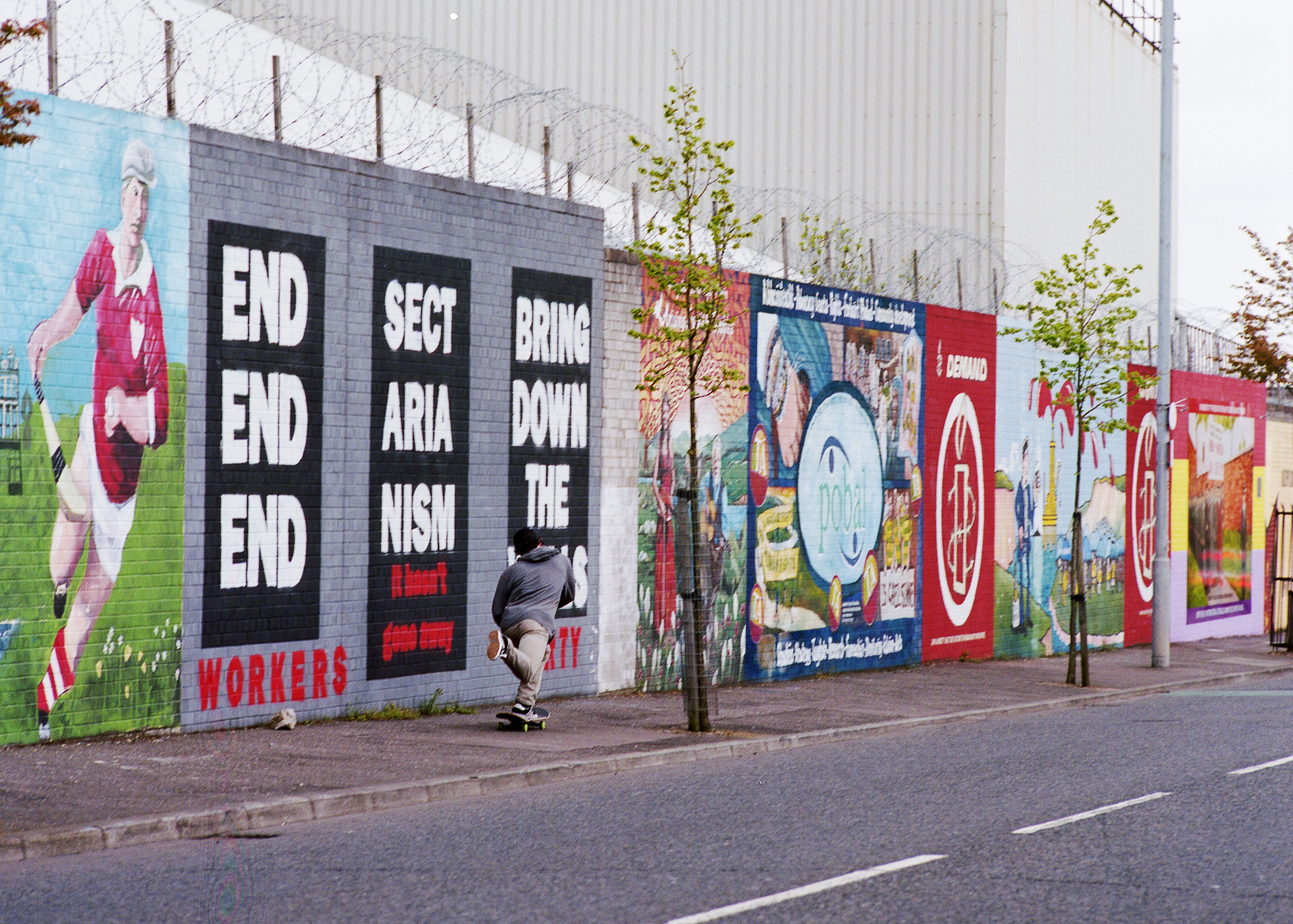 Were you sending your photos anywhere?
No, no. I was just taking them for the craic at that stage. They were awful [laughs]. I picked up a camera again at the dawn of the digital era. It was a wee crap compact camera, again just for fun. That was around the time that Monkeybird started as well [laughs]. The filming of Six Counties was going on and we were on road trips all the time.
How long ago was that now?
10 or 15 years ago maybe? Wouldn't even want to know [laughs]. But we were all going on road trips at the time and both Liam and Ryan were filming. I didn't really care that I didn't have all the best equipment. I just thought, "I'm gonna take photos because somebody needs to be doing this". It blossomed from there.
You mentioned shooting Bernie. Who else have you always been fond of shooting?
At the minute I really like shooting with Denis [Lynn]. He is always super keen for skateboarding and is always open to some weird suggestions, and I do come up with some weird suggestions. He's got the skills to back it up and he's so cooperative: "yeah, yeah, is that good enough? Want me to do another one?"
I take it you're shooting with him less though?
Yeah he kind of doesn't have a permanent base. He's a bit of a free spirit. I like shooting with Marc Beggan and [Jonny] McConkey. Marc is also really keen, motivated and has the skills. I love shooting with Jonny because he has a different vision. He sees and skates things that most people would just walk past and completely ignore. He's actually always bringing me to spots instead which I love.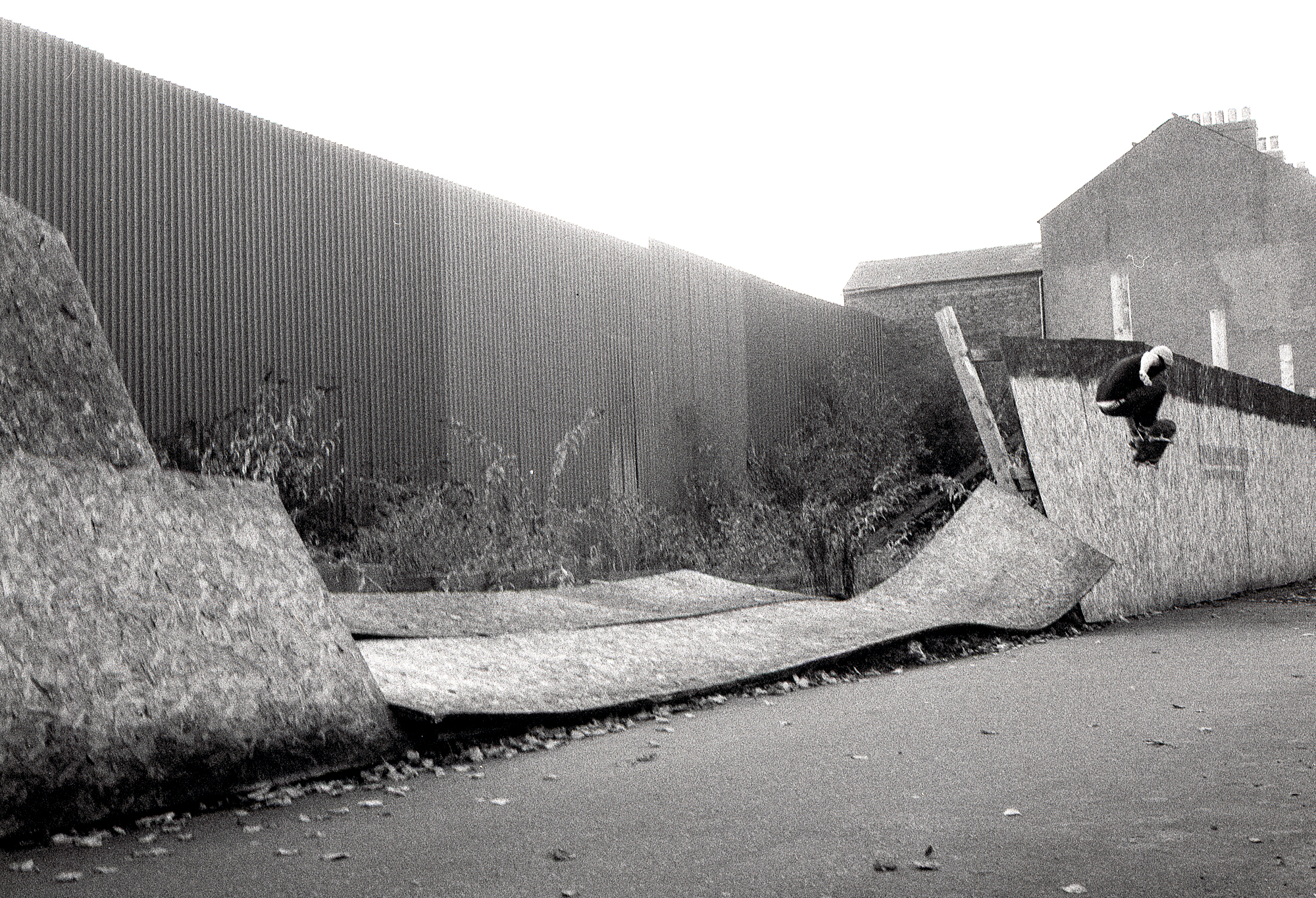 Do you feel restricted in Belfast when it comes to spots?
I think that is a big problem but you can always explore and there are always parts of the city and the country that you've never been to. If you have an open mind you can always find something that hasn't been skated. Plus skateboarding progresses too and things that weren't possible when I first picked up the camera again are skateable for people now because the skills have developed in such a way that the mind-set has changed too. They're more open to skating things that they wouldn't have before.
And you were still skating those years that you dropped the camera?
Oh yeah. Never stopped since I started. Once I picked up the board I never stopped.
Whose photography from the UK or further afield has influenced yours and why?
I think with skateboarding, Rich Gilligan has always been a big influence. I'm not too sure why. I think it's because he's a very talented photographer. He's a real nice fella as well, like. Beyond the UK there are people like Alex Irvine and Benjamin Deberdt. They all have very unique styles. I think most of my influences come from outside of skateboarding photography.
Really?
Yeah. They always have and they always will.
In what ways are you influenced then?
It can be anything. Different landscape photographers and their approach to shooting landscapes. There are a few from Northern Ireland that I'm really fond of. Paul Seawright would be one of them and Donovan Wiley would be another. My influences change so often though [laughs].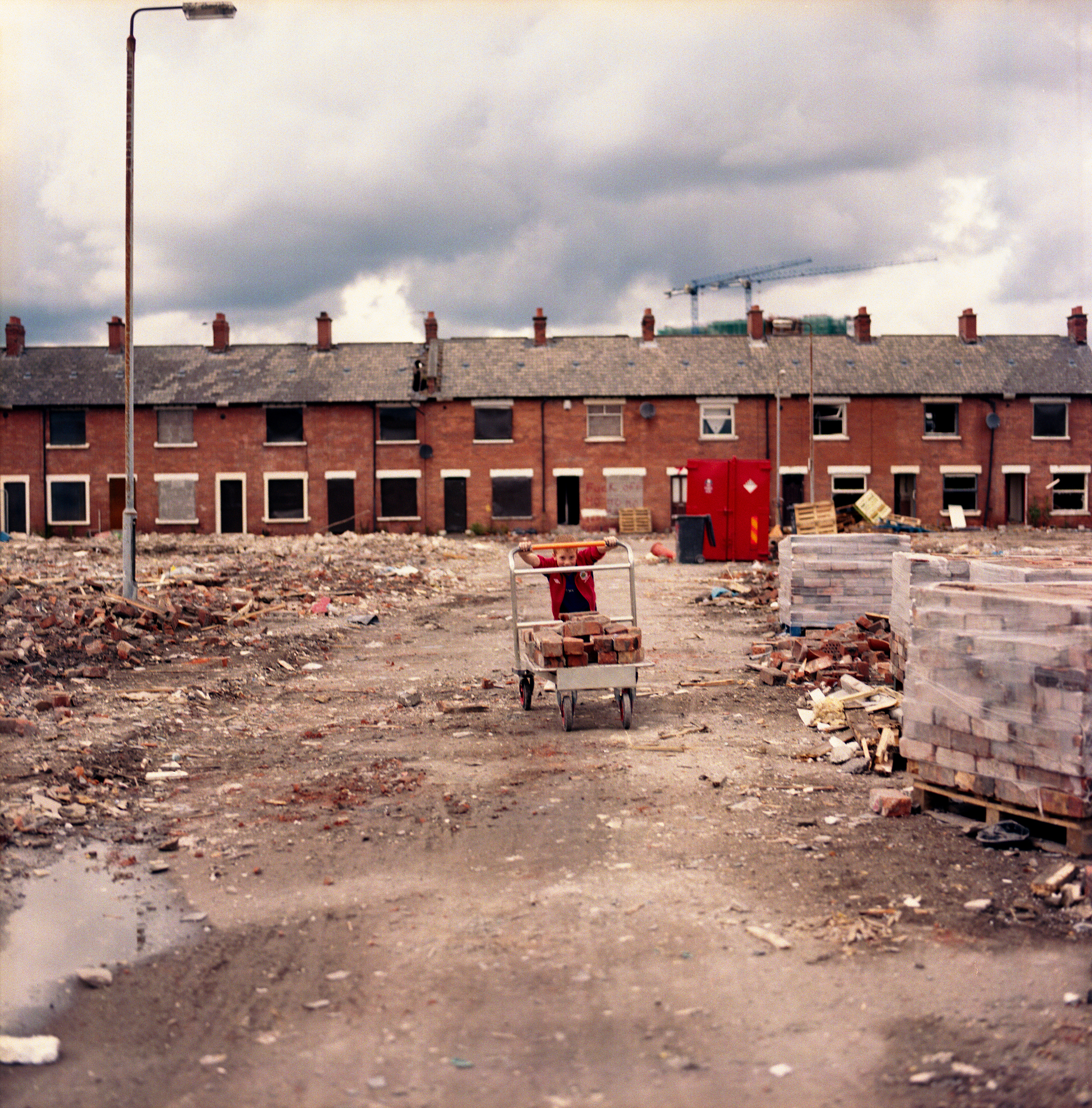 How do you view the Northern Irish skating scene as a photographer? How has the scene developed over the years?
It's a small country with not a huge amount of skaters, which makes everybody close: everybody knows everybody. It's easy to get around. Because everybody knows everybody you can always find somebody to stay with when you go to a different part of the country. The bad side is that with it being a small country, you're limited with all the spots you have [laughs]. You're also limited with the amount of skaters that you have to work with. In Belfast, you have a small scene – although there are a number of really talented skaters in Belfast – and you can have 3 or 4 of them being injured at the one time. You've got nothing to work with after that and everything goes onto a hiatus for a wee while. The scene is bizarre – I don't know if it's my own personal development or involvement – but it has gone from a really tight scene to everyone moving on. For a while everybody is really good friends, you grow up together, you make videos like Six Counties - which was a real highlight for me – but then people grow up and move away to places like Barcelona. It feels like there aren't many prospects for people in Northern Ireland, with the weather being so grim people move away.
Did you ever have a go at filming?
I used to film [laughs]. In those years I stopped taking pictures I spent a lot of time shooting Bernie, when he was on Unabomber. A lot of the stuff that was in the Point Seven Five video would have been my handiwork. A lot of stuff you would have seen in the Death of St Anne's video too. The invention of the death lens came in and I just couldn't hack it [laughs]. Whenever people were buying those lenses at whatever price they were, things became a bit more precious, you become a bit more concerned when you're able to get much closer than the fisheye I was filming with. I stopped quickly after they came into play.
Conhuir Lynn a while back he told me that you had a kidney transplant. 
Yeah, that was an ongoing saga. I was told when I was 16 that I was in renal failure. I've been monitored ever since. It got to the stage where I had to go onto dialysis and that was about 5 years ago. I was very fortunate that my da was willing to give me a kidney and it was actually 4 years ago today that I went in for surgery. I haven't really looked back since then. I've just been motivated to do things. When you have that illness it restricts you from doing so much, it give you a lust for life for want of a better phrase [laughs]. You want to do as much as you possibly can.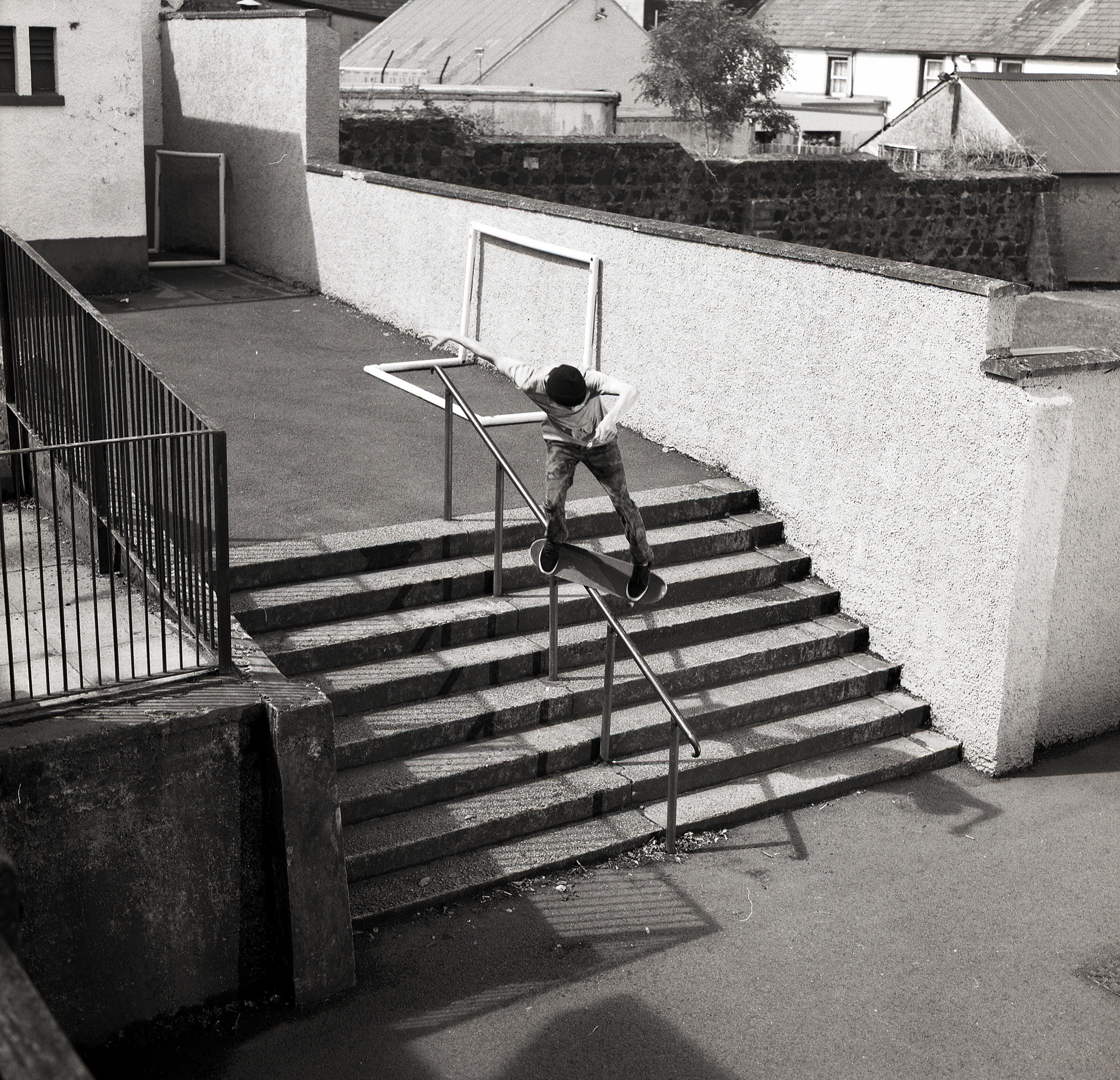 Was there great risk in the surgery?
Yeah. I'm on medication at the minute. They give you a kidney from someone else and unless it's an exact match your body recognises it as a foreign body, the same way it would with the flu virus. It starts to attack it so they give you medication to suppress your immune system to stop that. I had a period of rejection about two years ago but the doctor sorted that out thankfully.
So has that motivation pushed your photography?
Just everything but photography is my one outlet at the minute. I think physically since the transplant I feel limited in terms of my ability to skate. It shouldn't really, I think it's just a psychological thing. I'm protective of it. Photography is now my biggest creative outlet.
What publications have you had your work feature in? When did that all start? What was the first photo?
I think the first one was a really random photo. It was in Kingpin randomly. I didn't even send it away, Liam did. On St Patrick's Day 6 or 7 years ago there was a big fight at St Anne's between the skaters and punks. Liam and Chris Shannon both got black eyes, beat up pretty bad. I just took a photo of them hugging and smiling after, I sent it to Liam and he sent it to Kingpin and they published it. That was the first photo and it wasn't a skate photo but it was in a skate magazine. After that it was Document. I emailed Sam Ashley a photo of Conhuir at the Whitehead oil refinery spot that we broke into one day. Probably the best spot in the province without a shadow of a doubt.
What's there?
It's a big valley of flat banks. Sam was pleased with it because firstly it was Conhuir and secondly it was a spot that nobody had ever really seen before. I kind of kept chipping away, I emailed Sam and got a couple of photos in Document. At the same time, I was emailing Niall Neeson emailing him photos of Conhuir, Bernie and Ollie O'Hanlan. He was editor of Kingpin at the time and knew us all from growing up. He ran a few photos as well; portraits of Conhuir, photos of Keith Walsh, Denis and stuff like that.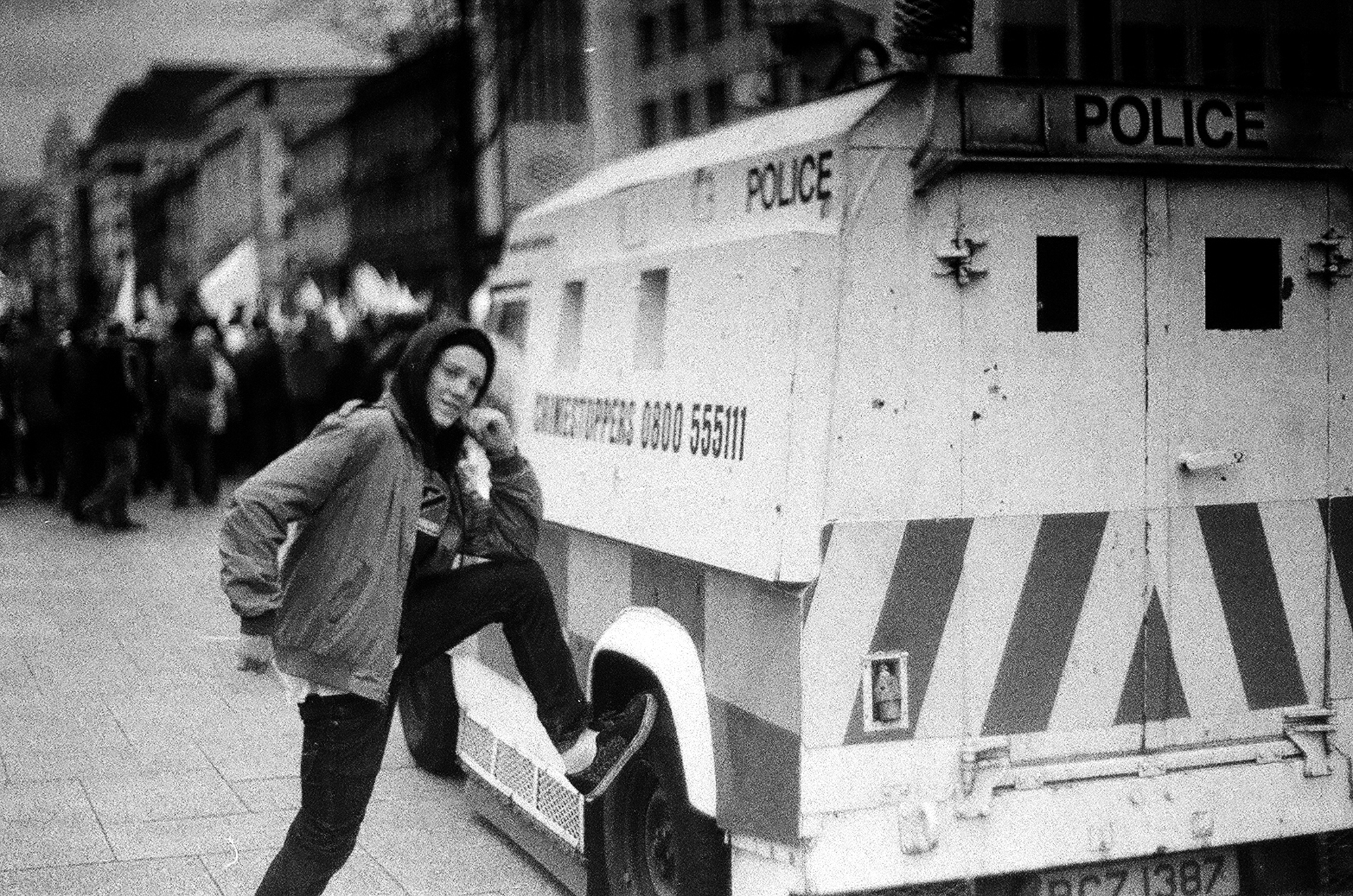 Are there any particular trips that you've shot which you're fond of?
There's one that sticks in everybody's head. We went on a tour about 6 or 7 years ago. Conhuir was on Black Box at the time and was touring around with Dominick Dietrich in a camper van. He told you the story about sneaking into Glastonbury didn't he?
Yeah.
They then drove to Northern Ireland and picked us all up. We went on a tour round Ireland: myself, Dominick, Conhuir, Ryan, Ollie, Denis, Pinky, and Rich Gilligan. We just drove about Ireland in what we called "The Schtumpher". The weather was really shit everyday so we were basically running away from the rain the entire time but it was still fantastic. It was one of the best trips I've ever been on.
Do you find trying to establish your work a challenge or do you not take photography as seriously as that?
It is a hobby. There's no doubt about it.  It is an outlet because I have a full time job as a chartered surveyor, which means you're comfortable so far as you get a salary at the end of the month and know where you are. To be a self-employed full-time photographer you would be that bit more stressed, especially with the illness or kidney transplant and you're not able to keep things working. At the same time I do take it seriously and I do pursue it – not for the money – for…I don't know [laughs].
[Laughs]. Has your work ever featured in any exhibitions?
I recently had a picture in the Ulster Museum as part of the Royal Ulster Academy, which is a pretty prestigious art event in Northern Ireland. It's a long story. But my grandfather was moving out of his house and I just thought, "I have to document this. He's lived here for a long time." I tried to build up a bit of a personality of him and his belongings and things like that as the house became empty and was cleared of his possessions. Despite the lack of contents, there were still subtle fragments of the person left behind. The photograph appeared, it's of two dust rings on a wall, which to me symbolise the marks and impact people leave behind them once they move on.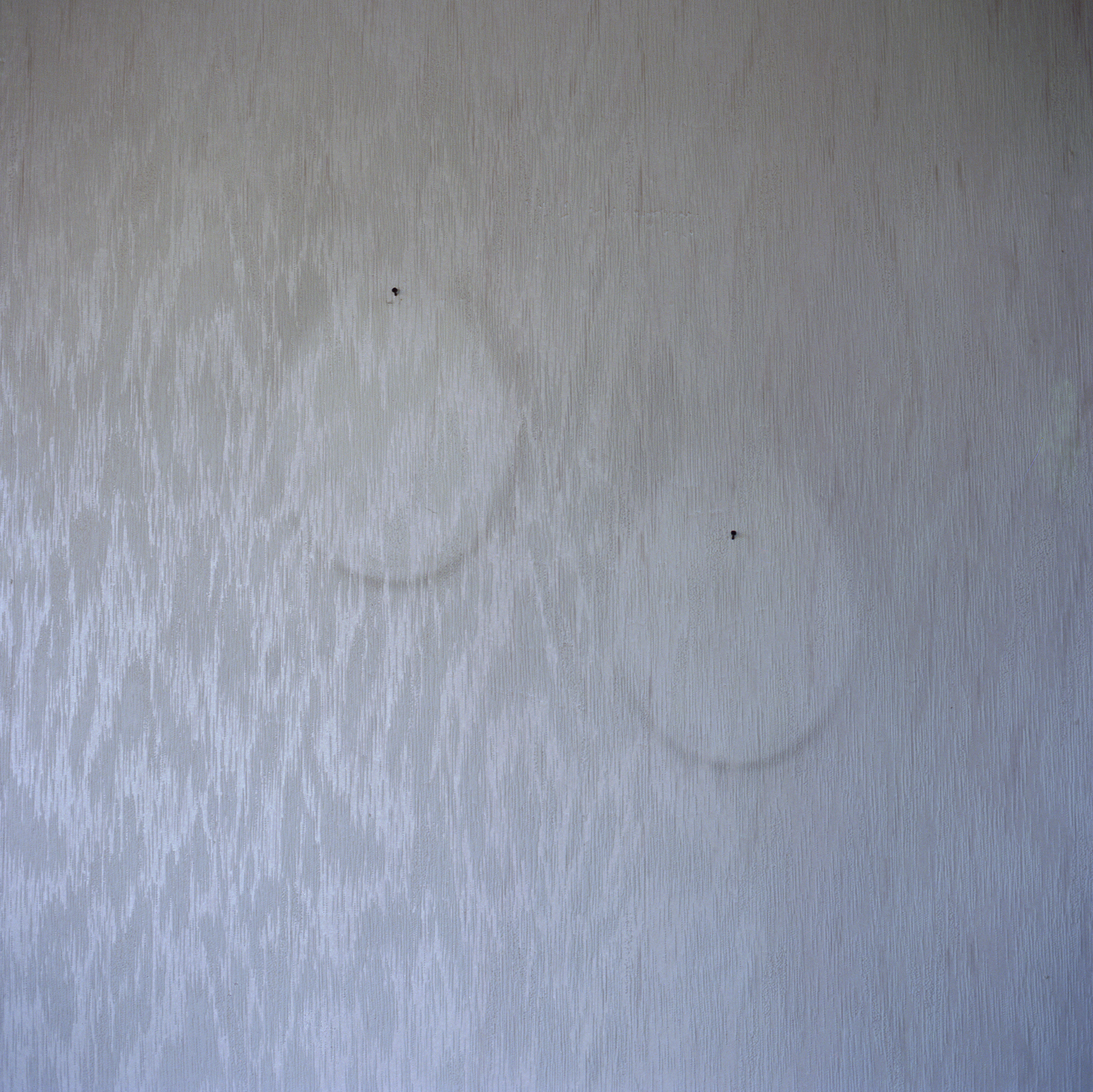 How did it end up in there then?
[Laughs] oh dear. I don't want to say because I'm being interviewed. But they do an open submission basically and I sent stuff and they didn't accept it. I got quite upset about it and said I was never going to do it again. I randomly checked the website on the deadline day and I was pretty hammered at the time and just thought, "I'm going to send them the most random photograph I have", which was the shot with the two circles [laughs].
Brilliant.
They accepted it.
What did you say about the photo then after?
Just basically what I told you. At the opening all these high-brow art people were asking what the photograph was about. I made some of the stuff up as I went along [laughs].
[Laughs]. How do you feel about having your work displayed? What other exhibitions have you done?
About two years ago I was approached by the Ulster Hall. They commissioned me to do an exhibition based on the centenary anniversary of the Ulster Covenant, which was interesting because it's quite a contentious issue in Northern Ireland. I had to approach that with a bit of care and try and come up with a neutral view, which was a great challenge. It took about 2 years to get the project finished.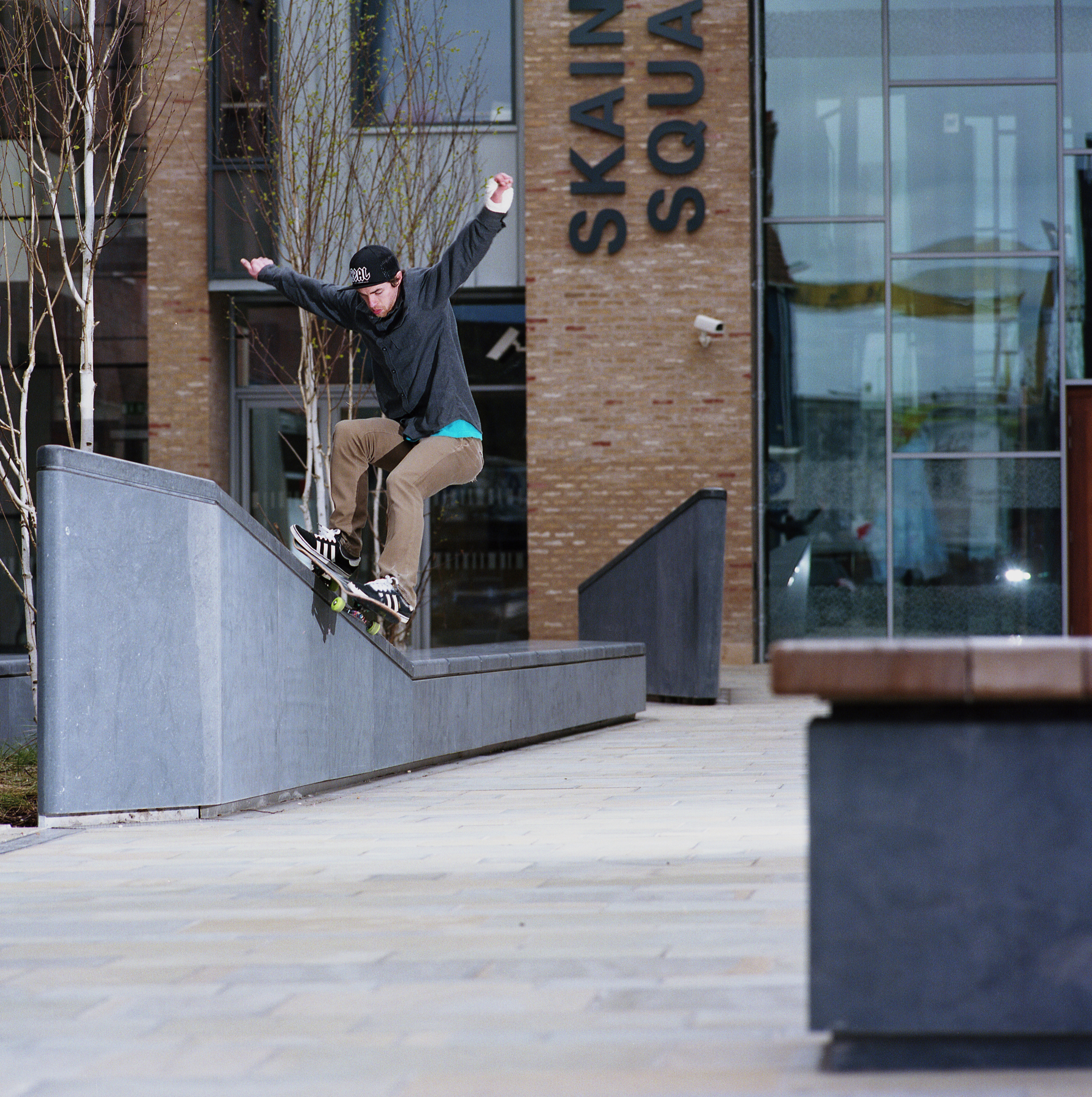 Can you give us a quick rundown of what the Ulster Covenant is exactly?
It's is a document that was signed by just under half a million people from Ulster in 1912. The vast majority signatories were of a protestant or unionist background. It was basically a powerful petition against Home Rule, or Northern Ireland being governed by the Irish Government, which led to the Six Counties of Northern Ireland opting out of Home Rule.
What was your work about in the end?
It was about how far Northern Ireland has moved on in that 100 years since the signing. That was the time when the tides started to turn with regards to the segregation of Protestants and Catholics. A lot of people in Northern Ireland are quite regressive and they don't see the positives or the progress.
Yet this never seems to apply to skaters.
I don't think they pay the slightest bit of attention to religious, social or political backgrounds once they get into skating. It's much like any other skate scene in the world I guess, as long as you're down for skating you'll be accepted no matter where you are from.
How did the exhibition turn out?
That was one of the ones I actually was pleased with. I was working full-time while I was doing that. The first 6 months was me figuring out how to approach it. After that everything slowly but surely fell into place. I even got into the Maze prison, which was a phenomenal experience. Very few photographers have got into the Maze to take pictures. They granted me one day's access to go around it.
How did you pull that off?
I had to apply. I just drove out randomly one day and spoke to somebody on site and they said I had to write a letter. So I wrote the letter outlining the proposal of what it was for, what the purpose was and how the Maze would fit in. They actually jumped at the chance, they liked the project and were glad to be a part of it.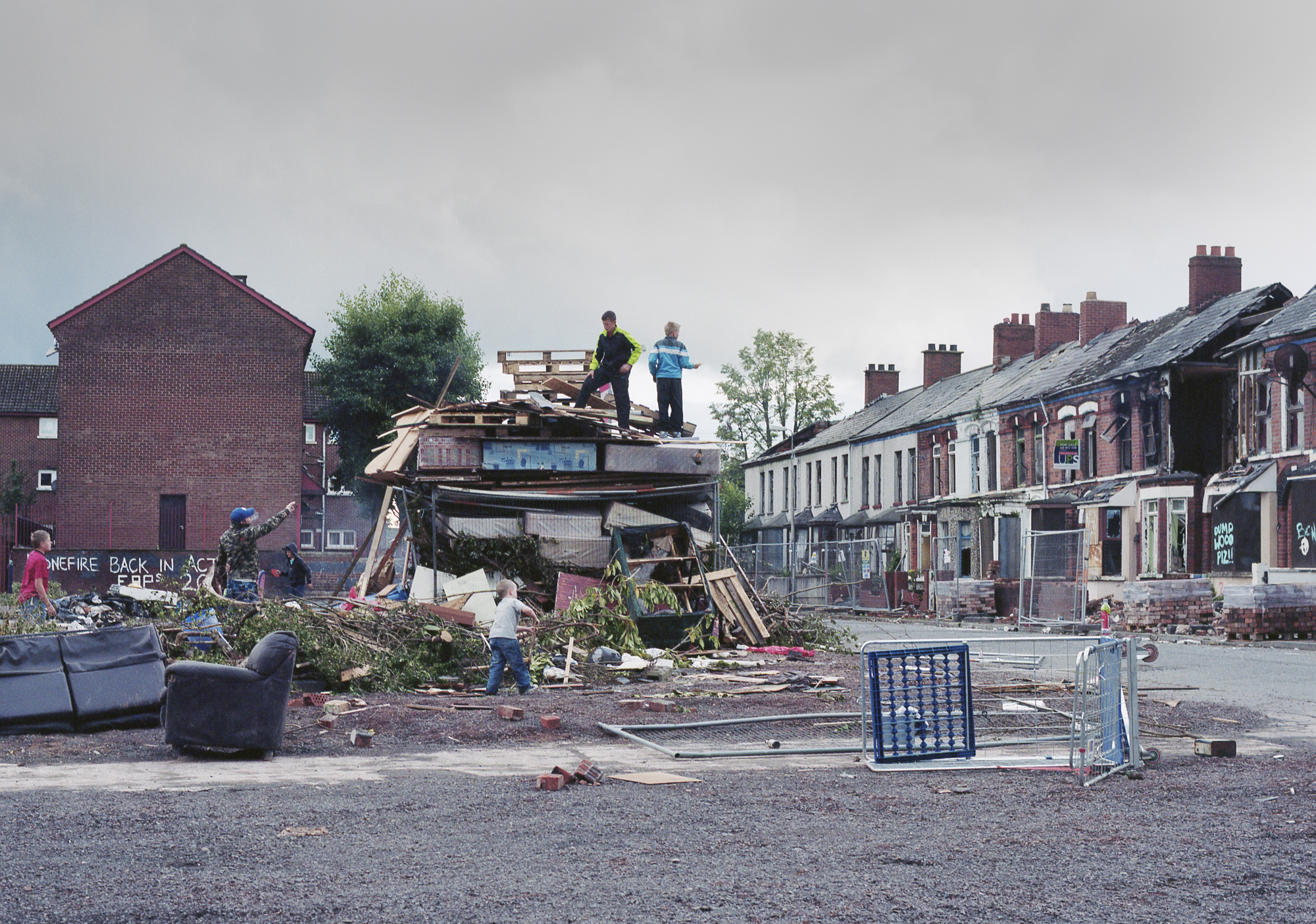 The two projects you've spoken of outside of skateboarding seem pretty big. Do you work project by project or just shoot photos until something comes along? How often do you get out skating?
I just shoot projects for myself. I've a couple that I'm working on at the moment that are going to take a lot of time and because they're going to take a lot of time, I need to come up with some other projects [laughs]. I get out as often as I can, but it can be pretty tough to get motivated after a full day of work.
Which photos of your own are you particularly proud of?
I don't think there are any that spring to mind. I'm not the biggest fan of my own work [laughs]. I do it for shits and giggles. Isn't that what they say, all artists are their own worst critics? When I look at other people's photography I just don't see myself reaching the same standard.
What are your thoughts on the limited amount of skate publications in the UK?
It's no secret that magazine culture is changing. Self-Publication is on the rise. There doesn't seem to be the same commercial impetus behind it anymore. People are now doing it for the love of the game. Which isn't a bad thing, it seems to be the way forward.
What about beyond our shores? Does your interest extend there?
I have seen some other tight ones though like Dank, it's a nice publication. I usually come across stuff through other people.
How has your equipment changed over the years?
I started with my dad's SLR, which I still use to this day. After that I got the compact digital, which was pretty rubbish. I eventually invested in a digital SLR, which again was the dawn of the digital era. It was a Canon eOS 350D. I used that for a long time. Slowly but surely I built my equipment up from there: flashes and slaves, that was the way forward with skateboarding photography.
Were your choices always based around skating?
Affordability [laughs].  It was entry level digital SLR. It was part of a Christmas present, which I had to put half the money towards, and was the cheapest one we could afford. After that I got bitten by the film bug after about 2 or 3 years. I started building up a collection of film cameras. I bought a Bronica, used that for a lot of years. Then recently I got a Hassleblad, it's a really good camera. It's kind of gone full circle, back to solely using film.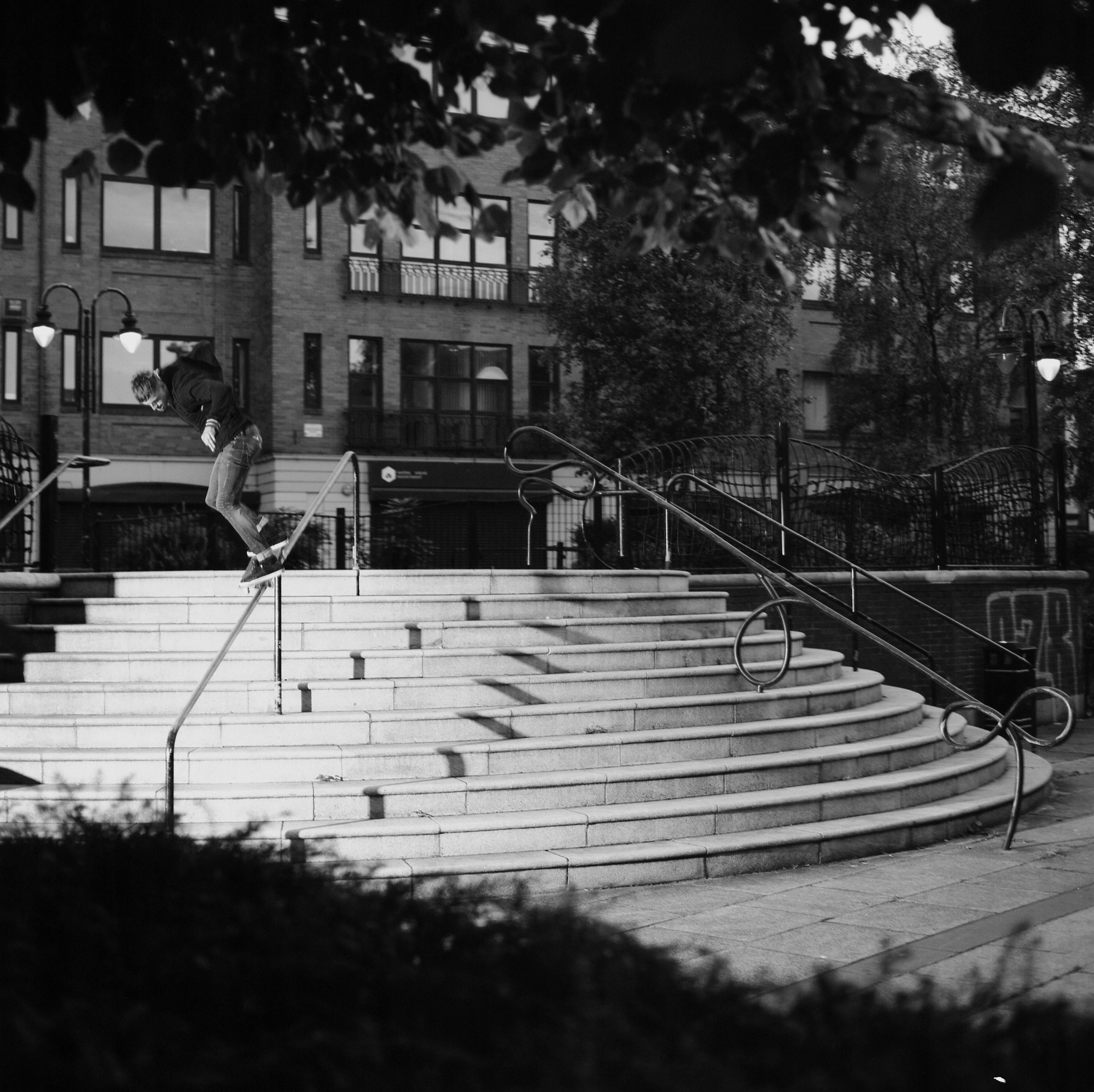 How did Format Perspective come about? What exactly was the idea behind the project?
Phil Evans, a friend of mine, was filming The Scrum Tilly Lush. He was filming here in Belfast and just saw me sitting at the side having a laugh with my mates taking pictures and thought that was another interesting subject. He kind of formed the idea around that. He approached Rich Gilligan to see if he was keen, he suggested other photographers and a lot of them were keen. A lot didn't end up doing it though so the line-up changed a bit. Phil did what he always does cause he's a hard worker, he approached everybody in the industry until somebody would sponsor him to take the project on. Carhartt backed it. I don't think he could have got anyone better because they came up with the idea to do the photo book in conjunction with it. I think mainly Phil just wanted to move away from solely making skateboarding videos and maybe wanted to develop as a videographer. It was maybe a critical point in his creative pursuits. It was about photographers and their different approaches to skateboarding photography. He's now done Coping Mechanism, which is his new DVD about the Malmö skate scene.
You got the website setup and everything a while back, what made you get that into gear?
I wasn't well over Christmas, I had a bout of pneumonia so I was off work for a while and wasn't able to go anywhere. I was bored and just decided to be productive and make a website. It's something I should have done a long time ago but I'm not really technologically-minded.
If you had to offer some advice for people wanting to get into skate photography what would you say?
I don't know [laughs]. Just go for it. It's good like!
Inspiring advice there Stu. How are you going to round off the rest of the year then? What's next for skateboarding in Northern Ireland?
I'm not sure at this stage how it will round off. I've been working quite intensively on a project focused in and around Northern Ireland; it's been an interesting journey as I've been in a number of situations where I've met some great characters and been offered some bizarre opportunities. I'm focused on having the project tied up in the near future so keep an eye out on my website. I think skating in Northern Ireland will grow from strength to strength as it always has.  Northern Ireland and Ireland have produced some world-class skaters over the years, and the new concrete skate parks are providing an excellent space for people to hone their skills.
Check out Stu's work on his website: sturobinsonphoto.com
Follow Stu on Instagram: stu_robr
Special thanks: Pinky, Beeps, Horse, Tony Moore, Craig Dodds, Mark Beggan, Mark Jamison