Rob Mathieson is one of those dicks who is unfairly exceptionally talented at two different things: skateboarding and illustration. Well, he's not a dick really. In fact, he's a really genuine guy (which on top of his talents sort of makes him a dick). Rob's wonderful illustrations grace all sorts of bits and pieces of skateboarding materials that come into contact with your grubby hands more often than not. On that note it was best to catch up with him to find out about filming for Eleventh Hour, influences and his latest board graphics on Chocolate.
This interview took place a while before the great update on the undercroft yesterday. Congrats to Long Live Southbank.
Interview by Stephen Cox
Illustrations by Rob Mathieson
Can you tell us about where you're from, your life growing up and how illustrating began for you?
I grew up in East Molesey which is in the suburbs just outside London. No one's ever heard of it, but it's by the River Thames near Hampton Court Palace which is where King Henry the 8th used to live, so it's a tourist attraction of sorts. I've always been into drawing as long as I can remember. I guess it started off just wanting to be able to draw all my favourite cartoon characters. I studied art all through school and went on to get a degree in animation at university. Started skating around the age of 14/15, at the skatepark in nearby Kingston and really got into it when everyone else in my football team grew and I didn't. Around that time I started taking the half hour train ride up to Southbank after school and at weekends, which is where I met pretty much all the people I count as close friends now.
What sort of animation projects were you involved with at university?
All sorts. I worked on hand drawn and handmade model animation. At one point in the course they allowed some students to work on computers, but spaces were limited and I much preferred to be sat making models than in a dark room at a computer screen. Had I known how useful being able to use the computers would be I may have tried to get on that, but at the time I was really enjoying what I was doing. It was often annoying that we were obviously following the course, so had tight deadlines which meant I found I could never get any of the films exactly how I wanted them.
Since leaving I managed to submit an ident to Channel 4 which they used for a while which I was really pleased with.  It meant I got to draw my mate Snowy and get him on the telly.
What are your thoughts on animation going completely digital? I'm not well versed on the subject but maybe remember reading a while back that Disney were stopping drawing animation altogether? Is that right? Is computer animation something you would also like to explore more?
I think it's sad. But it obviously saves so much time and money that it's inevitable. There's something really nice about being able to see the animators fingerprints rippling in the characters, or the pen and brush strokes in the images. It's something I wasn't interested in when I had the chance to learn it at university, but now if the chance came up, I'd definitely like to have a go. It's the same with illustration. I was reluctant to use computers at first but you can obviously accomplish so much, so quickly in comparison to doing stuff by hand. Obviously they give totally different results, but I've discovered that's not always a bad thing.
You mentioned Southbank before. Who did you skate with?
It would be such a long list of names. I could tell you that all my closest friends now were met there, and they're still the people I skate with today. The scene was so good back then. You could just turn up at Southbank without calling anyone and know that there would be mates there to skate with. We'd all stay at "The Palace" which was a flat Edson, Snowy and Vinny rented in Brixton, a short bus ride from Southbank.  Everyone would peel themselves off the carpet every morning and jump on the bus to town. I lived outside of London so if I wanted to stay out past midnight I couldn't get home. I spent a lot of time staying at Nick Jensen's house in West London as well.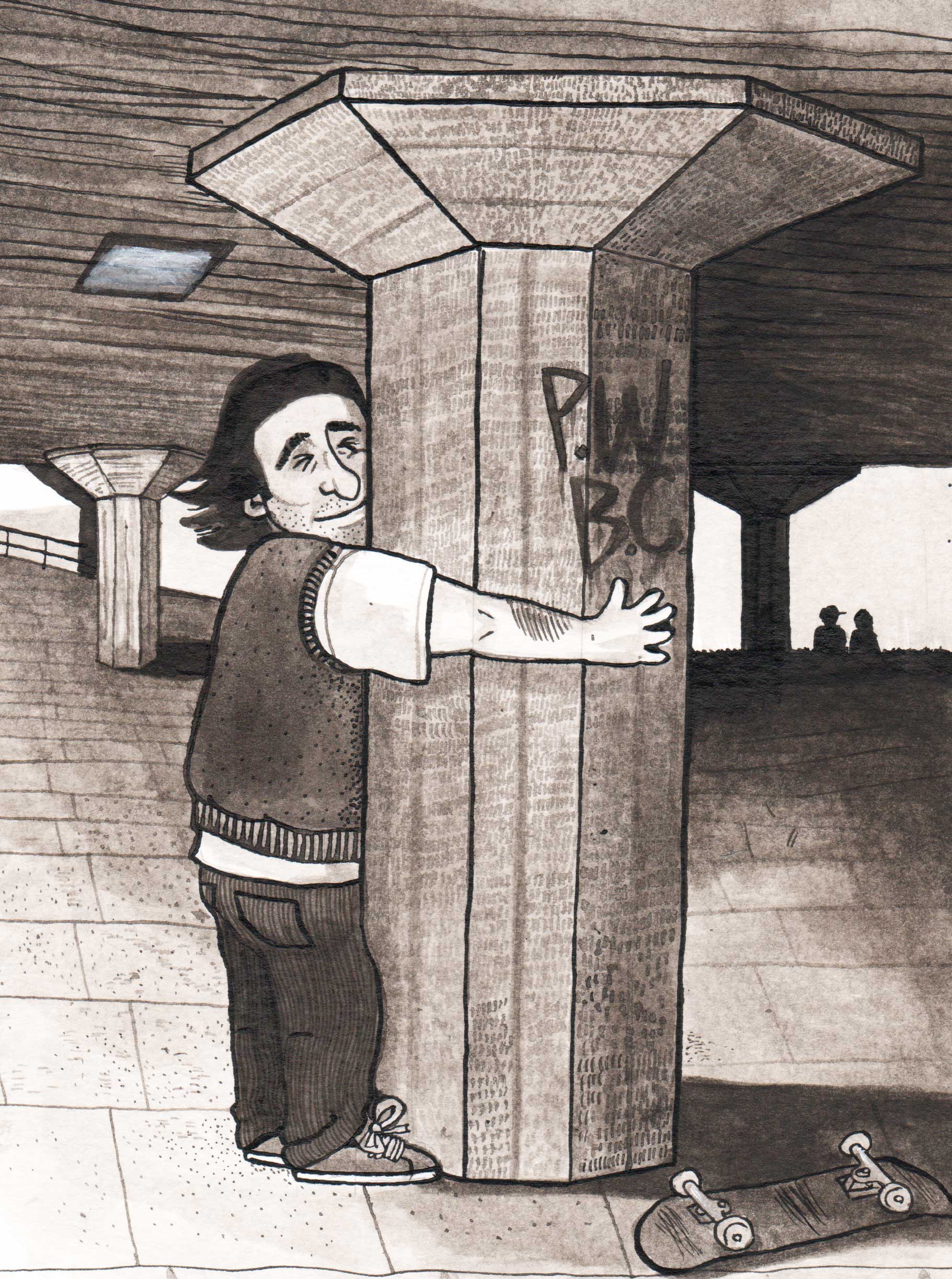 Peel?  Lots of drinking going on at The Palace then?
Yeah, peel.  It wouldn't be unusual to wake up next to a plate of beans or pizza crust. A little drinking went on, but it was more just where everyone came to sleep after drinking at some terrible £1 a drink indie disco in town.  Wake up, watch the Land Pirates VHS, wait for Snowy to decide what he was wearing that day and go skating.
What are your thoughts on the current situation with Southbank?
I think it's really sad. It would be tragic if it were to go. I met all my best friends there. I still meet new friends there. Since I've been skating there I've seen the space slowly shrink to about a fifth of its original size. It seems they've always been trying to push skateboarders out. I remember Toby's campaign to save it when they first took the little banks away. What's left isn't the Southbank that I grew up skating. It's become much more of a tourist attraction with a rail for people to lean on and watch, separating skaters from the public. The scene there is still strong. It's still the only place in London that kids can head to and know that someone will be skating there. It's still a place for young people to go, make friends and feel safe.
What do you think the outcome will be? What difficulties do the campaigners face?
I don't know what the outcome is going to be. It is clear that the Southbank Centre have already decided what they want, but thanks to the hard work of everyone involved in LLSB, the preservation of the space has got massive public support. It doesn't seem that the SBC is really willing to listen to anyone. They keep putting signs and banners around the site saying that "skateboarding is safe on the site", letting people know they are providing an alternative skatepark, completely ignoring the thousands of people who have told them we don't want skatepark. I think their latest solution was for skateboarders to raise £17million in the next 6 months to account for the extra revenue they'd get from turning the space into retail units. If you haven't already, head over to Long Live Southbank and get involved. It's important.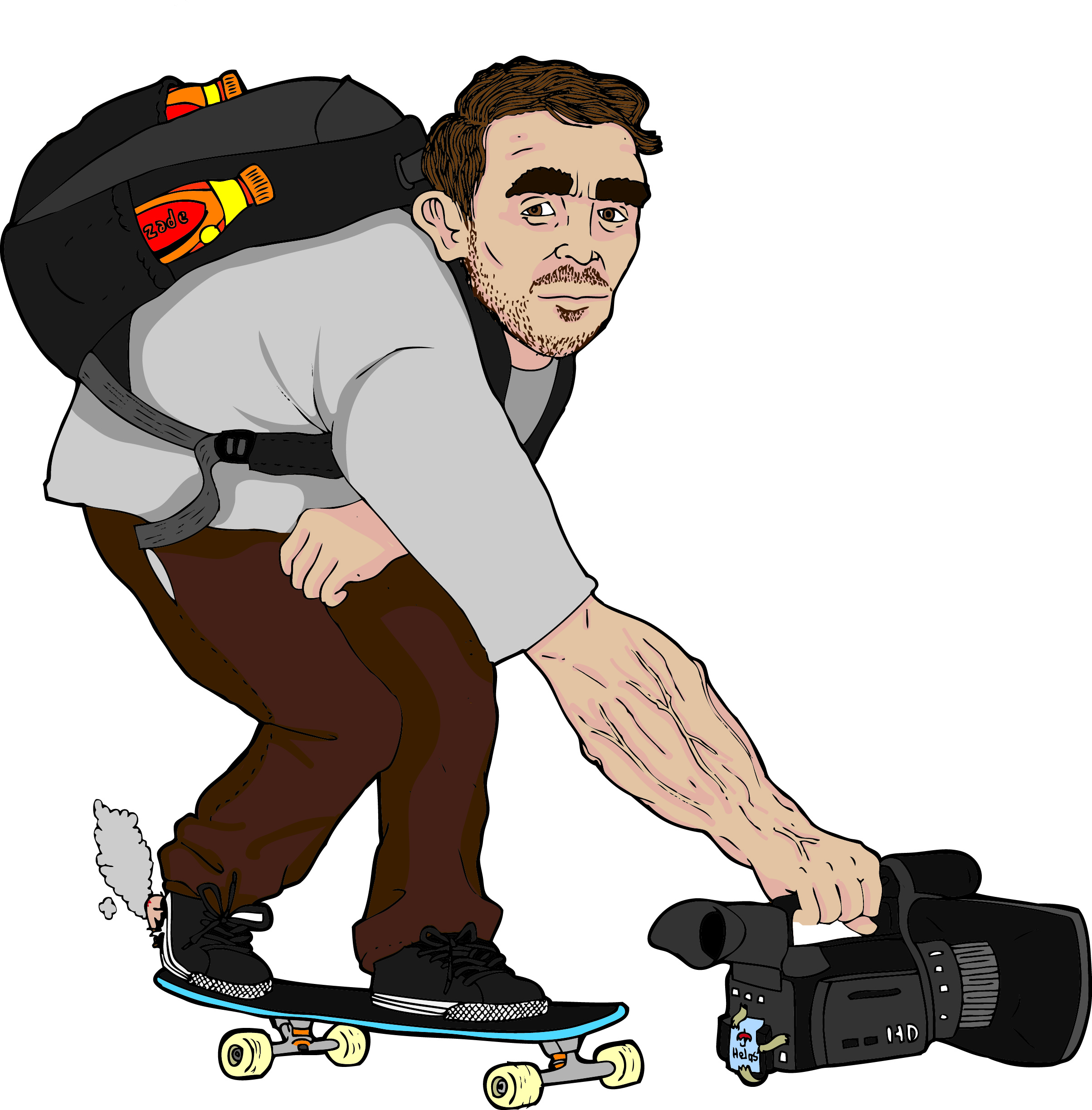 Where do you hope illustration and animation will take you?
The dream is to be able to make a comfortable living off doing exactly what I'd like to. Drawing what I enjoy, and people enjoying the drawings. It's really hard obviously, because there are so many people trying to do it. I'm not very good at the promoting side of things, so I'm just trying to get my stuff out there a little more. Hopefully got a couple of shows in the pipeline for early next year.
I saw a musician recently post their angry response to a music company asking for the rights for free when it wasn't justified. Is this something you have come across in your trade?
I have. I drew an illustration for a magazine that shall remain nameless awhile back. They asked for a lot of changes to be done quite a few times and when I invoiced for my work, they explained to me that no one gets paid to contribute and that the reward was having the work published in their uber cool publication. That was half my fault for not discussing rates before but it is very annoying that people almost don't see it as work. The problem is that there are so many people trying to do this that there are always people willing to do things for free. If you spend a day or two on a piece of work for someone, they should pay you. It's the same with music; it's the same with photography.
There's been a great response to Eleventh Hour since it was released. What was it like being involved?
It was really fun. It didn't really feel like filming for a video. Most of the footage was got just skating about with everyone. It's a lot more fun to get to a spot and skate and then maybe film something if you work it out, than think about specific things you want to do at certain spots. I think that's how a lot of everyone's footage was gathered.  It wasn't until Jake [Harris] told me I'd got quite a few bits that I started thinking of stuff I'd like to. Jake was so committed to the whole thing. He was down to meet and skate where ever at whatever time. He's fun to film with but he's so good at skating himself that if you take him somewhere and spend a while trying to do stuff, you start feeling bad for him. The video turned out so good though. I think its Nick [Jenson]'s best ever part.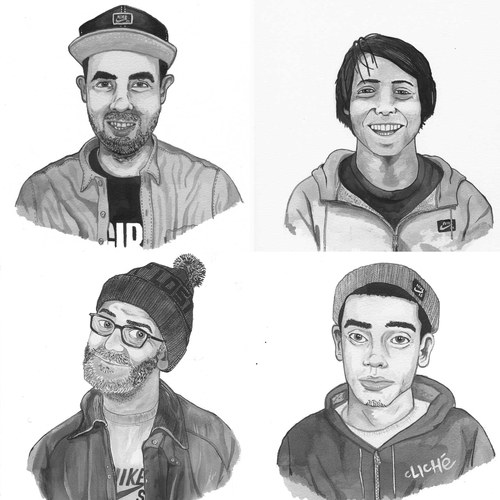 I think Kate Bush sealed it for me. The video as a whole was fantastic, the only complaints I heard were about the packaging which say a lot right? 
Jake did a really good job.
Loved your section too. Did you plan to have more footage in there?
I would have liked to have more footage but I guess everyone probably had stuff they wanted to do that they didn't have time to. I'd just been getting odd bits with Jake as they came about and by the time I realised I had a bit of footage it was near the deadline and Jake had people with full parts to go out and finish up with.
Not that it matters, but can you shed some light as to why it didn't up being the Grey video?
It just came down to music. Henry [Kingsford] was really nervous about legal issues with using unlicensed songs. By making the video independent it removed that responsibility from Henry and Grey, and Jake used whatever songs he liked.
So does skating or illustration come first? In what ways do you think about the two together or as separate passions?
Well illustration came first. I've been drawing as long as I can remember. They do kind of go hand in hand to an extent. Being passionate about two things, I think it's natural that they are combined or overlap. I'll often see an image or draw something and think that it would make a good board graphic. In the same way, being young and obsessed with skating meant that most of the drawings and artwork I saw that influenced me was on the bottom of skateboards. I know it's a bit of a cliché that people say all the time, but skateboarders are generally creative people, and I think skateboarding shapes the way you see the world.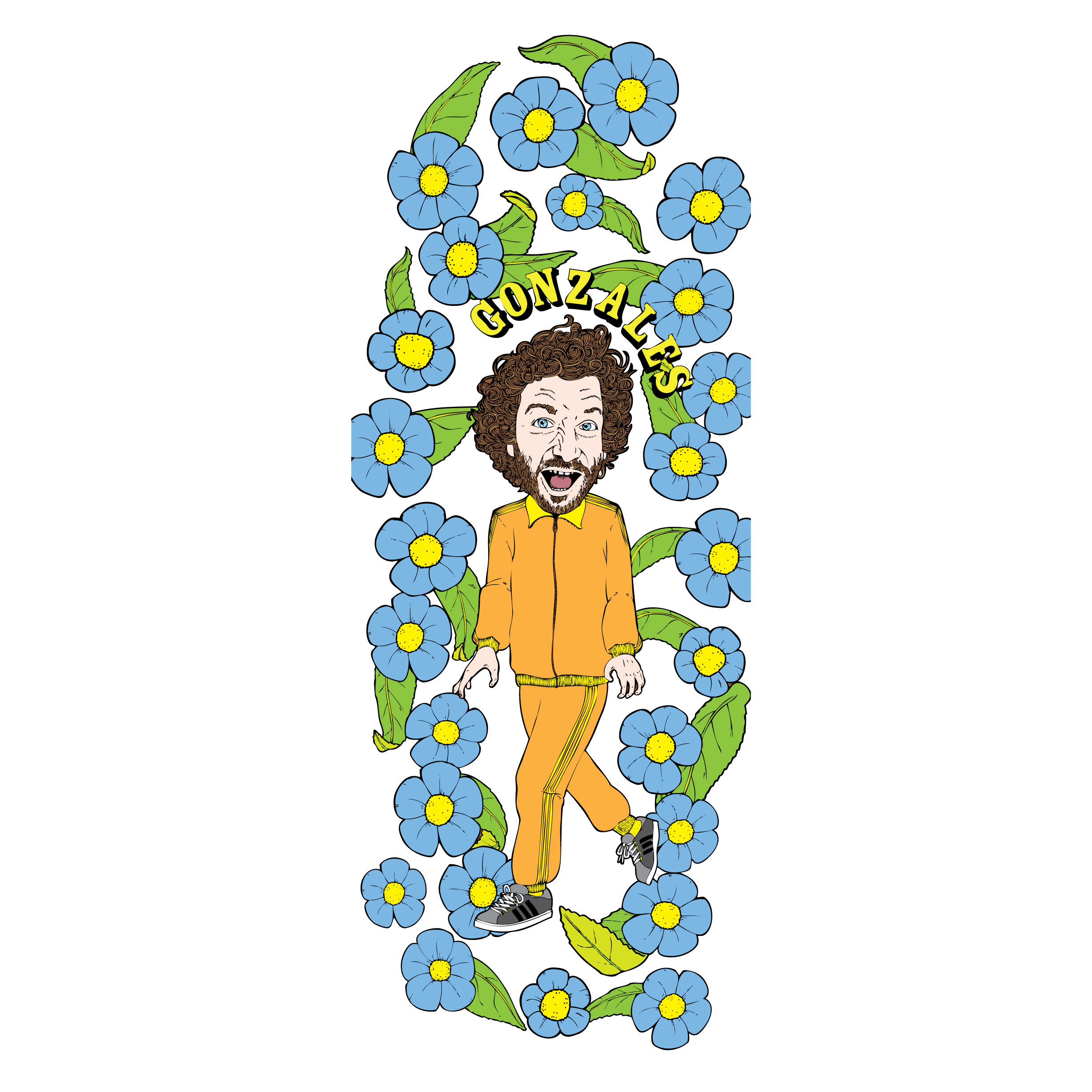 What illustrators influence your work?
When I was younger I used to watch videos of Looney Toons a lot and try to draw all the characters. It was that that made me want to be an animator from a young age. I still and always will enjoy watching cartoons, in particular Family Guy and The Simpsons. I read graphic novels as well. I get interested by the mediums and techniques people use, and trying to learn ones I like myself.
What sort of graphic novels do you read? I checked up on a couple of the Sin City books after seeing the film.
I read all sorts. My favourite is still Calvin and Hobbes. I haven't actually seen the Sin City books. I really like Joe Saccos drawings, Chris Ware's. The most recent book I got was The Gigantic Beard That Was Evil by Stephen Collins. Its full of really beautiful pencil illustration.
 What board graphics tick the right boxes for you?
I'm a massive fan of Evan Hecox and Chocolate graphics are always good. The city series and bar scene graphics which all joined up to make one image were always my favourites. I like graphics that you can tell started out as hand drawn illustrations rather than created using tools on Photoshop or Illustrator. It's good when a board series is made up of individual graphics, rather than the same shape or logo in a variety colours. Skate Mental graphics are always funny. I had loads of Workshop boards around the Photosynthesis era. Alien made it OK to have a dipped board.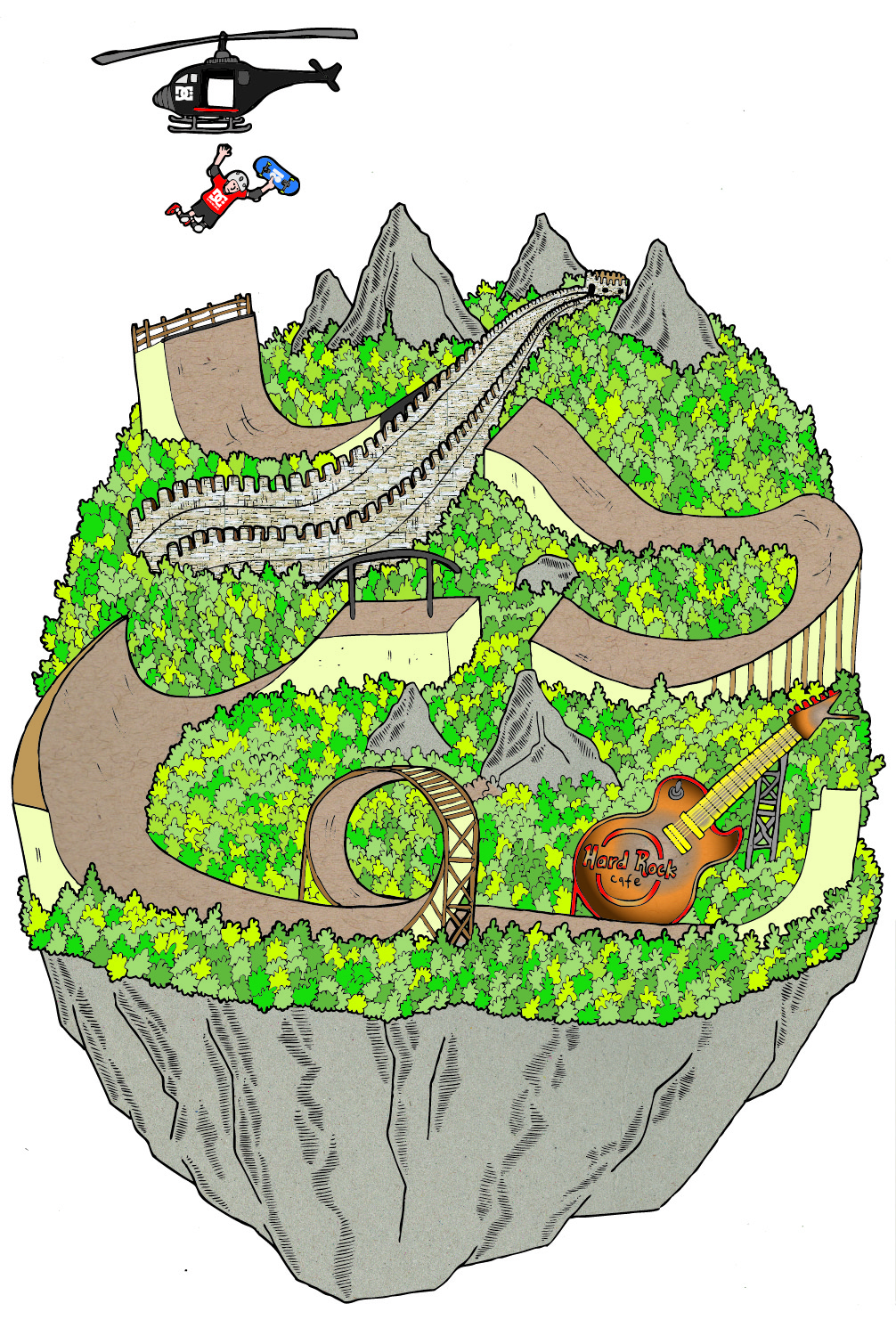 As limited as opportunities are with board graphic designers in skateboarding in general, how do you compare the UK with further afield and to the US? Is this something you can even comment on more so than the average skater?
I don't know if I'm really qualified to answer that. I've only ever really done one board graphic for a UK brand.  In my experience it's been the same: just send them the drawings and hope they like them. I think most of the graphics I really like are on the US brands: Anti Hero, Chocolate, Krooked and Skate Mental spring to mind. I don't know if I pay more attention than the average skateboarder but I definitely notice board graphics that I like. Everyone prefers a board with a dope graphic.
That's true. Can you run us through the one UK board graphic you have done so far? How did the whole process begin?
I drew a picture of Joey's dog Stella and sent it to him and he liked it. It was just a pencil sketch and he passed it on to Deejay the guy who does the graphics at Landscape. To be honest it was only a pencil sketch that I showed Joey and I would've liked to work on it more. It would've been nice to finish the graphic myself but I think it turned out OK. It's cool seeing kids skating around Southbank with your artwork on their boards. Joey was stoked on it which is the most important thing.
You've recently got two graphics on Chocolate as well, which is fantastic news.
The Chocolate boards came about by just sending them my drawing. I had actually done the Jerry Hsu drawing a long time before and just been sitting on it for ages. I sent it to Enjoi initially but Jerry had quit, so as soon as it was official that he was on Chocolate i sent it over to them. I know Matthieu Tournier – who looks after Girl in Europe – has a lot of contact with them, so I asked him to pass my drawing on, so big thanks to him. Luckily they liked it and got straight back to me. I was unbelievably happy. Chocolate have had my favourite graphics since I was a kid, so I'm really honoured to be contributing to them.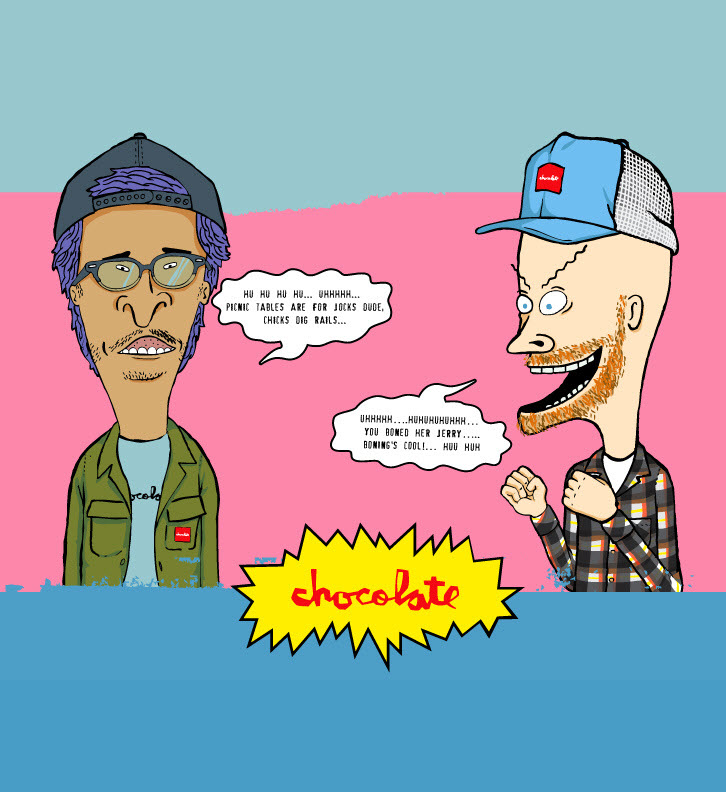 Do you have particular favourites when it comes to your own work? What sort of processes do you go through in a practical sense and how do you try to have a unique style?
I'm not sure I do have a favourite. It changes all the time. I've been doing some black ink illustrations for a book project at the moment that I'm liking at the moment. I think I obviously have certain style that my drawings naturally turn out like, but I like to try and change it up every now again. Use different techniques every now and again.
What does the book project entail?
Weirdly I haven't even met Clive Rowley,who has written it. I was put in contact with him by a friend and it just sounded like a fun project. It involves providing images for 'The Depressed Alphabet'. So I'm just illustrating each of his poems for each letter of the alphabet.
Is it for children?
No, I think it's aimed at adults. Its meant to be the sort of humorous thing you'd pick up at the till in a bookshop.  It's really Clive's baby, so I have just drawn whatever image came into my head when I read the text, and then sent it over to him to get the OK. There's actually a lot left to do, I need to get back on it. I think it was hard for him to pay for the drawings, but its something I really want to see through, so we'll have to sort something out.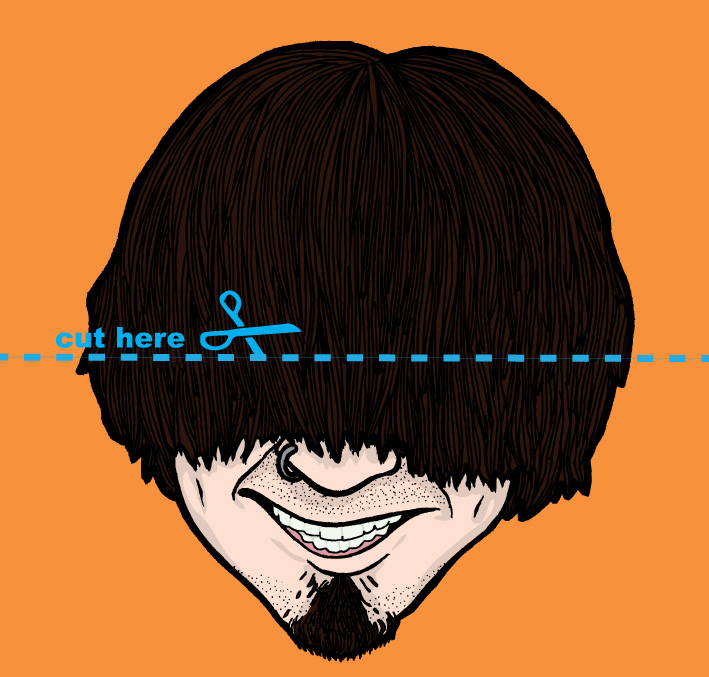 Would you ever consider publishing a book of your illustrations or something similar?
I'd love to do something like that. Its just getting it all together. I feel that my work is pretty random and sometimes doesn't sit next to other stuff I've done, so it would just be getting some sort of idea or theme together. I'm also quite critical of my own drawings, so often I'll go back to something I thought was good when I did it and absolutely hate it now, then want to do it all over so that might make it an almost never-ending process.
 Alright Rob, it's been great speaking with you.  Let's finish up by hearing what's next for the near future.
I've just moved into a new studio and i just want to keep drawing. Its quite daunting now that i'm actually paying for a space to work in, so I need to make sure i keep working. Good motivation hopefully. I just finished a board series for one of my favourite brands that will be out at some point this year, and I'm working on some drawings to be shown in a

'Twenty Years of Wu Tang'

show in March. That can only be a fun project. Other than that its just work on some personal projects and keep sending stuff out, try and get as much work as I can. Feel free to hit me up!
 Thanks Rob.
Check out Rob's website: www.rmathieson.com
Follow Rob Mathieson on Instagram: robmathieson
Folow Stephen Cox on Instagram: stephencoxy