Two hundred (and now one) issues. Wow. At the beginning of the landmark issue these guys insisted on not being featured. They believe it isn't about them, it's about the skateboarders, for us. Still, best to catch up with them, hear the story from the beginning, talk the forum and discuss all things right and wrong with skateboarding in the UK. Thank you guys and congratulations. Enjoy –
Photography by Andy Horsley and taken from Sidewalk's 200th issue.
Interview by Stephen Cox and Graham Watson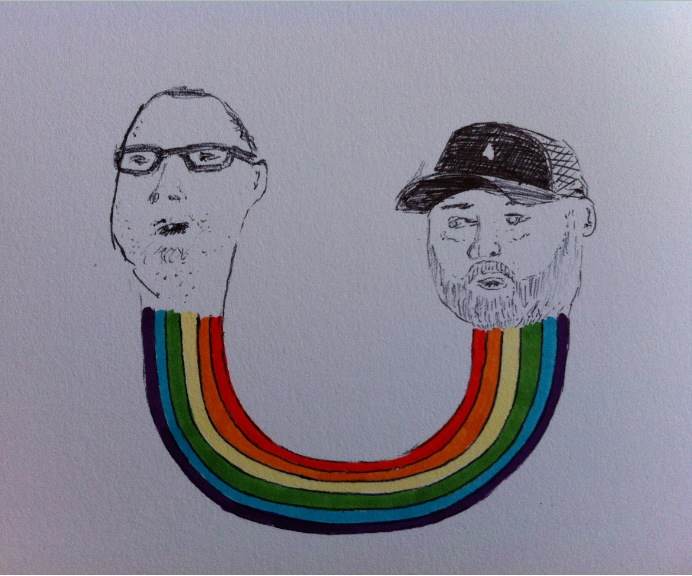 Let's begin with where you're both from, your lives growing up and you started skating.
Ben: Okay so my mother was Irish, grew up in Tottenham and my dad is from Yorkshire. Born on Portland Bill, off the Dorset coast, grew up and started skating in Wakefield, West Yorks. Over the years I've lived in various places: Nottingham, London, Oxford, Bradford. I started skating around 1985 because my brother and half-brother were into it. From the minute I started I was obsessed with skate magazines and learning everything I could about skateboarding in general. I was lucky enough to skate a few of the seventies relics in and around Wakey back when I first started: Birkwood bowl being the most magical one. It was on a Strawberry Farm near a pub that I used to live in – skated it twice before it was eventually filled in by the farmer. The second and last time we went there the farmer threatened to shoot us. Stoked.
Andy: I hail from Hartlepool, which is thirty miles south of Newcastle. It's by the sea and I come from a family of fishermen and boat related humans. My stepdad had a huge trawler and would go off fishing for weeks at a time and one day he presented me with a Fiberflex cruiser with Kryptonic wheels that he'd trawled up from twenty miles out in the North Sea [laughs]. So I guess that was the first connection right there. I used to fuck around on it on our driveway, which had a mellow flat bank on the entrance to the garage. I upgraded to some weird "jagged fish" shape set up that I customised with some artwork from issues of Metal Hammer. There were a crew of skaters that used to skate Hartlepool town centre and the Swimming Pool banks. Town centres were ghost towns on Sundays back then so we used to hook up and try to learn shit. I met Jon Robson and Harry Bastard back then and I guess that was that. My first "real" skateboard was a Santa Cruz Corey O'Brian, the one with the skeleton flinging a ball of flames, lasted me a year of doing mosher drops round the back of Hartlepool Art College.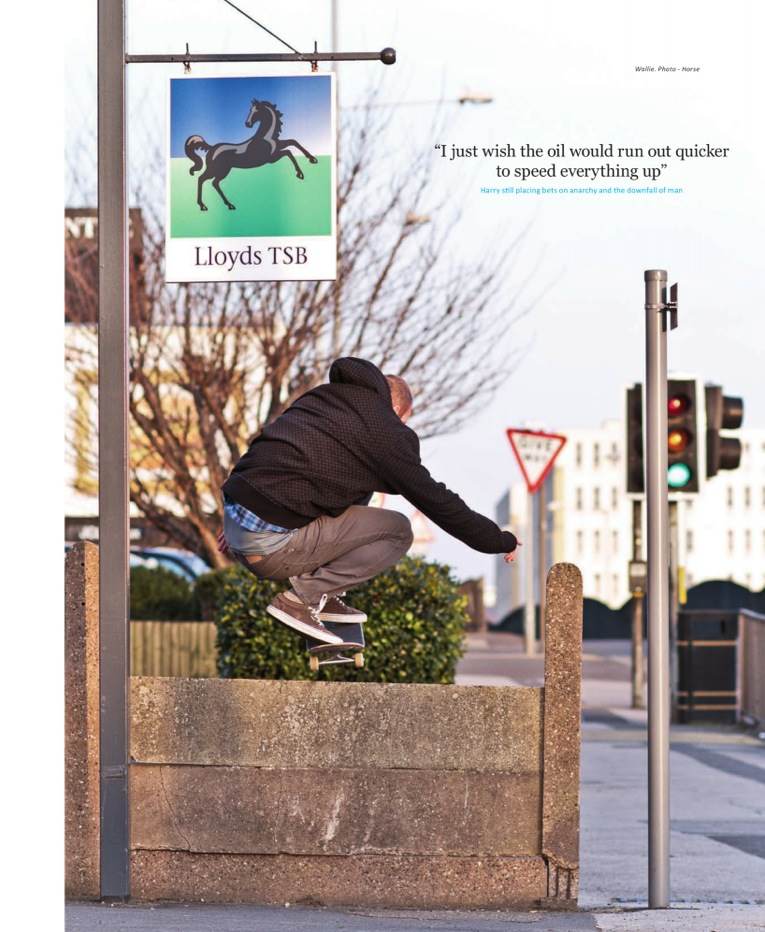 How often do you both skate?
Ben: I skate all the time. I'm forty and have two fucked knees so the hammer count is pretty low these days but I still beat teenagers at SKATE on the regs [laughs]. I'm lucky in that there is a really strong scene where I live – all the younger generation are cool as fuck and there are spots everywhere plus  more indoor and outdoor skateparks than you can wave a stick at. My wife is a skateboarder and my six year old nephew is just getting into it as well so I'm surrounded by constant inspiration. I mainly skate in and around Wakefield these days and at our semi-private Training Facility: "The Merrics". My crew includes everyone from my wife to thirteen-year-old Swiss Tony look-a-likes.
Is the wife better than you?
Ben: Well she beats me at SKATE regularly and is definitely less afraid of big concrete tranny than me so on balance – yeah, unless we're counting flip tricks.
Andy: It's hard to leave the house without a camera bag, so I end up skating whilst people get warmed up to shoot photos. Saying that I've been dragging Harry out for impromptu sessions at various curb spots and shit banks around the Midlands. We had a rad DIY spot in an old warehouse at the end of 2012; we had some rad sessions in there from time to time. It also takes around two hours to get warmed up before the legs start working. But I fucking love it. I just love hammering down the street from spot to spot, it's insane to think that some people have never felt that feeling, just being in moderate control – [laughs] – of a skateboard is an untouchable feeling. Sessions these days just involve trying to relearn stuff that you had on lock in 1995 [laughs].
How important is to keep skating while being involved so heavily in the media aspect of skating?
Ben: It would be impossible and morally redundant to do this job and not skate to be honest.
Andy: You  must if you are involved in a magazine or media that dedicates itself to covering the act! Otherwise, what's the fucking point? Plus it keeps you thinking that you're seventeen rather than forty-one.
How did Sidewalk start for you both?
Ben: I contributed bits and pieces to RAD mag when it was being run by Wig and Andy post TLB and post "shit RAD". When Sidewalk started in 1995 I carried on writing bits and pieces for free whilst doing an MA in Film at Nottingham Uni. One day, around Issue 13 I went to meet Andy Horsely and the then publisher Jim Peskett – owner of Permanent Publishing in Abingdon and our "other dad" – in Yates Wine Lodge in Nottingham and was made an offer I couldn't refuse. So I fucked University off as it was, to be perfectly honest, a total waste of time and moved to Oxford to live with Horse, Kris Forder and Harry Bastard. At that point getting paid anything to work within skateboarding was literally a dream come true.
Andy: God this is a fucking long story. I'll try and keep it brief. After my A levels at Hartlepool art college I managed to get a place at Derby College of Art and Design where I was studying Graphic Design and the art of cutting up acid and bunking off to the park. I obviously transferred my mosher drop skills as well and became wedged in the skate scene in Derby. Rollersnakes was based there and had a small shop in an arcade, we used to lurk there as much as possible and I ended up doing some design work for them: adverts, stickers and the such. Towards the end of college Paul Haynes – the owner of Rollersnakes – wanted me to work on a zine for them, which I somehow managed to turn into more of a magazine with a colour cover section. This was called "The System". We released three of these and it went down fairly well. At this point RAD magazine had been bought out by a publisher in Oxford and was being slowly destroyed by a group of people who literally didn't know what they were doing. Paul Haynes contacted the publisher and set us up to drive down to Oxford for a meeting. We ended up shelving The System by Issue 4 and moved down to Oxford to try and get RAD back on track. We worked on RAD for around a year but the publisher wouldn't let us travel or give us budget for content, so Jim Peskett – who worked on ad sales there – hijacked us as well as the snowboard guys and we left to start Permanent Publishing. Jim managed to get the RAD title from the publisher but just filed it and let us start our own thing which was Sidewalk. At the start there was me and Chris Forder with some editorial help from Jon Robson. After a few issues of being the editor/designer and budding photographer for the mag I realised that a G in English wasn't gonna cut it so we had a meeting back up in Nottingham with Ben Powell who had wrote some amazing articles and features, he basically became the editor and journalist after that. Sorry if that's a boring account, the people that we met along the way know all of the fucked up stories that punctuate those years. So fucking good!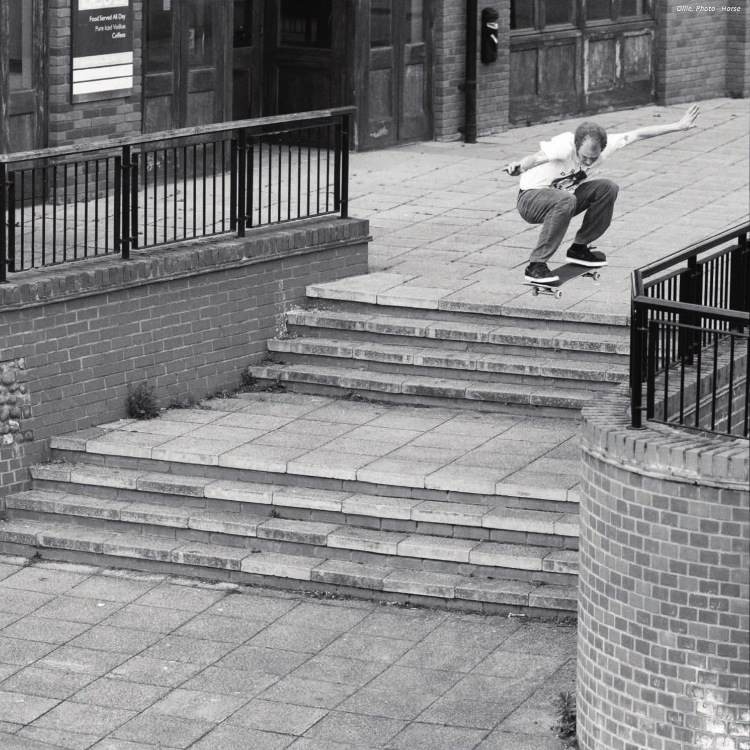 Past the 200th issue now: in what ways has the magazine changed consciously and in which ways has it had to adapt unwillingly over the years? Perhaps there is something to be said about how advertising or other factors have changed content.
Ben: Hard to say really but we are definitely a lot more "professional" than we were…typos on the 200 cover notwithstanding. Back when we started out there was no Internet, skate videos came out on VHS and we were the only UK mag. As time progressed Percy et al started Document up which gave us a kick up the arse and made both mags strive to get better and better. Sadly Doco went the journey as the sub-prime mortgage disaster began to take effect and we took Sam Ashley on as Sidewalk staff. Percy still shoots and contributes to Sidewalk these days and we're all good friends. The main adaption really has come from focusing on the web side of the mag – we were early adopters and have had a forum since around 2001. Without our website and forum we'd probably struggle to exist. Thing is – web in skate basically means footage and as I have been filming for over twenty years I don't really see it as having to compromise at all – just another way to get rad stuff out there. We took on Ryan Gray in about 2007 with a view to having somebody focus on web content exclusively and due to his hard work we now have a site befitting the reach and tone of the mag – I hope.
Andy: The main emphasis for us is to keep it funny. You need to take the piss. This is the United Kingdom and everything that is good and correct about this country is taking the piss. It's what separates us from the mundane boring bullshit. When we do things that are required we try to do them on our terms and make them interesting and funny. Sidewalk is aimed at all ages and all areas around the UK. We try our best with a limited budget to get around the country and give everyone a fair crack of the whip.
Has working under a bigger publishing group affected the magazine in any negative way?
Ben: Not really. We are hard-working, have never missed an issue, always hit deadlines and do this because we love it, rather than for a pay check so the bosses basically leave us to get on with it. If anything, the main benefits of switching to a bigger publishing house are more resources and Jim Peskett's house not being on the line anymore. Advertisers are way more pro-active in most cases these days but in essence not much has changed really.
Having mentioned the forum, there is a great sense of community, friendship and intelligent discussion. Have there been any particular highlights on the forum throughout the years?
Ben: Man, where do I start? There have been some epic arguments on there over the years – mixed in with real skateboarder passion and good old traditional piss taking. Off the top of my head some of the funniest things on there in recent memory were threads such as 'Shaun Powers ripping', 'Skate Fronds', 'Chet Childress on Heroin' and anything to do with the P-Bomb or Craig Questions. It always amuses me how that place gets slagged off as being "super negative" or "full of jealous kids" when in actual fact it sort of acts as a containment centre for some of the funniest cunts in skateboarding in the UK. Andy Smoke and Jon Horner deserve special mentions for their never-ending pastiche piss-takes. All the P-Bomb related stuff and the recent Flip related ones in particular are next levs. I love that shit hole. It's a cross between a knitting circle for frustrated sitcom writers and a Yates Wine Lodge. Stop lurking, start arguing everyone – it's way funnier.
How do you compare it to the discussion seen on SLAP?
Ben: Slap is a little different as there is a larger community on there and the culture is not as predicated on rinsing people as ours is. There is quite a lot of cross contamination between the two places though – as evidenced by the meme 'ABPOS' that was started by our dearly missed friend and forum OG Bingo – ABPOS which means Already Been Posted on Slap.
There was a great emphasis on the importance of paper-based publication in the 200th issue. However, the digital format of magazines and the wealth of people using the said format are on the increase. In what ways can the format be improved, embraced and utilised effectively without going overboard and ruining the traditional readability or experience that comes with magazines? Perhaps there's something to be said about the necessity of video content too.
Ben: As I said already, the Internet in and of itself doesn't really have much inherent cultural value. It only really has meaning and worth seen in conjunction with physical culture – at least in my opinion. 411 was proclaiming that "paper is dead" back in the late nineties, it clearly isn't. Regarding video content, you just need to create stuff that isn't predicated on narcissism and bullshit: if you make good shit, people will watch it. Also we have as a mag – and Ryan and I individually – always made videos and DVDs: Playing Fields, Baghead Flats, Viewfinder, In Motion, In Progress and so on. There are numerous ways to get interesting and culturally progressive video content out there. I hate Facebook! That is not the only path. Personally I don't really consume digital mags but the Sidewalk Digi-mag does really well so I guess some people aren't afraid of taking their iPad to the bog.
Andy: You can't leave an iPad on the floor of your bog to get covered in piss. You can't take a dog-eared iPad to the skatepark and leave it next to an old banana skin whilst you skate. You can't rip the screen off an iPad and stick it up on your wall next to a Samantha Fox poster. The Internet is so awash with footage and photos and there's zero quality control whatsoever. I think it's good to have a monthly magazine that showcases what's going on without having to close windows and wait for circles of death to start spinning. We have started getting more and more hand written letters from kids, which is just amazing.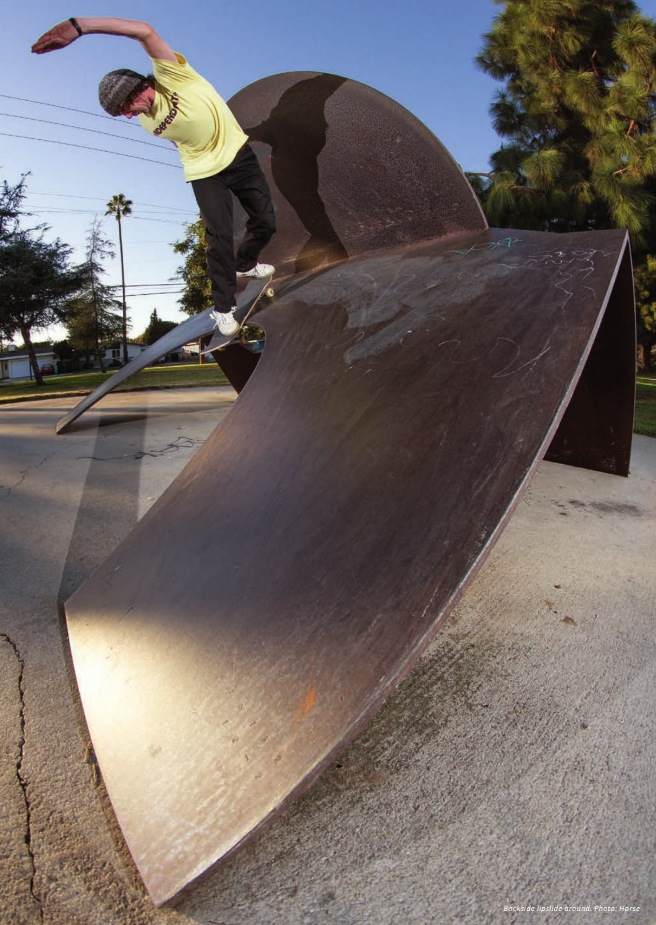 I don't use Facebook but why do you actually hate it so much though Ben? Is it to do with the companies that contribute nothing you mentioned earlier?
Ben: No not really, it's a wider issue. Its modus operandi goes against everything that I was taught as a kid, as in enshrining "sharing" as the highest principle. There's nothing wrong with wanting to keep your life private – I couldn't care less if you've just had a shit or don't like Eastenders, why in fuck's name do you feel the need to broadcast the minutiae of your life like that? Also, Facebook is really a data-mining device. It exists solely to trick people into pouring their lives out in public so that these preferences can then be sold onto ad companies or Google to make money for Facebook investors. That's literally all it is. People need to realise this. Exposing yourself on there is really dangerous on loads of levels. There's a reason why certain people refer to  it as "mentalillnessgeneratorbook". That, plus the sense of entitlement it engenders in some people. I just don't like it.
The main thing is you're taking it really well. In what ways does the process of an issue begin and end? Are there lost articles or interviews that for some reason haven't went to print disappointingly? What have we missed out on in unfortunate circumstances?
Ben: After eighteen years of doing the mag we have it pretty down. As we work remotely we meet up once a month and do three month planning schedules and then adjust as it progresses. CJ and Sam shoot photos, Ryan films a lot for web as well as doing some writing and Horse and I are prisoners in our own homes. Whatever – beats working in Asda. Sometimes articles or photos get "lost" I guess, just because of the volume of stuff created by staff and contributors. We barely go on any advertiser funded trips these days and yet our Hard drives are still overflowing. People evidently want their photos, skating or writing seen in physical mags eh?  We do have somewhat of a reputation as being "Skate Nazis" as far as standard of tricks go but I feel that is our job really. This isn't Twatbook.
Andy: Most things that we start come to fruition. Some interviews take a lot longer than you expect, it's getting the last twenty per cent done. Waiting on hammers [laughs].
Jimmy Boyes on the 200th cover and never been sponsored. What does this say about the UK skating scene?
Ben: To be honest, I think it says a lot more about Jimmy as a human than it does about anything else. He is a true phenomenon and anyone who has met him will tell you this. Dude has been run over, left in a coma, stabbed, beaten up, he's older than me and yet he just doesn't stop. To quote someone else "Jimmy Boyes is the warrior poet Mike V imagines himself to be…"
Andy: Jimmy is skateboarding full stop! He carries the gene that dictates the road to follow: exploration, doing it for the feeling, doing it with friends, doing it for the hell of it. As tramline as it always sounds: doing it for fun!
Are there any skaters quietly killing it on the board that we should know about?
Ben: There are hundreds of good skaters out there but everyone is good now because of the massive amount of amazing skateparks everywhere. When I was just starting out, the skill level was so much lower for a multitude of reasons; facilities and access to video being the main ones. Only problem with everyone being 'good' is that it's harder for the truly exceptional to get the opportunities that their talent and creativity deserves sometimes. This is a tired subject but there are way too many brands in this country that contribute nothing in a cultural sense beyond cheaper product. Because of this there are far too many people sponsored as well in my opinion. Social Media has created an atmosphere of entitlement to a degree where everyone thinks they are entitled to be "pro" or "sponsored" or "own a company". In essence there's nothing wrong with this but do you think fifty-four skate companies in the UK – and counting – is a sustainable situation? I don't. Likes are not the same thing as cultural significance. Do whatever you want but think about why you're doing what you're doing and have a bit of honour.
Andy: There are so many skaters killing it in the UK right now despite the shite climate that we've been blessed with. I guess we can thank that for giving us character at least. The fact that we can keep doing haunts with new faces and names says it all. The standard is always there these days. Hyped!
Which brands don't contribute? In what ways should they contribute? I remember Mark Baines spoke about this.
Ben: Aw man, this is really hard to go into without sounding like a total cunt as all the good skate brands that have positively affected skate culture over the lifespan of skateboarding began as "bedroom outfits". I'll take the easy way out and quote Paul Silvester: "If the only thing your brand is offering is product that's five pounds cheaper than the rest then don't bother doing a company".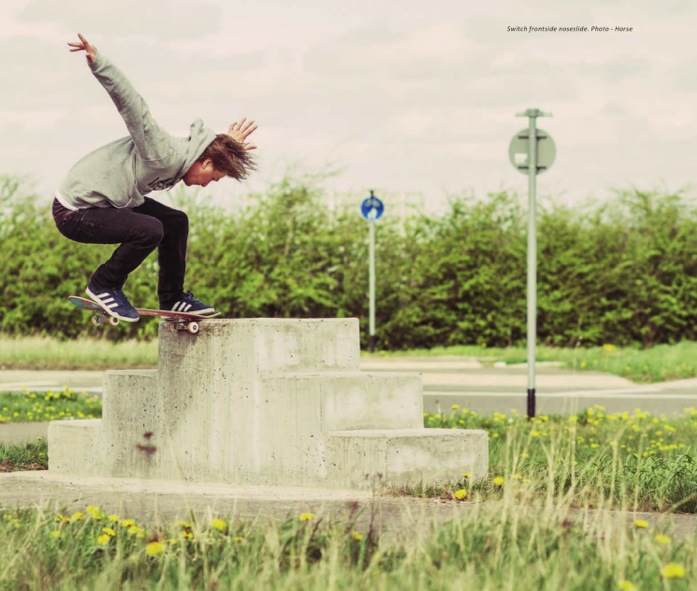 In what ways do you both work outside of your official job descriptions for the magazine? What other work do you do outside the magazine?
Ben: Lots of different ways: campaigning for parks, speaking to the mainstream media on related subjects, filming for independent video projects, screaming abuse at people at events. Outside of skateboarding I've done all kinds of things – you will not get rich in skateboarding in the UK. Whilst editing Sidewalk I've also delivered curries for minimum wage, been a removals man, worked in pubs, written kids books, taught kids expelled from school about video editing and coached skating.
Andy: Nothing much these days. I've written and shot photos for a few kid's books about skateboarding as has Ben. I've got a four-year-old boy to fill in the hours between sitting in front of a computer and pressing a shutter button. Saying that, I'm available to sing at weddings and so forth.
Let's finish up with your thoughts on whether British skateboarding has an impact beyond its shores. Are we under the impression it is bigger than it is because we are surrounded by it?
Ben: No it has a massive impact. Maybe not to everyone but for a scene as small as ours is it has already produced way more than its fair share of skateboarding legends – from the likes of Danny Webster/Sean Goff through to Flip – Penny, Rowley – through to the Blueprint era right up to the present day with the P-Bomb and such like. Britain has always had a louder cultural voice than its population – the same applies in skateboarding. Dudes from the UK who may be virtually unknown by name in the US still manage to get support from international sponsors and have their footage seen globally. Also, as the financial rewards in the UK are tiny in comparison it tends to make us all seem more "gritty" to a degree. This attracts the attention of skaters from the US who are thoroughly turned off by spectacle, arena or stuntman shit. Skateboarding is skateboarding; we just tend to have more smackheads and tramp's piss.
Andy: I think people are stoked on the UK and the people that come from it. Again it's the character that shines through.
Special thanks – The two interview subjects and Graham
Follow Sidewalk Magazine on Twitter: @SidewalkMag
Follow Loko Shop on Twitter: @lokoshop
Follow Stephen Cox on Twitter: @stephen_coxy
Tags:
411VM
,
Andy Horsley
,
Andy Smoke
,
Baghead Flats
,
Ben Powell
,
Blueprint
,
Chet Childress
,
CJ
,
Corey O'Brian
,
Danny Webster
,
Document
,
Flip
,
Geoff Rowley
,
Graham Watson
,
Harry Bastard
,
Heroin
,
In Motion
,
In Progress
,
Jim Peskitt
,
Jimmy Boyes
,
Job Robson
,
Jon Horner
,
Kris Forder
,
Mike Vallely
,
P-Bomb
,
Paul Haynes
,
Playing Fields
,
RAD
,
Rollersnakes
,
Ryan Gray
,
Sam Ashley
,
Santa Cruz
,
Sean Goff
,
Shaun Powers
,
Sidewalk
,
SLAP
,
Stephen Cox
,
The System
,
Tom Penny
,
Viewfinder