We recently spoke to Jimmy Cao about Sk8Mafia life, going pro, the upcoming collaboration with Sweet Skateboards and strip clubs – Enjoy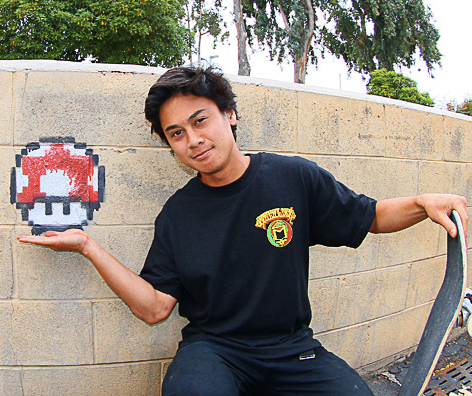 Let's start from the beginning – What age are you, where are you from and can you tell us the story of how you started skateboarding? 
I just turned 25 last month but I still look like I'm 17 due to my Asian-ness. I was born in San Jose but moved to San Diego a few weeks after my birth, so I claim San Diego. I started skating because my best friend at the time had a skateboard and we would just mess around on it and then I was addicted. I've been skating for about 12 years now and I feel like skating is like wine- gets better along the years. I first got sponsored by a local company from San Diego called Finesse. One of the owners Steve James lived down the street from me and we were skating at a park in Mira Mesa and he asked for a sponsor tape. From there it was on.
So do you drink wine and while we're on the subject do you still get hit for ID?
I like to enjoy my glass of wine. I'm more of a red wine person but I don't mind white wine. I always get hit up for my Id, I'm surprised when they don't. In Europe, they are pretty lenient about their drinking age, but I still get ID'd haha.
Tell us about the change from am to pro
I just turned pro earlier this year. Josh Priebes and Dan Connelly told us (Jamie, Tyler, Wes, Larelle and I) we were all turning pro at the same time after our video (Sk8mafia video) would come out. They wanted Wes to turn pro earlier but he wanted to wait for all of us. I feel like there are some minor differences from being an am to a pro, like you have obligations. But you know, you gotta do what you gotta do. Shoot photos, get footy, get coverage. We all skate together so it makes all that stuff easier. Mafia trips are my favorite because it's us traveling somewhere, dorking around an skating, whether it's to LA or to Europe.
How did you feel about Wes wanting to wait? 
Wes wanting to wait shows a lot of character. He's a really good dude. If you get the chance to meet him you will know what I'm talking about. From what I know he waited because he's all about the homies. Mafia even made a graphic for him about it – Homies and Spliffs – haha.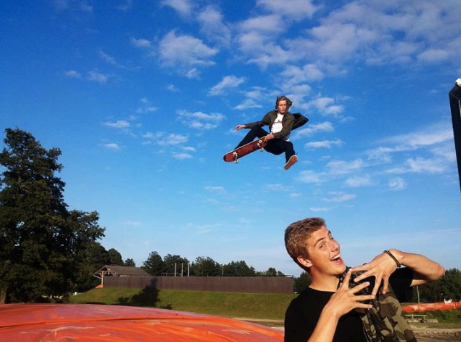 Do you skate your own board? 
I skate my board sometimes. It's still crazy for me to see my name on a board. I'm definitely blessed.
Often we're surprised buy the amount of skaters that don't keep every deck every produced with their name on it – is this something you have done so far?
I've been pretty bad about that but I've kept a couple. I have the whole Ninja Turtles series too.
What have you been filming for lately? 
We are working on a new video with a company from Sweden called "Sweet Skateboards", together we are the Sweet Mafia. Those guys are just like us, a crew of homies in search of a good time while riding a skateboard. We all mesh well together. For the video, we're having one sweet rider and one mafia rider share a part. I can't wait to see the end result of this video. We all took a month and a half long road trip in Scandinavia through eastern Europe recently- I can easily say it was the best times of my life.
Do you have a favourite spot in Europe? 
We recently stayed in Prague for about a week and I wouldn't say it's my favorite spot in Europe, but it's up there. Cheap beer, Stalin square and Darlings haha. Sometimes touring can be hard, like if there's a deadline and you need a photo or something. Other times it's just good times. Kinda depends on how you approach it.
Darlings? Do skaters ever use their names to get girls and do skater groupies actually exist?
When I mentioned Darlings, it was actually the name of the strip club in Prague. There are some groupies though. They're rare unless you're Sheckler or Nyjah.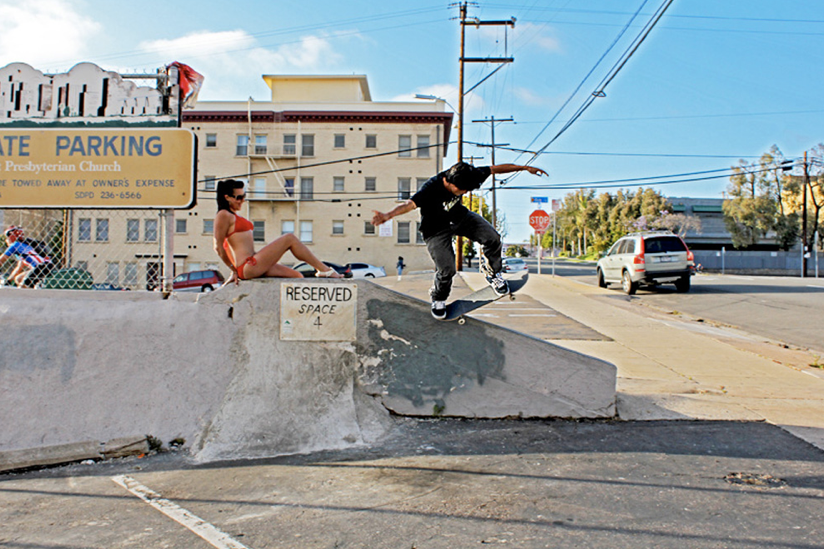 What about the demos – do you like skating them?
Yeah man I'm down for demos. Kids get hyped on them. I remember when I was young I would go to every demo that was around the area.
Going back to the collaboration, it sounds great-  how did this come about? Do you know who you're paired up with? 
I'm not exactly sure how the collab came about, but I know those guys came down to San Diego to skate and naturally we just clicked. I feel like each city has their own "mafia" or crew and they are Scandinavia's "mafia" haha. I believe I'm sharing a part with Nisse, swedens young up and coming. I don't know when this video is gonna come out, but I'm excited to see it.
Which skaters and videos have inspired and influenced you over the years? 
There are so many skaters and videos that have influenced me. A lot of my influence comes from who I skate with, like Jamie Palmore, Tyler surrey, Wes Kremer…. I can go on for days, but I've learned so much from those guys, not just skating wise but also life lessons. Seeing the new breed of skaters, the all terrain guys who can skate a hand rail to a pool gets me hyped. I've been trying to learn some grabs and airs but it ain't easy haha. I've been watching a lot of raven tershy footy so he's one skater that's been motivating me.
What life lessons have your learned? 
Stay modest, stay grateful, enjoy the good times, TCB and there are many more. Don't take anything for granted.
Can you tell us about some of the tours you have been on? 
Just last week, me Jamie P, Marius Syvanen and Nick Lamm took a road trip up to the bay area for a week- with no plans and no place to stay. It all worked out in the end as places to stay and places to skate. Each road trip has its own memories and this one was filled with them. One highlight of many from this trip is just hanging out with Peter Raffin. One of the best dudes on this earth. Marius Syvanen is another of my favorite people to travel with because he likes to have fun, skates really fast, and can pass out anywhere. Even on our luggage. We were fortunate to enjoy his bobblin-head on the Sweet Mafia tour.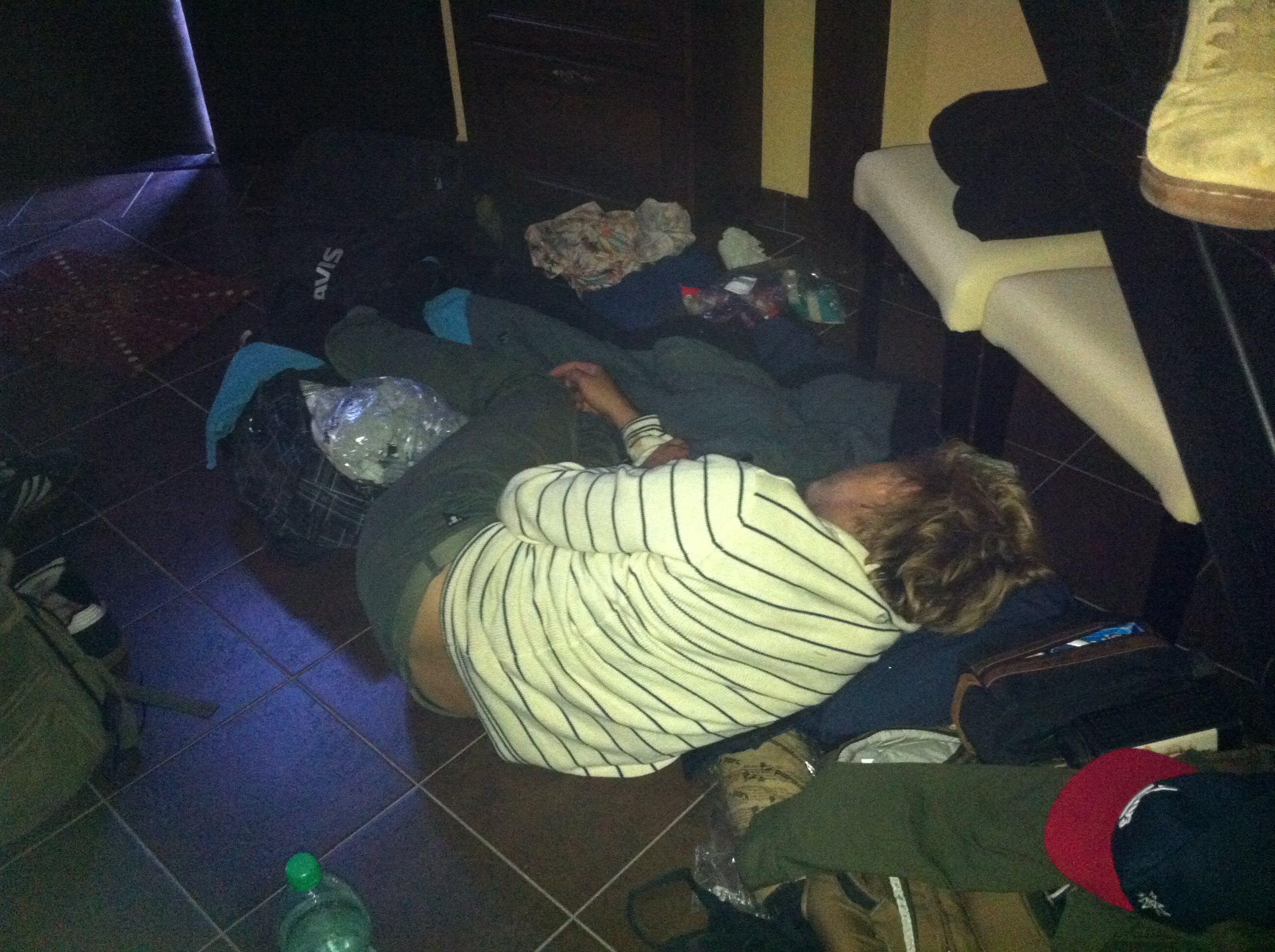 Things that aren't planned always seem to turn out better – Where did you end up staying?
I'll have to agree with that to a certain extent, I feel more comfortable when there is a guideline or a small plan, something you can work off of. An hour before we got to SF, Marius called our homie Peabody and luckily he was just flying back into town. He's been in Seattle lately building skateparks. He actually builds them all over the world. Fortunately he was coming back home to SF to grab some stuff so we got to crash on his floor for a few days. One night we had to crash in the van. Wasn't too bad for me because I'm a small guy and can pretty much pass out anywhere. Our friend Kai moved up to SF a while ago and we crashed with him a few nights. For the last part of the trip we drove down to san Jose and stayed with our good friend Carson's house. I guess it was Jerry's [Hsu] house until he moved down to L.A. A lot of his stuff is still there, like photos, Transworld award trophies and I even found a fencing mask.
Does he actually fence?
Not sure. Don't think so. It makes it that much better that he has the mask haha.
How do you find being on the Sk8mafia team? Who's killing it?
Being on Sk8mafia is what I want. I wouldn't want to be anywhere else. I'm on a team with the dudes I grew up lookin up to. Watch out for Marshall Heath, another guy who rips on and off his board. He's the joker of the team haha.
He's the joker?
Marshall is quite a character. He can get along with anybody. He's the joker. I've heard from a few people who first meets him say he is a quiet dude, which is funny because once you know him it's the exact opposite. He's got the manual game on lock. He's not the guy that's going for it, you know like jumping off roofs or anything, but he will surprise you in the next Sweetmafia video.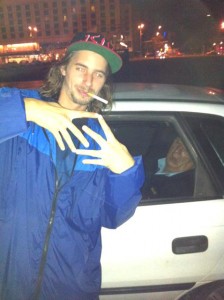 Where do you see yourself in five years?
Hopefully doing what I'm doing now but with more experience. I'd like to see Sk8mafia grow bigger. Maybe put out more sk858 goods. Hopefully have my own place with my girlfriend. Nothing too fancy, just plain simple good fun.
What music are you listening to?
I listen to all kinds of music. I just got a new iPod and Wes hooked me up with a lot of songs from his computer. So I've been jammin Eazy, Ghetto Boys, Del… A lot of old school hip hop. There's a lot of Juicy J too. You readers out there should listen to Chase Cross- yes I am. It was our tour song in Europe. Everytime we would hop in the van, Isak (Sweet's filmer and editor) would bump that jam. It's one of those songs that's so bad, it's good.
Final words of wisdom? 
Go skate with your friends. Go dork around and have some fun. The skate business is a fucked up one. Learn some new tricks, skate faster, have some respect and etiquette. Thanks to everyone that has helped me, and thanks for the interview. Sk8mafia4life
Special thanks – Dan Connelly over at Sk8Mafia
Additional images – Daniel Spangs, Transworld and Sk8Mafia
Let us know what you think by commenting below or tweet us at @DeafLens 
Hurl abuse over at Facebook here