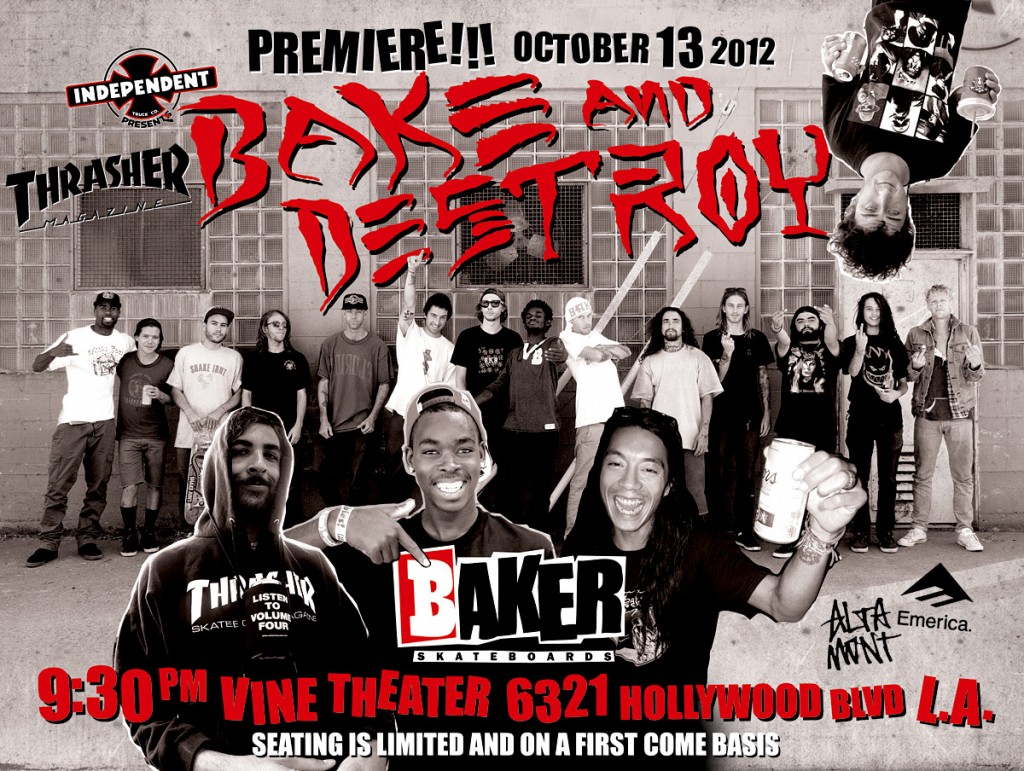 'Bake and Destroy' which was filmed in nine months compared to the five years in the making of 'Baker 3′, has been distributed differently which seems to have left it's reception somewhat unclear and varied. To quote Reynolds: 'We put it out with Thrasher because …I guess everything's online right?' Promotion, it's soon-to-be online availability, the free DVD with Thrasher and funding from Independent don't appear to have affected the outcome of this being a Baker video, that is- aside from the previously mentioned production time frame which has affected the length of certain parts.
This is a Baker video through and through: the editing, music, and the lifestyle associated with the brand. Unfortunately no HD quality from Baker yet and while we can't say why, some will argue that it is in keeping with the delivery and spirit of 'Bake and Destroy'. The video begins with the latest addition to the team, Riley Hawk. A stand out part in which the tricks improve as they accumulate leaving us interested in how he will progress over the coming years.
Great part from Bryan Herman, with a few more technical tricks than we usually see: guest tricks from Mike White, where strangely our favourite was a flatground nollie kickflip. After Herman comes the Boss himself. Many unavoidable cries of disappointment, but there were enough tricks (and more than we thought would appear) for repeat viewing and understandable in light of recent footage. Hard to be let down by Reynolds after 'Stay Gold' and  also in respect of letting others in the team take a bow.
Terry Kennedy will impress: full part with technical ledge skating and big hubbas. A few tricks from Jeff Lenoce feature alongside Kennedy, which left us wanting more particularly because we didn't see enough of that flicking foot. Comedy tricks from Beagle and  a notable big spin heelflip as well as much more from Theotis Beasley should satisfy fans.
Full part from Shane Heyl, mastered ledge tricks ending on a half cab crooked – nollie inward heelflip out. Good to see Kevin 'Spanky' Long still putting out the footage, which is substantially tranny-based, though we do want more of the standard we saw in 'This Is Skateboarding'. Unsuprisingly minmal Dustin Dollin footage, though we have come to understand the reason for this is that he will have a full part in an upcoming Vans feature. We have heard there are many disgruntled Braydon Szafranski fans which seems quite harsh – exceptional, innovative tricks feature including a tidy backside 5-0 varial heelflip out and a perfect kickflip late shuv-it over a street gap.
Big drops, great lines and manual to stair, ledge and rails tricks from Dee Ostrander will stir viewers and both Sammy Baca and Don Nguyen's shared part includes similar and collaborative skating: Big pools and a huge heelflip down a triple set respectively. Our favourite part is Cyril Jackson's, a style reminiscent to Darrell Stanton's while skating big stairs to 'Eighteen with a Bullet' has left us inspired.
Undoubtedtly, deservingly Justin Figueroa pulls off last part. Viewers will find themselves rewinding through the kinks endlessly. Rail-skating on par with Leo Romero, will have jaws dropping at a switch backside 50-50 down the Wilshere rail (as well as too much more to ruin for those still to watch). A great talent and a part that will be fresh in the minds of many skaters for years to come. After Figueroa there is a lenghty amount of the usual Baker conduct of which Terry Kennedy's question time with the general public was a paticular highlight.
A review is a critical appraisal, which we have found difficulty in doing considering the context of this video – especially in terms how those who will read a review in all likelihood do so to decide whether to spend their hard-earned money on the video in question. Here, that is maybe irrelevant, maybe not. 'Bake and Destroy' will still be judged as a skateboarding video irrespective of financial factors and it is of course worth a watch.
Let us know what you think by commenting below or tweet us at @DeafLens 
Hurl abuse over at Facebook here