We recently caught up with videographer Tim Cisilino to chat about about the making of Oscar Meza's 'Let it Ride' part, his inspiration, Corey Duffel, the possibility of directing a feature and filming for 'Pretty Sweet' – Enjoy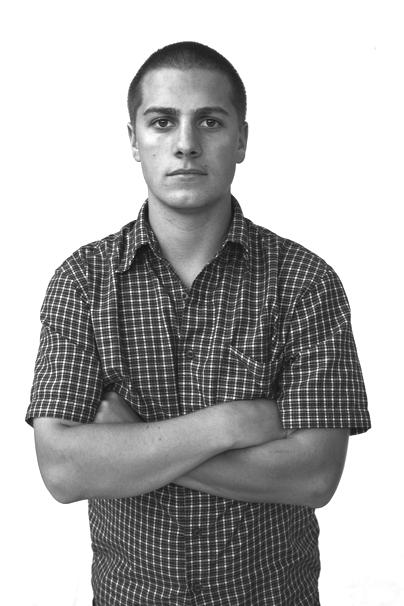 Can you tell our readers about where you grew up and how you got into skateboarding?  
I grew up in Walnut Creek, CA which is a city in the east Bay Area. It's about 30 minutes outside of San Francisco. My dad moved us out there when I was 7. In 6th grade, my friend bought a skateboard and we all were so psyched on it. I had an Alien Workshop board from a previous Christmas that just sat in the garage and I just started skating every day.
Do you skate much now?
I still try to skate as much as possible. Unfortunately, it's mostly at skateparks because I'm always filming once we get to a skate spot.
What was it like growing up in Walnut Creek?
Walnut Creek is amazing. It's just a little suburban town in the east bay. I kept skating despite most of my friends quitting because of college or drugs. There are a lot of rich kids there who are bored and have their parents money so people tend to get into the drug life there. I could never live in SF but Walnut Creek is so close that you can still be in the mix of the city without having to actually live there. Plus, there's so many untouched spots that aren't blown out which is pretty much the complete opposite of LA. San Jose is only about 30 minutes away as well.
Whose name was on the Alien board?
I'll never forget that board. It was actually a team board that was all white with just the Alien head logo in bright orange. Super simple graphic. I got it in third grade so it had to have came out in 98 or 99.
How did you get into videography then?  
When my friends and I were growing up and skating, we had no one to film us. I decided to get a video camera to film them and myself. Eventually I started picking up the camera more than my board. I pretty much became the designated filmer and it all just started from there. I grew up watching 'Sorry' and 'Dying to Live' so I just sort of watched how they filmed and tried to do the same thing. I started hanging out with Stephen Duffel a bit and he was the best local filmer around. He sort of showed me the ropes and got me psyched to start making skate videos.
Who did you film when you started out? Do you still shoot photos?
I mostly grew up just filming my friends but the majority of them have stopped skating now. I tend to lean more towards videography because I'm been involved with it for so long but I love shooting photos.
What equipment do you use ?
I have a collection of different photo and video equipment but as far as everyday use, I usually only use the Panasonic HPX170 with the Century Xtreme fisheye and Panasonic HVX200.
What's Nick Merlino like? How many tries did that switch flip take?
Nick is hilarious. He's just crazy. I love hanging out with that dude. He has so much talent too. That switch flip down the 16 was so gnarly. We made plans to go there and after looking it, he was down. He rolled away 4 tries later no joke. I actually had to film it and after he landed it, he was down to get a photo. He stuck a couple more and we got a good photo of it which ended up becoming a Dekline ad in Thrasher. It's one of the few skate photos that I've taken so I'm pretty psyched it got used.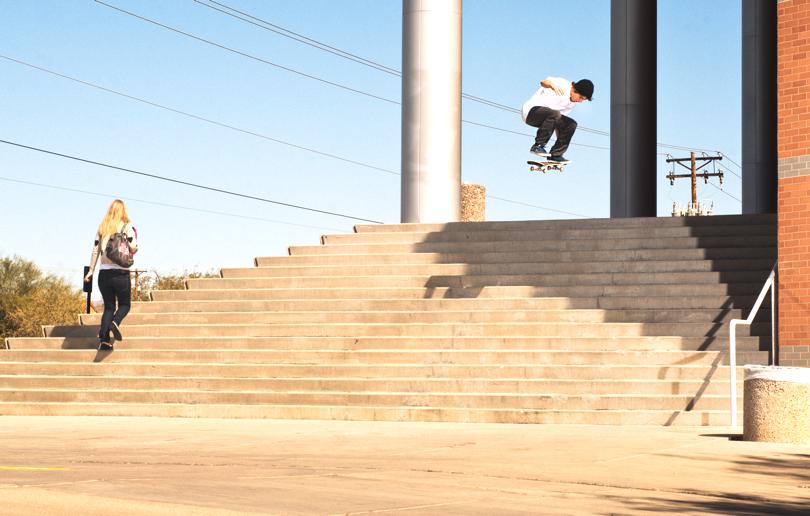 What videographers, filmmakers and videos have inspired you over the years? 
Anything that Greg Hunt touches is purely amazing. 'Mindfield' is probably my favorite video ever made. Everything is just perfect about it. The filming, skating, editing, and music are all top notch. Plus, Greg used different formats rather than just one camera. I'm a big film person. I've always had Super 8 and 16mm cameras. Everything just looks so much better to me when it's shot on film. I'm actually sort of bummed in the direction that skate videos are going with the internet so I tend not to get inspired as much. There are definitely a lot of great internet videos out there that I'm psyched on but there's more garbage out there than anything. It seems like people are just throwing footage out there without putting much work into it.
How do you feel about the transition to HD?
I upgraded to HD over a year ago and love it. The workflow is so much easier and of course the quality kills SD. I had to retire my VX-1000 but I will always have it. I refuse to get rid of it. I'd say it's my most prized possession just because of all the good memories I had with it.
How was it filming the Oscar Meza part? – That front board was ridiculous
Filming Oscar's part was awesome. It was a great experience filled with great times. We spent about  year filming for it by the time we wrapped it up. Yeah, that front board was fucked! The whole situation was pretty crazy. Oscar and I drove up to LA from Long Beach and met up with Arto at around 7am. You have to skate the spot before people start getting there and security is there 24/7 so you only get a few tries. After about 3 or 4 tries, the head security guard was being a dick and blocked the rail until we left. A few weeks later, we were right back there just after the sun came up.
The security guard seemed pretty happy to let him skate
The security guard was psyched and said we could get a few tries in. After a couple tries, he walked back up to us and said we had to go but he wanted to see it go down. That next try, Oscar rolled away and we had left the spot by 9am.
Have you been filming Arto as well? Are you involved in filming the flip team?
I actually haven't really been filming with him. Usually when we go out skating, he's behind the lens. He's really been killing it though. All of his photos are rad as fuck. Right now, Flip doesn't have a dedicated full time filmer so I've just been helping them out a quite a bit with random projects. I'm always out with the riders every week and film all the events Flip has been involved with.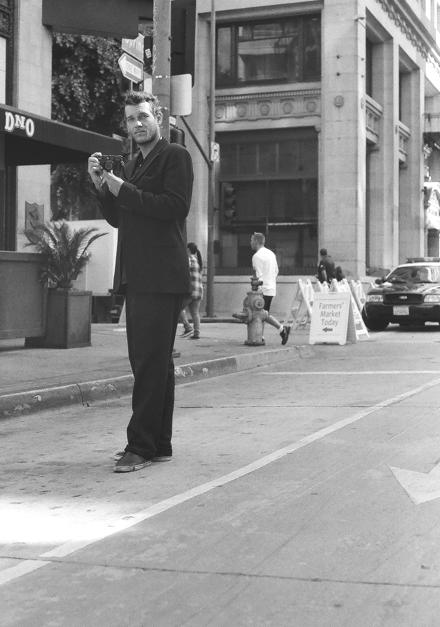 Do you enjoy the editing process? How was it learning how to do this?
I enjoy editing but it can be pretty stressful at times especially when it comes down to giving your video a certain vibe or feeling. I pretty much taught myself how to edit. In high school, there was a new editing class but the teacher was the photo teach and didn't know Final Cut. He pretty much made us teach ourselves.
Can you tell us about any missed opportunities you have had behind the lens? 
I've definitely fucked up a couple times. I mean who hasn't right? I was on King of the Road 2011 with Dekline and missed Ryan Spencer hurricane this rail. Luckily, we had a second angle so it wasn't that big of a deal thankfully. We still got the points so whatever. The only other memorable time where I missed a clip was pretty recently actually. In Oscar's part he frontside flips over a rail and fence at some school in East LA and I accidentally "double recorded". It had taken two trips to the spot to get it and I was pretty bummed on myself. I had to tell him I missed it right as Arto was congratulating him. Oscar being who he is, walked back up the stairs and did it next try no problem. He saved my ass on that one.
Can you tell us about some of the difficulties you face being a videographer?
One thing that comes to mind is that as a filmer, you're usually the one picking everyone up and driving everyday. It can get sort of overwhelming especially in LA where a lot of dudes live all over the place rather than just in one city. I spend a lot of time and money just driving. Another difficulty especially when HD was first coming out, was skaters needing to be filmed in a certain format. For example, one skater would be filming an SD part where another skater needed everything to be filmed in HD. With almost every company upgrading to HD, you don't tend to have that issue as much but it still does happen. Filming is a lot of hard work. Like I said, you're pretty much the designated driver all the day, need a spot book, and usually have to plan out the day or trips. When you're not filming, you're usually editing which adds a lot of pressure because it's your job to create something that the skater/companies/fans are psyched on and want to watch again. Pretty much being a filmer, all your money goes into camera gear. You're always needing to upgrade your cameras, buy accessories and harddrives and pay for repairs. It's pretty hard to make a profit off filming.
This spot book sounds like the holy grail
I just have an app on my phone with a ton of spots that I'm constantly adding to. I have a whole photo album filled with hundred of photos of spots out here. I don't know how we used to skate without iPhones haha.
Can you tell us about your experiences of filming Aaron Suski?
Suski is the fucking man! I was living in Tucson for several years and he lives there. He needed someone to film with while being home and started hitting me up. We were constantly going out for the last year of filming for 'Stay Gold'. On the board, he's amazing to watch in person. As he gets older, he just gets even better. He's still out there fucking killing it and will be for a long time. Off the board, he's just as rad. We've hung out a ton of times where skating wasn't even involved and it was always a good time. I actually have  a good story about him. So in his 'Stay Gold' part he kickflips over a sewer pipe that's in a ditch in Tucson and it took multiple trips to the spot to get it. He had came so close every time we had gone there. Right after rolling away, we left the spot and went straight to the bar.
Whiskey or beer?
Beer definitely.
Going back to 'Stay Gold' – Did you film anything for Marquis Preston? 
I actually didn't meet Marquis until right before 'Stay Gold' was finished. I did film most of his 'WTF!' part as well as the majority of the entire video. As far as the photo goes, we were on a Foundation trip in Phoenix and tried to skate these hubbas in a park. Well we get there and it's outrageously cold and windy. I lived in Arizona for years and never experienced anything like it before. We couldn't skate at all due to the weather.
Great style – What's the story behind the Goodyear, AZ photo of him? 
I took the photo of Marquis telling a story across the street from the hubbas in some random field.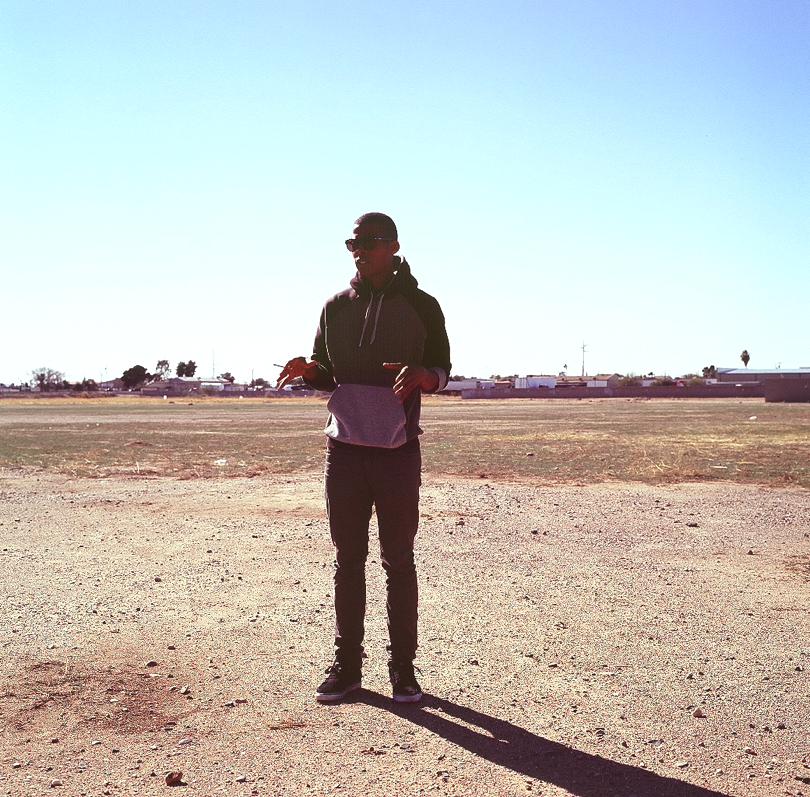 Can you tell us about some of the experiences, trips and relationships you have found through skateboarding?
I've gone on a lot of great trips and met so many awesome people all thanks to skateboarding. Last summer I got to go on a 3 week trip to Europe with the Creature dudes. I had never been out of the country before and it was amazing. We went to England, Scotland, Norway and Spain. A few months after that was when I went on King of the Road which is just a wild experience. You're skating all day and night, driving around random cities trying to complete challenges, and functioning off of no sleep. It's pretty much the craziest 2 week skate trip you could ask for especially being a filmer. Every minute of sleep counts and as a filmer you're still up logging all the clips from the day as everyone else sleeps. Pretty much be prepared to get the least amount of sleep out of everyone. I met most of my good friends through skateboarding for which I'm really appreciative of. I met Corey Duffel from skating when I was a kid since he was the hometown hero and we just remained friends throughout the years. Eventually, we started hanging out and filming then he got me in contact with some of the right dudes in the industry and got me where I am today. I owe him everything. If it weren't for him, I would probably be miserable working some 9-5 job.
Where did you meet Corey Duffel and how have you seen progress in his skating? 
I met Corey at his parents house in Walnut Creek when I was 16. I originally became friends with his older brother Stephen who filmed then I started skating with his younger brother Kevin, who is the now the editor of Transworld. After hanging out with Kevin, I started seeing Corey there and we just became friends. Corey is one of the few skaters out there who can continuously put out a gnarly video part despite all the injuries he gets. Everytime I see him, he's always got some new injury and is still skating regardless. Most people tear an ALC or break their wrist so many times that they can't really come back from it 100%. Corey just doesn't give a fuck and still does shit no one would else would do. We were in Arizona once and he asked me about this ditch thats a double bank. People usually do tricks into the first bank and ride down it all the way but Corey wanted to ollie the first bank into the second bank below it. I didn't think it was possible but 3 tries later, he proved me wrong. The footage of it is in "WTF!".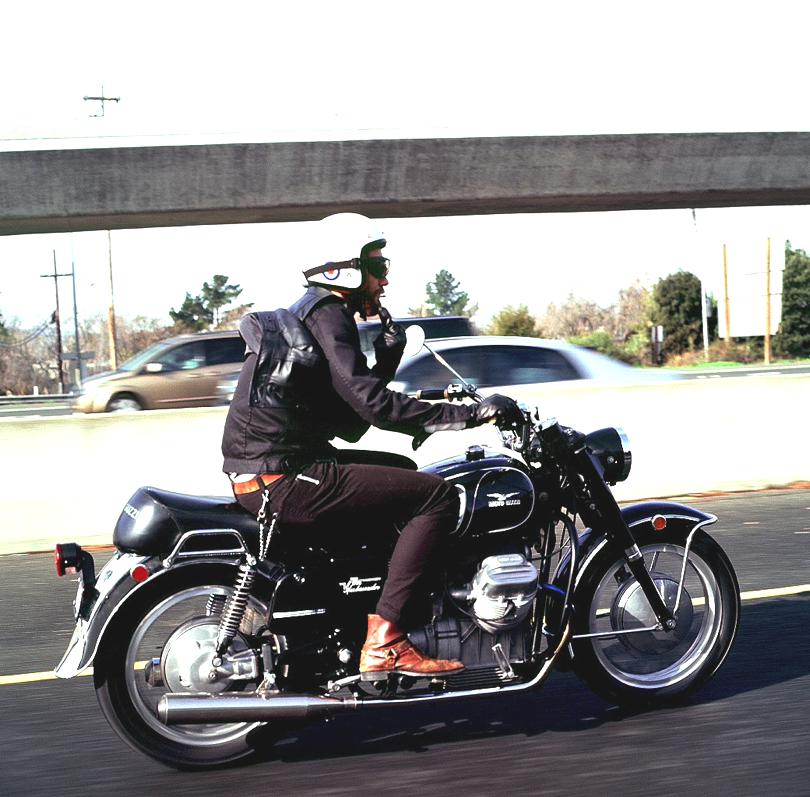 And what about Norway – what was the place like for skateboarding and everything else?
Norway was pretty neat. The only downfall of going there from America is how much more expensive it is there. Our dollar doesn't go very far. One beer is about $14 US. Other than that, it was awesome. We were actually there for Go Skateboarding Day and it was cool. We didn't have any cars there so we had to get rides from other skaters to the skateparks. There is this park is Oslo that is gigantic and has the craziest statues and fountains. There's also some really great skateparks out there that are so fun. Overall, it was a great time with the best dudes.
What went down on Go Skateboarding Day?
As I said, we didn't have cars so it was very hard for us to get around especially with such a big crew. It was Taylor Bingaman, Darren Navarette, Al Partanen, Stu Graham, Joe Hammeke, Alex Horn, Sam Hitz, Neil Heddings, and myself. Well one group got to meet up with all the kids and skate around Oslo. I was with the other group and since we didn't have a ride, we couldn't meet up with the other half of the team. Eventually, we skated to the huge park where they were supposed to be but we couldn't find them. I think it was Partanen, Navarrate, Bingaman, and myself so we ended up just walking around the park taking awesome photos. I remember there was some huge best trick contest at a random rail at the end of the day and we totally missed it due to sightseeing haha.
What do you do when you aren't shooting?
I'm usually working on my computer whether it's logging clips or editing. Filming takes up the majority of my time so I don't have a lot of free time to myself unfortunately.
Would you ever like to direct a whole video? What upcoming videos are you excited about?
I've never really thought about directing anything before. I wouldn't mind trying it out for the experience. 'Pretty Sweet' is coming out next week so I'm excited for that one. I've gotten to film with those dudes for it and Ty is going to create a masterpiece no doubt about it. Other than that, I'm psyched for 'Cold War'. As I said, I grew up on 'Dying to Live' so Zero videos have always been some of my favorite videos. Jamie knows what he's doing so I'm sure it will be nothing short of amazing.
Who did you film for Pretty Sweet? Did you work with Ty? 
I filmed Stevie Perez, Jesus, Elijah, and Malto. Yeah I've worked with Ty a bunch. He's such an awesome dude. He would hit me up to go out with some of the dudes or we would meet up when we would both be in Arizona randomly. It's cool going out with him because he's always giving advice and if there's anyone to get advice from, it's him. He's definitely helped me out and I greatly appreciate it.
Anything you can tell us about the video?
All I can say is that it's going to be epic.
Quote to finish up on?
"Fuck it right here!". My friend Stevie used to say it before jumping on some big rail or down some stairs. It would just hype him up and it definitely worked. It's just a way to get into that "Don't give a fuck" mentality and works in almost every situation.
Portrait courtesy of Arto Saari
Tim Cisilino's website: http://timcisilino.com/
Tim Cisilino's Vimeo
Follow Tim Cisilino on Twitter: @timcisilino
Check out Tim Cisilino's Flickr
Subscribe to Tim Cisilino on Facebook
Check out Tim Cisilino's Tumblr
Instagram: @timcisilino
Let us know what you think by commenting below or tweet us at @DeafLens 
Hurl abuse over at Facebook here
Tags:
Aaron Suski
,
Al Partanen
,
Alex Horn
,
Alien Workshop
,
Arto Saari
,
Cold War
,
Corey Duffel
,
Darren Navarette
,
Dekline
,
Dying to Live
,
Elijah Berle
,
Flip Skateboards
,
Go Skateboarding Day
,
Greg Hunt
,
Jesus Fernandez
,
Joe Hammeke
,
Kevin Duffel
,
King of the Road 2012
,
Marquis Preston
,
Mindfield
,
Neil Heddings
,
Nick Merlino
,
Oscar Meza
,
Photography
,
Pretty Sweet
,
Ryan Spencer
,
Sam Hitz
,
Sean Malto
,
Sorry
,
Stay Gold
,
Stephen Duffel
,
Stevie Perez
,
Stu Graham
,
Taylor Bingaman
,
The Deaf Lens
,
The Deaf Word
,
Thrasher
,
Tim Cisilino
,
Transworld
,
Ty Evans
,
Videographer
,
Videography
,
WTF!
,
Zero Skateboards